New York City
What was behind Eric Adams' first veto?
How the mayor took stiffer fines for violating zoning regulations on joint-living-work-quarters for artists off the table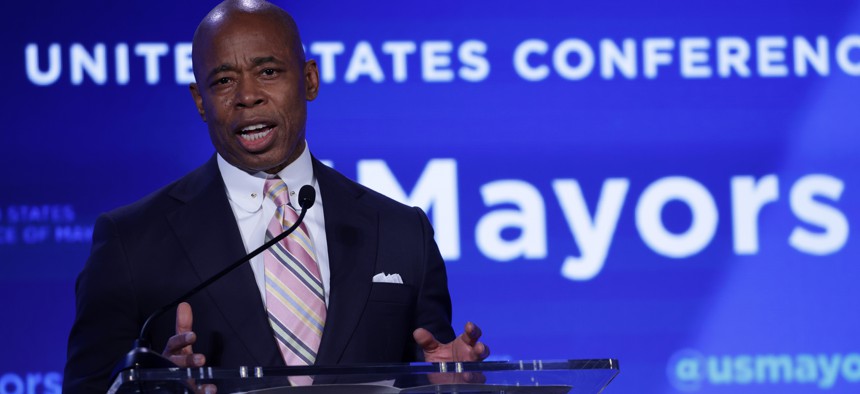 New York City Mayor Eric Adams did something last Friday the city hasn't seen in more than eight years: he vetoed a bill. The incident may shed some light on how the new mayor and City Council Speaker Adrienne Adams will work together on legislation – though questions remain, since both the mayor, the speaker, and the local representative, Council Member Chris Marte, claim they want to revisit the issue underlying the bill: joint living-work quarters for artists.
Speaker Adams reiterated Thursday that she wanted to revisit Int. 2443-2021. That bill would have greatly increased penalties on anybody violating zoning regulations for JLWQA's – a certain housing designation in SoHo meant to support working artists. "A portion of that legislation, we're going to be taking a look at in the future to make sure that all items of equity have been satisfied," Adams said at an unrelated press conference outside City Hall. "So we're going to continue to talk about that."
Mayor Adams made similar comments in the release announcing his veto, saying that he wanted to "productively work together" with the Council to improve it. The bill would have given fines of $15,000 for violating the zoning resolution on top of $1,000 monthly penalty. Adams said he hoped to "right-size" the fines, as well as clarify the enforcement mechanisms.
Enforcement of regulations governing the approximately 1,636 JLWQA units is notoriously lax. Lawyers, hedge funders and even supermodel Heidi Klum now live in converted luxury homes that are designated for working artists. And stakeholders say there are even some working artists who haven't registered with the city, because they don't know how or haven't bothered. So former City Council Member Margaret Chin, who was term-limited out of office at the end of the year, introduced the bill as a companion piece to the high profile SoHo/NoHo rezoning. The rezoning was meant to bring more housing to the Lower Manhattan neighborhoods, and Int. 2443 would encourage JLWQA residents to register with the city. They wouldn't have to move out – a new provision included in the rezoning bill would allow non-artists to convert their homes to residential zoning by paying $100-per-square foot into a fund meant to support the arts in SoHo. 
But the city has effectively allowed JLWQA residents to flout the law for years, so they felt unfairly targeted by Chin's bill – since some would now be on the hook for multi-thousand dollar fines or payments. Of course, it wasn't entirely clear whether the bill would have had much effect had it become law. While Int. 2443 upped the penalties, it did not go into detail on how enforcement of the law would be carried out. 
Nevertheless, it passed the Council on Dec. 15 nearly unanimously, 47-1. Adrienne Adams supported it, while the only no vote was from Brooklyn Democrat Kalman Yeger, a frequent dissenter. Council insiders speculated that, while the bill seems controversial in retrospect, members probably found it easy to listen to Chin on a real estate issue in her district – a form of the Council's tradition of member deference on land use issues. 
So how did the mayor get to a veto? Enter Chris Marte. Marte, who succeeded Chin in the Lower Manhattan district, has defined himself politically in opposition to new development, and has stood against the SoHo/NoHo rezoning. He opposed the JLWQA bill as well, claiming without evidence that his political rival Chin wanted to clear out apartments to profit real estate developers.
"This would have potentially fined people who had been living in their apartments for decades, people who built this community, both new and old," Marte told City & State. "It was standalone legislation that I think Margaret put just to help developers, and then to hurt this community."
Marte organized other local officials, including Reps. Jerry Nadler and Carolyn Maloney, Manhattan Borough President Mark Levine, state Sen. Brian Kavanagh and Assembly Member Deborah Glick, and asked the mayor for a veto – on behalf of the JLWQA residents who themselves had hired a private firm and launched a lobbying campaign for a veto. Marte got what he wanted."It was heartwarming," he said "And it makes me really optimistic about this administration, to really put in the time to listen to Council members like myself and work to do the right thing."
Adams may have had some political motivation for the veto too. Marte was one of the first four Council members to publicly endorse Eric Adams' pick for speaker Francisco Moya. As the only one of the four who wasn't closely tied to Rep. Adriano Espaillat, Marte was taking an even greater political risk to side with the mayor. Marte's candidate lost, and he paid the price – he is one of the few Council members who will not chair a committee, after assignments were made Thursday. But Marte's bet may have paid off with this veto.
Asked if he thought that was a factor, Marte brushed it off, noting that many other elected officials were supporting a veto. But Marte raised another point – while the bill was tied to the SoHo/NoHo rezoning, it was a separate piece of legislation. Mayor Adams has publicly supporting the rezoning, but the opposition to that plan has been quite loud. Adams' veto could be read as a peace offering, allowing them to claim a political win on a smaller concern. 
Some members are skeptical that the issue will be taken up again. A source in Speaker Adams' office said there's no alternate bill language yet. But Marte's office said he's committed to addressing the current Wild West of JLWQA's. 
The veto was also the source of some political intrigue regarding the closely watched relationship with Mayor Adams and Speaker Adams. The speaker raised some eyebrows by immediately releasing her own statement after the veto Friday, backing the mayor's decision. After all, she herself had just voted for the bill a month earlier. Members say she didn't give her colleagues a heads up, and Marte said the two never spoke about the veto.
De Blasio did not issue a single veto during his tenure, thanks in part to City Council speakers who were happy to adjust bills to his administration's liking behind the scenes, before passing them. So this was the first veto issued in New York City since the end of 2013, when then-Mayor Michael Bloomberg issued at least six vetoes on his way out the door.
The mayor was vetoing a bill passed by former City Council Speaker Corey Johnson, but some members felt the speaker had a responsibility to be a little tougher on the mayor. "Our job is to be check and balances, isn't it?," one Council member said.
But another felt confident that the speaker wouldn't roll over for the mayor. 
"I won't let it happen," Council Member Gale Brewer said. "I'll do the best I can."
Correction: A previous version of this article misstated New York Citry Council Member Chris Marte's public suport for readdressing issues surrounding JLWQA's.
Powered By
NEXT STORY: New York City Council doles out committee assignments