Campaigns & Elections
Four Latino City Council members publicly endorse Francisco Moya, as the speaker race narrows to two
Adrienne Adams has emerged as an alternative for members unhappy with Moya – and Mayor-elect Eric Adams' involvement.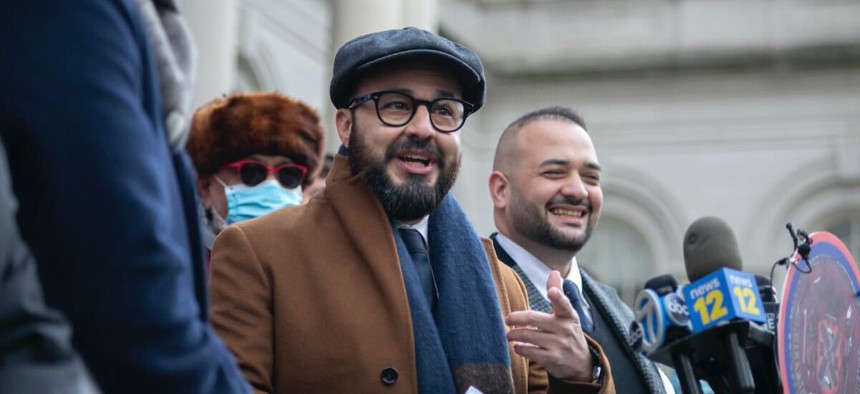 Four Latino New York City Council members are releasing a public statement endorsing Francisco Moya as speaker – a sign of Moya's continuing push to win support from his colleagues, even as he's earned backing from Latino leaders outside the council and, crucially, Mayor-elect Eric Adams.
Incoming City Council Members Carmen De La Rosa, Shaun Abreu, Christopher Marte and Oswald Feliz shared a statement Sunday night arguing that while Latinos make up almost 30% of the city's population, there are no citywide or statewide Latino elected officials, including those leading legislative bodies. "We have an opportunity to rectify this underrepresentation with an extremely qualified and bold leader," the statement reads. 
Public endorsements from members have been nearly absent in the speaker race before this, but the behind-the-scenes negotiations are becoming public in apparent response to a recent swell of support for Council Member Adrienne Adams, who has emerged as top contender in the race.
Adams and four other speaker contenders – Diana Ayala, Justin Brannan, Gale Brewer and Keith Powers – met for lunch Sunday at Townhouse Diner in Murray Hill. Sources familiar with the discussion said that while no formal commitments were made from other contenders, Adams has become the top alternative to Moya, and that the speaker candidates present at the lunch are in discussions to throw their support behind her.
Adrienne Adams (who is not related to Eric Adams, though both are the same age and graduated from Bayside High School in Queens) was being counted out of the race by many last week; City & State reported that she wasn't in the four-member top tier. But that changed quickly as Politico New York and the Daily News first reported Saturday, as she became the consensus pick of key unions, including District Council 37 and 32BJ SEIU, which have been organizing members into a voting bloc under the Labor Strong 2021 banner. Adrienne Adams did not immediately respond to a request for comment.
The four members signing the letter of support are all aligned, in varying degrees, with Rep. Adriano Espaillat. Espaillat has become a political ally of Eric Adams, and has been one of many voices encouraging him to back a Latino speaker. The mayor-elect effectively vetoed both Carlina Rivera and Diana Ayala, in large part because their relatively progressive positions on policing don't align with his. That left Moya as the one Latino candidate who Adams could back. Espaillat became influential in the race by organizing a bloc of votes that was initially lined up behind Ayala, but he has distanced himself from her candidacy and is now backing Moya.
But things are always fluid in the speaker race, which will be formally decided by a council vote in the first week of January. An initial statement shared with City & State had five names on it, including Council Member Rafael Salamanca Jr.. But a spokesperson for Moya said his name was included in error. Also absent from the letter of support for Moya was Pierina Sanchez, an incoming council member who was elected with Espaillat's support. Salamanca and Sanchez did not not immediately respond to requests for comment. 
That just underscored the fact that, while supporters of Moya are calling for Latino representation, the Latino members on the council are far from monolithic in their thinking. Five incoming council members – including Latinas Alexa Avilés, Tiffany Cabán, Jennifer Gutiérrez and Sandy Nurse – signed an open letter Friday criticizing Eric Adams' involvement in the race and showing support for a woman of color. There will be 15 members who identify as Latino when the new 51-member council takes over in June. 
Other supporters of Moya are also publicly endorsing him Sunday, along with the four members. Bronx Borough President Ruben Diaz Jr. told City & State Sunday night that women have served as City Council speaker before, and both men and women, Black and white, hold major leadership positions at the city and state levels. "What community has not been represented as strongly as it should?" he asked. "We're just not represented at the highest level of government, and this would be an excellent chance to rectify that."
Adrienne Adams would be the first Black woman to serve as City Council speaker, a fact that she has emphasized throughout her campaign.
Influential political consultant Luis Miranda, who's also closely aligned with Espaillat, tweeted his support for a Latino speaker Sunday night (with Nathan Smith, a top consultant to Eric Adams, quote-tweeting in agreement). Miranda's company, the Hamilton Campaign Network, was hired by Abreu and De La Rosa, as well as Council Member Kevin Riley and incoming Council Member Lynn Schulman this year. Hamilton Campaign Network also worked on the comptroller primary campaign for outgoing Council Speaker Corey Johnson, who multiple sources involved with the race said supports Moya. Johnson didn't immediately respond to a request for comment.
Eric Adams was calling incoming council members over the weekend, as he doubled down in his support of Moya. The mayor-elect is sinking considerable political capital into the effort, and a win by any other candidate would likely be considered an early dark spot in his relationship with the incoming council, if not an embarrassing political miscalculation. But at least one observer of the race thought that Adams' support would be enough for Moya to win. "If the mayor is all in, he can use his capital and get it done," the source said. "Too many people want to be on his side."
Sunday night, at least four incoming members proved it.
Powered By
NEXT STORY: James drops out, mask mandates return and Malatras resigns