Personality
New York's time-honored tradition of nepotism
It wouldn't be politics in the Empire State if you didn't bring your family members along for the ride.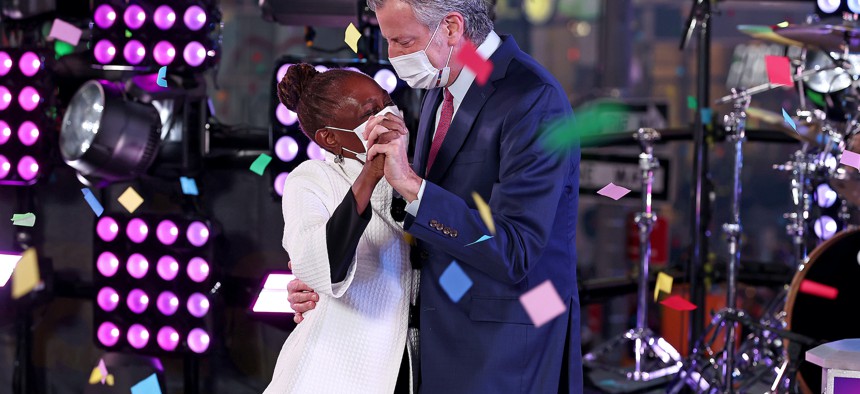 New York City law is clear on conflicts of interest when it comes to nepotism: It's a big no-no. A City Council member isn't even allowed to nominate a family member to the unpaid, thankless position of community board member. But that didn't stop Mayor Eric Adams from giving his brother Bernard a high-level post at the NYPD, and when you look at the precedent set by previous mayors … he might have a point! Exceptions have been granted in the past – mostly for unpaid positions – but an exception could be granted for this $210,000-a-year job. With that in mind, we took a look back at some recent examples of nepotism by city and state executives.
Chirlane McCray
Chair of the Mayor's Fund to Advance New York City; ThriveNYC founder
Bill de Blasio gave her so much to oversee, but he couldn't give her the world, aka the Brooklyn borough presidency.
Chiara and Dante de Blasio
Summer 2014 interns
You kind of have to admire Chiara de Blasio for embarking on the road of nepotism that first summer and then deciding it wasn't worth the negative clout of being attached to her dad's administration. The same can't be said for her brother …
Dante de Blasio
After initially rising to fame in front of the camera during his dad's mayoral campaign, Dante de Blasio bid adieu to his time in Gracie Mansion by working on a series of short films highlighting the de Blasio administration's accomplishments. Get this guy an Emmy.
Mariah Kennedy Cuomo
Informal adviser to the state Department of Health
To think, if it weren't for her father Andrew Cuomo's fall from grace, Mariah would probably be state health commissioner by now.
Marjorie Tiven
Commissioner for the United Nations, Consular Corps and Protocol
Michael Bloomberg's younger sister didn't receive a salary for the important but little-known job as New York City's liaison to the United Nations (overseeing a staff of a dozen), but that's the beauty of being a Bloomberg isn't it? You don't really need a salary.
Emma Bloomberg
Bloomberg also raised eyebrows when he hired his 22-year-old daughter to work on his staff, but really he was doing the city a favor – an unpaid relative is one less employee to lay off when you're looking to save the city some money.
James Copeland
George Pataki relation, hired as an architect for SUNY
Hiring your wife's sister's husband who is also your next-door neighbor might look like a minor nepotism offense, but while almost everyone else worked for free, this guy got paid hundreds of thousands of dollars in state university contracts.
The Giulianis
Four relatives in various positions
When reporters pressed Rudy Giuliani on why so many of his relatives were hired in his administration, he pleaded that he had too many cousins to keep track of. "At what degree of relationship should I know about. What about a second or third cousin?" he asked. With a memory like that, it's no wonder he forgot the basic rule of law later in life.
Andrew Cuomo
$1 a year special adviser to Gov. Mario Cuomo
Don't be deceived, despite a gig in his 20s as an adviser to the governor, Andrew Cuomo is not a politician. He might want to watch out given the way things are going with JCOPE. They might ask him to return his tiny salary.