New York City
Can Eric Adams really hire his brother?
Bernard Adams wouldn't be the first family member of a mayor to work in their administration.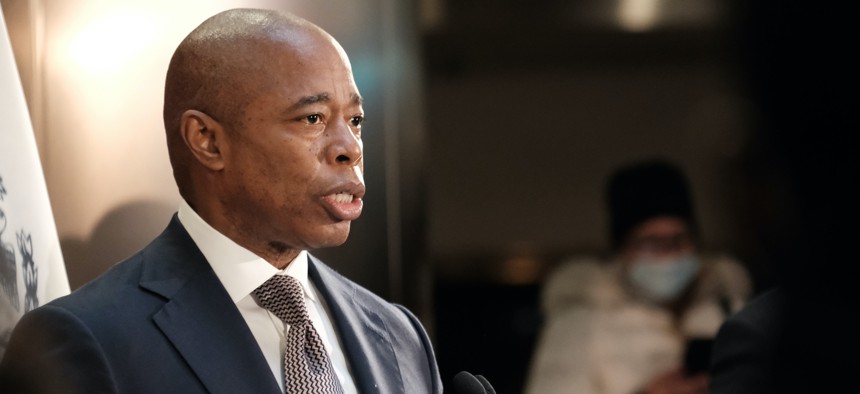 New York City Mayor Eric Adams' brother, Bernard Adams, is getting a high level job as deputy commissioner in the New York City Police Department, the New York Post and the Daily News reported Friday. A source within the Adams transition committee confirmed the news to City & State, and said that Bernard Adams will be focusing on community affairs. The first question on many New Yorkers minds: Is that even legal? 
Such an appointment would seem to violate the New York City Charter, specifically the section dealing with conflicts of interest. Chapter 68, §2604b.(3) reads "No public servant shall use or attempt to use his or her position as a public servant to obtain any financial gain, contract, license, privilege or other private or personal advantage, direct or indirect, for the public servant or any person or firm associated with the public servant." 
And §2601(5) makes it clear that, "A person or firm 'associated' with a public servant includes a spouse, domestic partner, child, parent or sibling; a person with whom the public servant has a business or other financial relationship; and each firm in which the public servant has a present or potential interest" (emphasis added).
Reached Friday, the New York City Conflict of Interest Board said that it could not comment on how the law would apply to specific situations. But a plain language nepotism policy released online by the Department of Health and Mental Hygiene seems to lay it out clearly: "While there is nothing improper about one or more close relatives working in the Agency, employee should not influence the hiring of close relatives or relations, nor should they be in supervisory relationships with close relatives." (emphasis added)
However, some city insiders speculated that the law may not apply directly in this case, because deputy police commissioners are appointed by the NYPD commissioner, Keechant Sewell, rather than by the mayor directly. But actually making such a legal argument might elicit some eyerolls around City Hall, given that Adams appointed Sewell, and that Sewell likely did not choose to hire Bernard Adams without Eric Adams' influence. Bernard is a former New York City police officer who, according to his LinkedIn profile, has most recently been an administrator at Virginia Commonwealth University's office of parking and transportation.
The Adams administration did not confirm Bernard Adams' hiring, and did not respond to a request for comment Friday
But at least one good government group was disturbed by the reports. "As the City Charter makes clear, New Yorkers expect that public servants are hired based on their unique qualifications and not because they are the mayor's brother," said Susan Lerner, executive director of Common Cause New York. "It is unclear whether a waiver from the Conflict of Interest Board would be required for this appointment. Even with a waiver,  the appointment of the mayor's close relative does not inspire public confidence."
Adams wouldn't be the first mayor attempting to get jobs for his family. Former Mayor Bill de Blasio gave First Lady Chirlane McCray a significant role in his administration, chairing the Mayor's Fund to Advance New York City and leading ThriveNYC, the mayor's mental health office. Broadly de Blasio considered her a top advisor. She did not take a paycheck – something de Blasio publicly bemoaned – but reportedly received a waiver from COIB permitting the arrangement, given that McCray would arguably be receiving "privilege or other private or personal advantage" from her influential roles. De Blasio's son Dante also recently produced city contracted videos for the administration, The City reported, but he too was unpaid. 
Former Mayor Michael Bloomberg also hired his daughter, Emma Bloomberg, and his sister, Marjorie Tiven, for jobs in the administration. They were also reportedly unpaid, and received clearance from COIB. 
There was no indication Friday that Bernard Adams would be forgoing a salary. Current deputy commissioners make upwards of $240,000 a year, according to records compiled by the Empire Center.
The mayor's brother wasn't the only hiring in the Adams administration to raise eyebrows on Friday. City Hall officially announced the appointment of Phil Banks as deputy mayor for public safety. Banks is the brother of David Banks, who was previously appointed schools chancellor. And David Banks is the romantic partner of Sheena Wright, Adams' deputy mayor for strategic initiatives, who also led the mayoral transition committee. But it's not just his family ties that are controversial. A former NYPD chief, Phil Banks resigned from the force in 2014 following a federal corruption investigation in which prosecutors named him as an "unindicted co-conspirator." Though Banks himself was never charged with a crime, evidence reportedly showed he accepted gifts from two businessmen who were trying to bribe public officials. Banks' top aide was among those who were eventually convicted. In an op-ed in the Daily News on Friday morning, Banks addressed the concerns about his integrity, saying that reports that he "traded favors as a senior NYPD official for some form of compensation" were completely false. He also denied that he left the department in order to avoid an internal trial on the investigation.