New York City
COIB let other mayors hire family members. Will it give Eric Adams permission?
Previous waivers grant some insight, but there could be a key difference with Bernard Adams, if he's getting paid.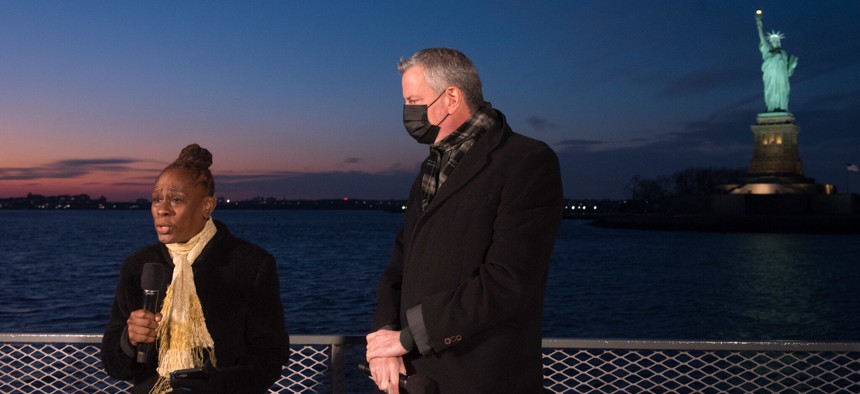 When former New York City Mayors Bill de Blasio and Michael Bloomberg wanted to appoint family members to jobs in their administration, they asked for a waiver from the New York City Conflicts of Interest Board. And the board granted them, allowing the family members jobs, even though hiring a family member violated nepotism rules in the city charter. 
Now, New York City Mayor Eric Adams is going through the same process, seeking a waiver to hire his brother Bernard Adams to a high level position in the New York City Police Department overseeing security for the mayor and other top officials. COIB will have to make a ruling based on past precedent. But the waivers were granted to de Blasio and Bloomberg in large part because their family members would be unpaid – while the Adams administration has given no indication that Bernard Adams would forgo a salary. 
City & State filed a Freedom of Information Law request for the waivers, three of which appear to have never been published before. The New York Times published the waiver permitting de Blasio's kids, Chiara and Dante, to take one month, unpaid internships in the summer of 2014. The arguments contained within the memos provides some insight to what stands between Bernard Adams and a return to city employment. 
When Bloomberg announced just after taking office in 2002 that he wanted to hire his daughter, Emma, and his sister, Marjorie Tiven, the New York Post reported that he didn't realize it wasn't allowed and that he would need permission. But COIB granted permission on both accounts, highlighting that a waiver would be justified for Emma since she "will receive no financial benefit." In fact the city would be coming out on top, since she would be "conferring on the City the benefit of uncompensated services." The board also noted that the positions would be uncompensated in letters granting waivers to Tiven to serve as commissioner for the United Nations, consular corps and protocol, and Chirlane McCray, de Blasio's wife, as chair of the Mayor's Fund to Advance New York City.
By contrast, Mayor Adams has not suggested that his brother would be unpaid. The mayor's press office did not respond to a series of questions about the appointment, including what Bernard Adams' title would be and whether he would be paid. But in his public comments about offering his brother a job, the mayor never suggested that he wouldn't take a salary. And an unpaid job wouldn't be expected in this case. Eric Adams is not a billionaire who could provide near endless money for his family like Bloomberg, and Bernard would not be receiving the perks like living rent free in Gracie Mansion like McCray did. 
Bernard was an NYPD officer for 20 years and most recently worked as an administrator at Virginia Commonwealth University's office of parking and transportation, according to his LinkedIn profile. The Uprising also reported that Bernard Adams previously worked at Legalshield, a multilevel marketing firm.
With COIB's permission, Bernard could be in for a payday. NYPD deputy commissioners make upwards of $200,000 a year. Under de Blasio, the Executive Protection Unit was led by Howard Redmond, an NYPD employee with the rank of inspector who brought home $220,605 in 2020, according to records compiled by the Empire Center for Public Policy. City Hall did not provide clarity on what Bernard Adams title would be, or his responsibilities. But the mayor shed some light on that question himself, saying Bernard would "look over security of Eric Adams" and also "the other lawmakers who are entitled to security."
City & State asked the offices of Comptroller Brad Lander, Public Advocate Jumaane Williams and City Council Speaker Adrienne Adams for their thoughts on the hire, and whether the mayor had discussed it with them. None provided comment.
Adams often downplays the security risks of being mayor. On his first day in office, he walked from his home in Bedford-Stuyvesant to the subway without a security detail, and has said that he wants any personal protection to have a light touch. But when asked about his brother's hiring at a press conference on Sunday, Adams emphasized the dangers saying there has been "an increase in anarchists in this city, country" and added "we have a serious problem with white supremacy." BK Reader reported that Adams criticized then-President Donald Trump for labeling New York City an "anarchist jurisdiction" in 2020, labeling it one of Trump's "cynical partisan games."
But the mayor also said his brother would be the perfect person for the job – in part because of their close connection. "I trust my brother. My brother understands me," he said. "And if I have to put my life in someone's hand, I want to put it in the hand of the person that I trust deeply, because that is a very personal process of your security."
The waivers granted by COIB suggest that may be a winning argument for Adams. Bloomberg claimed that his sister's close relationship with him would be important for her role acting as "hostess" for the mayor since she would be, in many respects, the mayor's "alter ego." The board found it appropriate for Tiven to take the job because she'd be playing a role for the unmarried Bloomberg that was traditionally held by their wives. 
City Hall didn't provide their request for a waiver for Bernard Adams. It also wasn't clear whether the mayor's brother had already been formally hired. The Post reported seeing his name on an internal document listing him as deputy commissioner, and the mayor has not disputed the characterization when asked about it. 
City law is clear on conflicts of interest when it comes to nepotism. A City Council member isn't even allowed to nominate a family member to the unpaid, thankless position of community board member. But exceptions have been granted to mayors before, and may be granted again. 
COIB refused to comment on any specific cases, but Deputy Director of Enforcement Chad Gholizadeh told City & State that public officials should be seeking permission, not forgiveness. "In an ideal world," he said, "public servants request advice about the applicability of the conflicts of interest law, and request waivers as necessary, before engaging in any of the underlying conduct at issue."
2002-014 by City & State NY on Scribd
2002-015 by City & State NY on Scribd
2014-054 by City & State NY on Scribd
2015-592 by City & State NY on Scribd