Personality
Ana María Archila doesn't want to be a symbolic LG
The longtime activist would be the first Hispanic person ever elected to statewide office, and she thinks the position of lieutenant governor can do more.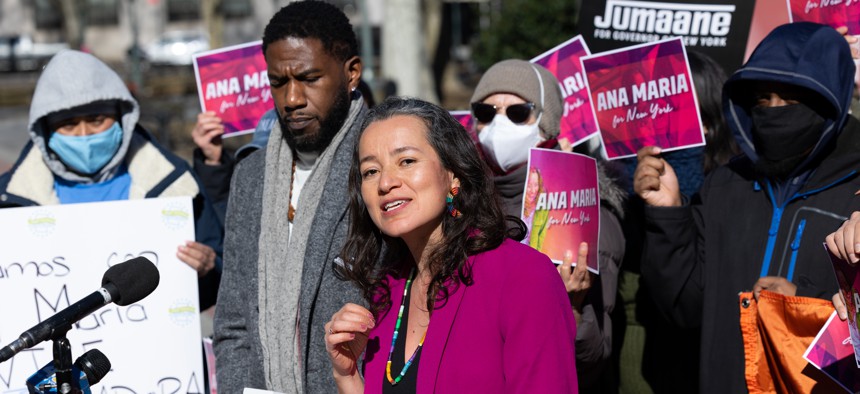 Queens Activist Ana María Archila gained national fame several years ago after confronting Republican U.S. Sen. Jeff Flake in an elevator over his support for the nomination of Brett Kavanaugh to the U.S. Supreme Court. She is aiming to bring a similar fighting spirit to Albany next year as the first Hispanic person ever elected statewide. Making history depends on winning the Democratic primary for lieutenant governor this June. 
The Colombian-born Archila and her running mate – gubernatorial candidate Jumaane Williams – are aiming to demonstrate the power of the political left in the 2022 election cycle with the help of the Working Families Party, which has endorsed their ticket. Social issues like increasing tenant protections and expanding state support for child care programs are already figuring prominently in her primary campaign against incumbent Lt. Gov. Brian Benjamin, former New York City Council Member Diana Reyna and Sodus Mayor David Englert.
The position of lieutenant governor has traditionally been held by people who aim to support rather than challenge the governor in power. That is not the style that Archila – a co-founder of the outspoken advocacy group Make the Road New York – is aiming to bring to the third floor of the state Capitol, where the lieutenant governor gets an office by virtue of being the official president of the state Senate. Cheerleading people in power is just not her preferred style.
City & State recently spoke with Archila to hear her plans for the 2022 campaign and how she would wield her power if elected. The interview has been edited for length and clarity. 
What were you just doing on the campaign trail?
This morning (March 8) was great. I just joined hundreds of excluded workers who marched across the Brooklyn Bridge to demand the inclusion of the excluded workers fund in the state budget. It was really beautiful on International Women's Day to wake up and be on the bridge at 8:30 in the morning, working alongside women who have kept us safe, always, and especially during the pandemic. That's my favorite kind of activity.
Are you going to be protesting all the time if elected LG?
The lieutenant governor's office is so underutilized. It has been traditionally used as a sort of ceremonial surrogate for the governor when it should be an office that is deeply connected to the communities that need government to function. I would want to use the lieutenant governor's office to be connected to hold the governor accountable – whoever the governor is.
Can you win? Or, are you running to make a point?
I've been organizing to pass immigration reform for the entire 20 years that I've been organizing, and that effort has been very elusive. But every single time we have a strategy that is intended not to make a point but to win. I don't like symbolic politics. My intention is to run a campaign that is really contesting for power. Quite frankly, I don't understand what motivates Brian Benjamin. What is he doing? What animates his work?
You got qualms with the guy?
My main qualm is his performance as lieutenant governor. It's his silence. Maybe you can tell me what he said about the eviction moratorium being allowed to expire? What is he saying about the inclusion of immigrants – the same people who have been celebrated as essential workers – who are excluded from unemployment insurance and health insurance? What does he think about that? How is he using his proximity to power to deliver for our people?
What qualifies you for this position?
I came to the U.S. when I was 17, and I started organizing and working for an immigrant community in the North Shore of Staten Island. Finding myself inside the immigrant rights movement, that's what allowed me to actually begin to make this country my home. Out of a youth group that I created came out the leaders who eventually created United We Dream and went on to lead the fight for Dreamers and DACA. I helped build Make the Road New York into one of the largest immigrant organizations in the country. I did a lot of work to sort of interrupt the Trump agenda by engaging in tactics of disruption that would allow us to insert the voices of people in the conversation, whether it was around health care, whether it was around the tax bill, whether it was to defend data or whether it was around the nomination of Brett Kavanaugh to the Supreme Court.
Inviting people to come outside and to connect and to imagine what is possible is something that's very exciting to me. Even though I had never actually imagined myself running for office, that's why I decided to join Jumaane on this journey and accept the invitation of the Working Families Party to do it.
Who is a role model for you as a leader?
The forms of leadership that I most admire are the people who are always reminding us that the idea that "I am because we are." No one is actually self-made. No one came to whatever state of prominence or leadership on their own. Dolores Huerta is in her 80s and like still kicking ass and doing things that are meaningful for workers, for women, for communities that have been excluded. She was the partner in crime of Cesar Chavez in building the United Farm Workers back in the day.