Campaigns & Elections
Working Families Party announces Ana María Archila as Lt. Gov. candidate
Archila is best known for her viral confrontation of Sen. Jeff Flake in a Capitol elevator in 2018.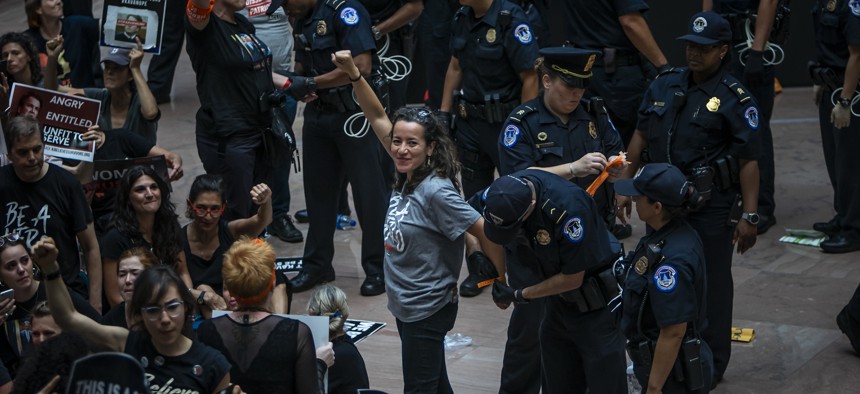 The New York Working Families Party has officially endorsed Ana María Archila, an immigrant rights activist who works for a progressive advocacy group, for lieutenant governor.
Party officials made the announcement on Monday at a press conference in downtown Manhattan alongside its gubernatorial candidate, Jumaane Williams, and New York City Comptroller Brad Lander.
Archila is a former co-executive director of the immigrant advocacy organization, Make the Road New York, and now works at the Center for Popular Democracy, which promotes unionization efforts. In 2018, she made headlines when she confronted Sen. Jeff Flake in an elevator in the U.S. Capitol over Brett Kavanaugh's Supreme Court appointment. Former President Donald Trump called her a "very rude elevator screamer" and she was Rep. Alexandria Ocasio-Cortez's guest to the State of the Union address following the incident.
Archila, who officially launched her campaign on Saturday, vowed to advocate for "better schools, better housing, better health care" and said she is "running to make sure that immigrant Black and brown workers whose labor has carried us through the pandmeic are met not just with nice words, but with policies that honor their sacrifice."
"New York is the place that welcomed me as a young immigrant and allowed me to find my place that I now call home," said Archila, who is originally from Colombia. "New York should also be the place where everyone no matter who you are or where you're from can live with dignity. And right now our state is falling short on that promise."
Williams, who was endorsed by the WFP in February, said he "couldn't be more excited to announce" Archila as his running mate in "fighting for the humanity of working class New Yorkers." He also took aim at current leaders for pushing a return to work and allowing the state's eviction moratorium to expire. 
New York WFP Director Sochie Nnaemeka said of the ticket: "There are no two more courageous champions for working people at this moment … We know that our opponents have billionaire friends, they have millions of dollars (in) the real estate industry. We don't have that. We don't want that."
Lander praised Archila as a "resilient organizer" with an ability to "transform pain" into action, as she did with the Flake confrontation.
Archila and Williams are competing against incumbent Gov. Kathy Hochul and Lt. Gov. Brian Benjamin; Long Island Rep. Tom Suozzi and his running mate, former City Council Member Diana Reyna; along with legislative staffer Paul Nichols and his running mate, Sodus Mayor David Englert, in the June primary.