Housing
New tenant protections remain elusive as evictions return
The state failed to approved the Good Cause Eviction bill before the eviction moratorium ends tomorrow.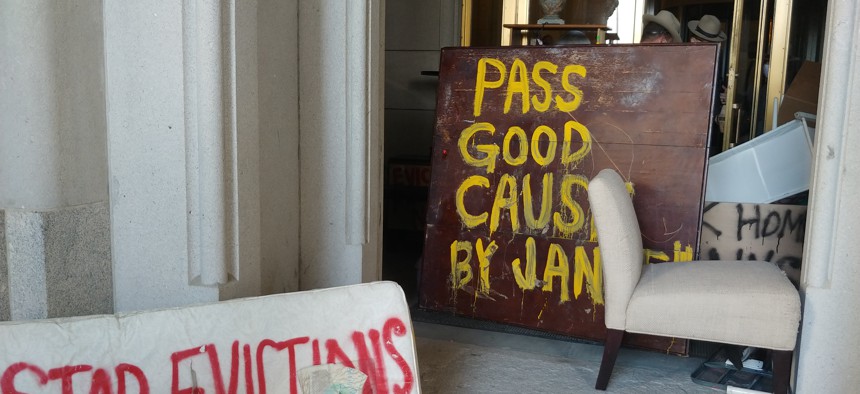 On a frigid morning in Albany just days into the new legislative session, two U-Haul trucks pulled up to the state Capitol. Assembled tenant advocates began unpacking couches, boxes, mattresses, chairs and more, using them to create blockades at the doors to the building. The purpose: a protest to demand the passage of good cause eviction legislation before the state eviction moratorium expires on Saturday. They stayed outside for hours in single-digit temperatures, layers and scarves failing to prevent tears freezing on protesters' eyelashes as they chanted "housing is a human right" and spoke about the danger tenants faced if good cause did not pass in time.
But when lawmakers finished their legislative week on Wednesday, they left the state Capitol without having approved the bill that would provide tenants with new protections against eviction and unexpected significant rent increases. Despite the blockade, a candlelight vigil the night before and a protest outside the Executive Mansion the day after, more than two years' worth of evictions – including holdover cases from before the pandemic – will begin apace without the protections good cause may have afforded tenants.
Activists are continuing to push for the legislation to pass as quickly as possible as they and officials in the state call on the federal government to provide billions more in new rental assistance for tenants. And despite the disappointment over the lack of action, housing rights organizers remained optimistic about good cause's passage in the near future after a recent state Senate hearing and as yet another upstate municipality approved its own local version of the protections.
Passing good cause eviction so early in the legislative session was always going to be nearly impossible. The bill's first ever legislative hearing only took place this month in the state Senate, and the hours of testimony from supporters and opponents alike hardly seemed to indicate lawmakers would be ready to act any time soon. And neither Assembly Speaker Carl Heastie nor Gov. Kathy Hochul has publicly expressed support, or even an interest in discussing, good cause eviction. Even a staunch backer like Manhattan Assembly Member Harvey Epstein told City & State that passage "seems unlikely" as he left the chamber Tuesday afternoon.
Certainly, housing advocates are disappointed at the outcome. "They had two years, basically, to figure out a way to actually transition safely from a moratorium to like, a stable situation and our housing market in the pandemic," Sumathy Kumar, co-chair of the New York City Democratic Socialists of America and campaign organizer for Housing Justice for All, told City & State. "And they didn't do anything." Tenants won't be left completely out in the cold – figuratively and literally – thanks to the Tenant Safe Harbor Rent which prevents eviction specifically for non-payment of rent from the start of the pandemic through Jan. 15. But eviction proceedings from before the pandemic won't be affected, and it doesn't stop landlords from dramatically increasing rent after Jan. 15 and evicting tenants who can't afford it that way. Tenant organizers said that good cause eviction would have closed that perceived loophole.
For now, Hochul and other lawmakers, as well as New York City Mayor Eric Adams, are asking the federal government for more money to replenish the already depleted Emergency Rental Assistance Program to help cover unpaid back rent. The fund recently reopened its applications after a court ruling despite its lack of money to distribute, offering some protection for tenants as landlords can't evict pending applicants. "What I don't want to do is create false expectations," Hochul said at a press conference Tuesday. "We can open a portal, people can sign up, but that also hinges on the federal government and what we want them to do, which is allocate more money." The state recently got a paltry $27 million in additional funds, nowhere near the amount New York needs to help thousands of tenants still in need of aid.
But both lawmakers and advocates see a glimmer of hope for good cause eviction even though it failed to pass by their desired deadline. State Senate Deputy Majority Leader Michael Gianaris said that his conference is actively discussing the legislation following the recent hearing. "I think it's critical as the moratorium is expiring to continue to give people protection," Gianaris told City & State on Wednesday before leaving Albany. "We had a lengthy discussion about just (Tuesday), and I'm hopeful that we'll move forward on it." Kumar also said the hearing gave her confidence despite the concerns some Democrats who participated obviously still have. "There were multiple times senators asked the landlords testifying 'What evictions do you want to do that are prohibited under good cause eviction?'" Kumar said. "And there was silence!"
New local adoptions of good cause protections also help bolster advocates' hopes as organizing in upstate towns and cities are continually met with success. On Wednesday night, Kingston in Orange County became the latest municipality to approve a good cause eviction bill, joining the ranks of Albany, Hudson, Poughkeepsie and Newburgh, which passed legislation last year (however, the Hudson version was vetoed and a revised version did not have the votes to pass again).
Even as the bill stalled at the state level, local campaigns won victory after victory upstate, each one presenting another opportunity for proof of concept, as well as support present outside New York City, as advocates continue their fight. "The Kingston Common Council's unanimous vote provides immediate protections to Kingston tenants and represents overwhelming public support and need for the legislation," Brahvan Ranga, political coordinator for the tenants' rights group For the Many, said in a text. "However, because of the state (Legislature's) inaction, millions of tenants across the state are left vulnerable." So the statewide push continues.
Powered By
NEXT STORY: Hydrogen: Climate change friend or foe?