Policy
Good cause eviction has momentum leading into 2022
Coming off of local successes, housing advocates are hoping to score a major statewide tenant protection victory.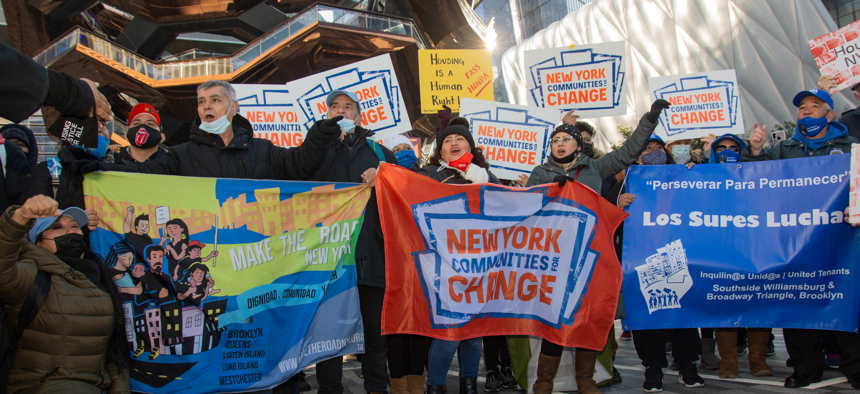 After efforts to get legislation passed to limit when a landlord can evict tenants and raise rents failed to move in Albany earlier this year, housing advocates went local. Over the summer, they began organizing to pass so-called good cause eviction bills in upstate cities, aiming to enact municipal protections as the statewide fight continued. In a few short months, advocates saw success – four cities, including Albany and Poughkeepsie, enacted good cause eviction laws. "It's been surprising in some ways how quickly these local good cause campaigns have moved," said Brahvan Ranga, a political organizer with the housing group For the Many, which helped mobilize those upstate campaigns.
That local success has given the statewide push for new tenant protections fresh momentum. The fight for good cause laws represents a fairly unique situation with municipal movements paving the way for potential statewide action. And advocates and some lawmakers alike feel confident that 2022 will be the year for landmark housing reforms.
Good cause eviction is a key goal of the Housing Justice for All coalition, a group of tenant advocates working to enact new protections for renters. After victories in 2019 with new rent laws, the coalition now looks to 2022, with a brand new governor after nearly two years of a pandemic, to address other key items that haven't moved. "Kathy Hochul is someone who has already shown that she's a lot more willing to govern collaboratively with the other arms of government," said Cea Weaver, the campaign coordinator for Housing Justice for All. "I think that that means that there's a path."
Advocates held rallies across the state last month to announce their agenda, which in addition to good cause eviction includes the repeal of a controversial tax break for developers, expanding a program that would help convert vacant commercial properties into housing and passing a voucher program to help New Yorkers pay for rent. They were joined by around a dozen state lawmakers in New York City, Rochester, Albany and Buffalo, who called on Hochul and legislative leaders to prioritize the agenda. "Evictions are violence," Assembly Member Zohran Mamdani of Queens said at the Manhattan rally. "A 50% rent increase is slow-moving violence."
Under a good cause proposal introduced by state Sen. Julia Salazar of Brooklyn and Assembly Member Pamela Hunter of Syracuse, tenants would have the right to an automatic lease renewal in most cases, and landlords could only evict in certain circumstances like failure to pay rent, violating the lease or causing a nuisance. The biggest sticking point for members of the real estate industry, who have lobbied against the bill, is its prohibition of steep rent increases. That's defined as a 3% increase, or 1.5% of the consumer price index, whichever is more, with the exception of major market changes or renovation work that would justify higher increases. In effect, it would enact something of a rent regulation on nonregulated apartments, offering tenants an affirmative defense in housing court against eviction.
We saw that wealthy corporations continued to make a profit, and that was true for the wealthiest developers and private equity landlords.
– Rebecca Garrard, Citizen Action of New York legislative director
Buoyed by the local successes, lawmakers and housing advocates expressed confidence that good cause eviction will make it through the state Legislature this year. Those victories have taken place in upstate communities that were often excluded from debates around tenant rights. For advocates, they offer proof that housing reforms are not just a New York City issue and are popular throughout the state. "I've seen even in the time that we've been seeing these local versions passed ... that state legislators who represent these areas … they have been moved, publicly or otherwise, to support the cause when they previously were on the fence or resistant to it," Salazar said of laws passed in upstate cities. Her bill currently has 21 co-sponsors in the state Senate – not quite enough to pass it yet and one fewer than in 2020, but much has changed since June.
The 2022 session also begins after nearly two years of pandemic hardships have left many New Yorkers struggling to keep a roof over their heads. The timing perhaps offers fuel for efforts to repeal the 421-a tax break, which incentivizes wealthy developers to include affordable units in their projects. "We saw that wealthy corporations continued to make a profit, and that was true for the wealthiest developers and private equity landlords," Rebecca Garrard, legislative director at Citizen Action of New York, said of stark economic disparities made apparent during the pandemic. "So knowing that heading into this year, it is imperative that we adjust our fiscal investments … so that we don't repeat the same cycle." Garrard asserted that providing tax breaks to build mostly market-rate or luxury apartments has done little to address the housing crisis that exists for low- and middle-income New Yorkers, while members of the real estate industry point to data that shows a significant chunk of below-market-rate housing in New York City has been the result of the 421-a program in recent years.
These contentious housing goals won't be won by housing advocates easily as the strong and influential real estate lobby is expected to fight against both good cause and a repeal of 421-a. "The data show that New York City is failing to produce enough housing, particularly at below-market rents, to keep up with its population growth," said James Whelan, president of the Real Estate Board of New York, in a statement. "State leaders need to decide whether they will take steps to increase the supply of housing, including new units at below-market rents, over the coming years or make the city's housing crisis even worse."
Good cause eviction' is just politically filtered language for 'lease for life' and 'permanent tenancies.'
– Joseph Strasburg, Rent Stabilization Association president
Ranga, of For the Many, said local real estate interests fought against the passage of good cause eviction bills in the cities where it has so far passed. "We expect them to mobilize. We expect them to leverage their financial influence to influence politicians. We expect them to use their social connections to influence politicians," Ranga said. "We expect them to show up to hearings and meetings and other public spaces to influence the state Legislature." Reactions to last month's rallies already previewed the fight ahead for housing advocates. "'Good cause eviction' is just politically-filtered language for 'lease for life' and 'permanent tenancies,'" Joseph Strasburg, president of the Rent Stabilization Association, said in a statement at the time. "Good cause eviction – permanent tenancies – would be a death knell for local economies and affordable housing in New York City and across the state."
Industry opposition is not the only hurdle standing in the way. Although gubernatorial candidate and state Attorney General Letitia James has expressed her support, Hochul has so far declined to give a position. Salazar said she expects negotiations, as few major bills pass unchanged, but made clear that she would not accept significant changes like limiting the law to downstate. And with legislative leadership largely silent on the issue, a tough battle is likely still in store for lawmakers and housing advocates. "In terms of leadership, they know it's a top priority for me," Salazar said, adding that she'll lobby leadership ahead of the session to make it a top priority of theirs as well. "And I am hopeful and encouraged that they will be receptive to that."