Interviews & Profiles
Does David Banks stand a chance against the bureaucracy?
The New York City schools chancellor is committed to cutting through red tape.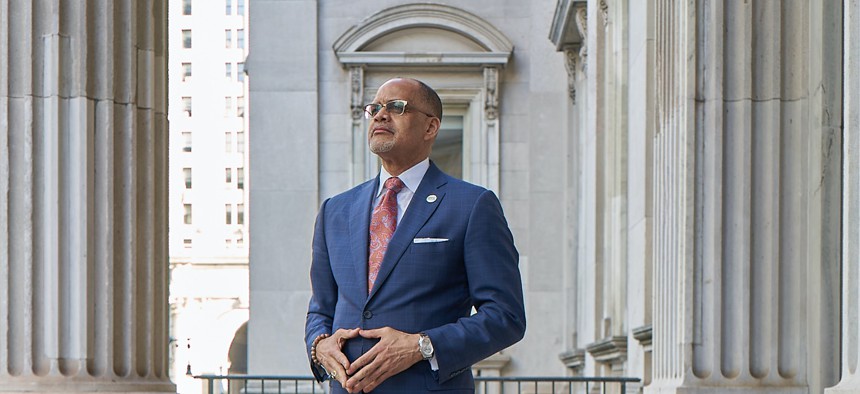 On a recent Friday morning, following his 5 a.m. exercise regimen, New York City schools Chancellor David Banks was traveling across the Verrazzano Bridge from Staten Island, where he had just met with students and staffers at Bridge Preparatory Charter School. The visit held special significance for the chancellor and the man who appointed him, New York City Mayor Eric Adams, because the unique school is set up for students in grades one through five with the learning disability dyslexia.
Universal screening for dyslexia was among several new initiatives promised by Adams – who was an undiagnosed dyslexic student. As the head of the city Department of Education, Banks said he wanted to learn more about "the issues of literacy and dyslexia at the early ages."
The next stop on thechancellor's schedule was in Manhattan for the launch of the Mount Sinai Robert F. Smith Mobile Prostate Cancer Screening Unit, which will help address the extremely high incidence of prostate cancer in Black communities.
"It's not a K-12 issue," Banks said of the initiative supported by Black billionaire venture capitalist Robert Smith of Vista Equity Partners. But the chancellor said instilling in children – particularly children of color – the importance of health and doctors visits was an important message for the city's public school students.
While traveling to his next appointment, also in Manhattan, Banks revealed the reason why his schedule has been packed with events, appearances and chances to meet students, parents and staff since he took office on Jan. 1: accountability.
"A lot of parents just don't trust the DOE, and they're very upset with things that happened during the prior administration," he told City & State. "I really want to hold the mayor and (myself) to account for engaging them, authentically," he added. "The parents don't want to be sidelined; they want to have a seat at the table – and they should!"
Banks has vowed to fight bureaucracy in the public schools, noting that for far too long, the system has failed to help enough of its students, parents and teachers. The 62-year-old Brooklyn native said his plan is to transform the department so that it works for everyone, something that his predecessors have also tried – with mixed or no results. The difference is that Banks has taken on that charge as a graduate of the public school system and as a former teacher. Plus, he brings years of experience from leading The Eagle Academy Foundation, a network of all-boys schools in New York City and Newark, New Jersey, that provides a private school experience in a public school setting.
What he's facing now is a city public school system that spent $38 billion on the current school year and continues to struggle with long-standing inequities for a student population that dipped to 870,000 students – a 10% drop since 2019. The school system also remains heavily segregated – an ongoing issue former schools Chancellor Richard Carranza unsuccessfully tried to fix before stepping down last year.
Plus, there remains the issue of the gifted and talented program, which has been criticized for excluding students from communities of color and which then-Mayor Bill de Blasio's administration had intended to phase out.
The accountability plan
Banks – who advised Hillary Clinton and U.S. Sen. Cory Booker of New Jersey on educational matters – has consulted with Adams and studied the city schools' issues for the past eight years while the mayor was Brooklyn borough president. There were other contenders for the chancellor's position, but Adams called his contacts and consultations with Banks "an eight-year interview process."
Banks also has ties to other Adams administration appointees. Former United Way of New York City President and CEO Sheena Wright, who is now deputy mayor of strategic initiatives, is Banks' domestic partner. The chancellor's brother – former NYPD Chief of Department Philip Banks III – also serves as deputy mayor for public safety.
Despite mayoral control likely being ousted from the final state budget, Banks said he still hoped Adams would continue in that role, long enough to implement their new outlook for the system.
"I refer to it, and the mayor refers to it, as 'mayoral accountability.' I think language matters. Nobody wants to feel controlled. I avoid the use of the term mayoral control," he told City & State. "That's the way it's written up in the law, so people still refer to it that way."
"Essentially what we're saying is that in a system this large, somebody ultimately has to be held accountable for performance and what's happening to our kids," said Banks, adding that part of the reason why people have pushed back against mayoral control is because families are not being engaged by the department. "I surely expect, once we finish here with the work we're doing, you won't hear people screaming about this because we're engaging everybody – elected officials, parent groups, (Community Education Councils), activists. We're talking (about) everybody. I think people feel like, finally, they are being fully engaged, and that's a big part of how we move."
Before becoming chancellor, Banks was a founding principal of The Eagle Academy Foundation in 2004 and later would become CEO and president of the school network. While Banks still notes recent Eagle Academy graduation and college acceptance rates on his LinkedIn page – the chancellor has also made it a priority to promote the talents of New York City public school students as part of his accountability and engagement strategy. "I have worked in this system for over 30 years. I know that every young person who attends our schools, across the city, is filled with brilliance, potential, promise and gifts," Banks said at a December press conference outside his elementary school alma mater, P.S. 161, in Crown Heights, Brooklyn. "And I also know something else – that they exist in a school system which is fundamentally flawed," he said.
"I'm not talking about the teachers," he added very quickly. "I'm not talking about the principals. I'm talking about the very architecture of the way that we do school in the first place," said Banks, vowing that "change is coming" to the country's largest public school system.
Banks unveiled four "pillars" of his anticipated changes at a press gathering at the department's headquarters in the Tweed Courthouse in Manhattan last month. The planned changes include reimagining the student experience to prepare them for job opportunities. "What are we doing if we're not producing young people who can take some of these new jobs, (for example in the) fintech (or) biotech industry?" asked the chancellor, adding that educational support is needed for teachers as well.
Banks is also focused on "scaling, sustainingand restoring what works." This was the rationale, he said, behind eliminating the system's nine executive superintendents, while assessing the current superintendents in the system and providing them with more resources and responsibilities.
Banks voiced support for innovative and successful programs working "in spite of" DOE bureaucracyand said "we're going to celebrate our teachers, our principals, (and) the great work that's been going on in our schools like you have never seen before."
Banks mentioned his desire to restore the Learning Partners and Showcase Schools programs. Started by then-schools Chancellor Carmen Fariña, both programs highlighted successful initiatives of individual public schools and shared them throughout the system.
"We need to do a much better job of telling the public about the great work that is actually going on in our public schools, so that they will continue to build a deeper level of trust with us," said Banks, adding that schools can get better by hearing of the progress at other schools.
He also wants to prioritize wellness and its link to students' success. This priority included maintaining safe schools, increasing the number of school safety agents, getting access to green spaces, taking cultural and scientific field trips, providing high-quality nutrition and conducting comprehensive support for students' needs. One example, based on a concept Adams has described as going from "pregnancy to profession," is the start of a citywide doula program, with experts providing support to pregnant women. Banks said the last part of his plan focused on making parents and families "true partners" and building their trust. "I want to make sure that our parents are part of this process of reform and moving forward, and not (just) a photo op after the decisions have already been made," he said at the Tweed Courthouse.
United Federation of Teachers President Michael Mulgrew, while noting the frustrations of working with the education department's bureaucracy, said the union remained open to Banks' plan.
"Deeper involvement of parents, and better preparing students for further education and the workforce, are long-term goals of the UFT," Mulgrew said in a statement after the chancellor's Tweed Courthouse speech. "But as we have often found, change comes slowly to the city's Department of Education. It's going to take a concerted effort to meet these ambitious goals, but we look forward to being part of the team to make this happen."
Mark Cannizzaro, president of the Council of School Supervisors & Administrators, told City & State that Banks has provided a "promising vision" in his first three months. "The biggest challenge, as always, will be putting the right people in place in order to effectively and efficiently implement that vision," Cannizzaro said in an emailed statement.
To help enact his plan, Banks selected Kenita Lloyd, the former chief operations officer at The Eagle Academy Foundation, to serve as his deputy chancellor of family and community engagement and external affairs. He said Lloyd will help "to fully transform the work of engaging our parents and families in this process."
A persistent bureaucracy
The city's educational system has weathered criticisms for years, even after the former Board of Education shed its name to become the Department of Education under Mike Bloomberg's administration and relocated its headquarters from Brooklyn to the Tweed Courthouse in 2002. Despite the move, which ushered in the era of mayoral control, dysfunction still followed.
Bureaucracy has long been associated with the schools. In a 1990 New York Times article titled, "In School Bureaucracy, Despair at the System," Joseph Berger wrote that Board of Education workers seemed "trapped in the same bureaucratic labyrinth they are often accused of creating." In the 2003 New York Times article, "So Long, School Bureaucrats: 110 Livingston Is Being Sold," about the sale of the former Board of Education building in Brooklyn, Michael Cooper wrote that the old headquarters was "more than a location or a shorthand name for the institution it housed, the city's Board of Education. It symbolized a state of mind, a failed system that was at once imperious and impervious."
In the same article, Cooper quoted Bloomberg as saying the city's public school system was defective. "This sale will redefine the address 110 Livingston, which was for too long synonymous with a dysfunctional bureaucracy that served itself instead of our children," Bloomberg said. Despite the change of venue and aspirations of the Bloomberg administration, the new department still came along with its "bureaucratic labyrinth" and has remained traditionally dysfunctional and resistant to change, at least according to critics.
A chancellor's foundation and transformation
Meanwhile, Banks' time in the bureaucracy – as a student, teacher and administrator – was not always unfortunate. Banks said his "foundation" started at P.S. 161, before his family moved to Southeast Queens, where he would graduate from Hillcrest High School.
Banks recalled the teachers at P.S. 161 who made lifelong, positive impressions on him during the December press conference at the school. "I remember every teacher that I had in this school. But there was a teacher who I had in the fourth and the fifth grade who transformed my life," said Banks, referring to P.S. 161 teacher Mildred Scott. "I have a picture of Mrs. Scott," proudly hoisting the framed photo and pivoting it for all members of the crowd to see. In addition to normal school work, Banks recalled Scott making extra effort to teach the fullness of history to her students, which included the countless, oftentimes overlooked, important contributions of Black people.
Disruptive students who were removed from Scott's classes would also get a dose of Black history, as remembered by her daughter Cheryl. "If any of her students ever acted bad in the class, she would put a desk outside of the classroom and she would give them a book on Frederick Douglass or Harriet Tubman, and that's how they learned part of their Black history," she said, adding that "they weren't (formally) teaching it in the schools back then."
For Banks, Scott's teachings were vital, lasting gifts that went beyond history lessons.
"It was in this building that Mildred Scott taught me Black history – not just reading, writing and arithmetic, which are critically important. And you need that," he said. "But she taught me who I was. And she taught about the people who fought, bled, died and sacrificed for me to have the opportunity to be all that I wanted to beand the responsibility to my community."
Banks recalled later in an interview with City & State that Scott took him and other classmates to speak before NAACP and Congress of Racial Equality community meetings with hundreds of people in attendance.
Community responsibility became elementary for the chancellor, first instilled by his parents – his mother was a secretary and his father a city police officer – and reinforced by Scott and his later studies at Brooklyn's I.S. 320.
It was the sort of student engagement that stood out for Banks, and it would last a lifetime. Years later, Scott would speak at the wedding for Banks' first marriage. He recalled that she was "the highlight of the whole ceremony." Scott's daughter added that Banks stayed in contact with her mother years after her retirement, until her death.
Accountability gets noticed
Most weekday mornings for the past 10 years, Bill Gunlocke has been holding a sign on the sidewalk in front of Tweed Courthouse that reads, "Why Not Teach Every School Kid to Read Well."
After a decade of trying to get some traction for his pro-reading message, Banks on a recent morning was the first city schools chancellor to stop and have a conversation with him.
"I love the new chancellor, but he's going to have to bust a move here, you know what I mean?" said Gunlocke, a former Cleveland school teacher who noted the school bureaucracy has prevented change.
"It just can't be business as usual," he said. "Because business as usual is not getting it done."