Personality
Chi Ossé, New York City's youngest council member, is figuring it out as he goes
From speed bumps to the Met Gala, the 24-year-old is determined to make good on his promises.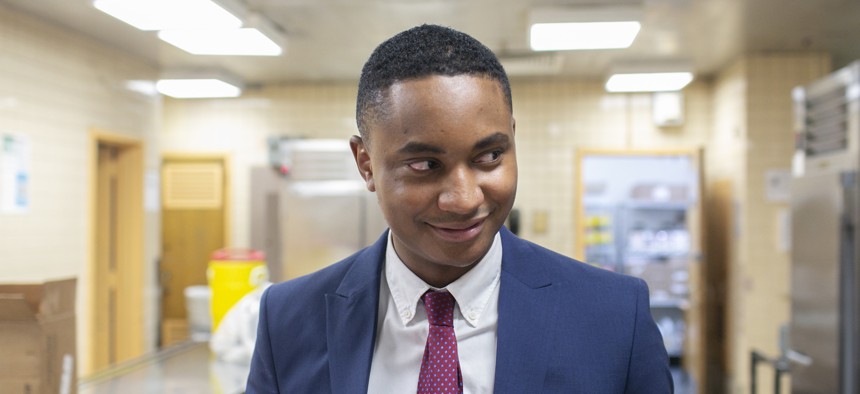 Chi Ossé's life would change the moment he took the microphone and began to speak on June 1, 2020, at the third Black Lives Matter protest he ever attended.
Ossé was 21 years old, and to that point he had made his name as a party promoter, a well known one at that, who hosted events at trendy venues across the city from the Public Hotel rooftop to Paul's Cocktail Lounge. His friends and relatives did not regard him as a particularly political person. Yet there he stood, addressing thousands of people who had gathered in Times Square to protest the murder of George Floyd. 
"They are trying to strike fear in our hearts," Ossé said about the police. "They want us to attack them. They want to beat our bodies. They want us to look like we are the bad people, we are peacefully protesting, don't break your peace. Stay strong, stay fucking optimistic." 
A mere 18 days later, on the first Juneteenth federal holiday, he announced his candidacy for the New York City Council. He would successfully fend off four other candidates during a heated June primary a year later, and coast through a general election, running unopposed. Now he is a member of the council representing parts of Bedford-Stuyvesant and northern Crown Heights in Brooklyn. Those who know him best and longest are not surprised that he has worked to put himself in a position of power. "He's definitely comfortable being in charge," said Tai Allen, a family friend who has known Ossé for most of his life. 
So, how to explain the curious rise of Chi Ossé? 
Ossé was born in Brooklyn on March 18, 1998. His mother, Akim Vann, called him her most "challenging child," saying he "threw caution into the wind" and was not "straight and narrow" like his brother Chuma.
Vann comes from a biracial and somewhat influential family. She appeared on Sesame Street as a child and her father, Teddy Vann, was a Grammy award-winning record producer and songwriter. Both of her parents are American-born, but their parents come from Hong Kong and the Caribbean. Conversation topics around the Ossé dinner table in their Bed-Stuy home have ranged from race to feminism. Her children are all very vocal, she said, which forced Ossé to grow a thick skin.
"He's being trained in his household to be an analytical person," she said. "He's trained to speak up, trained to speak up for the underdog. I didn't see the politics coming, necessarily, but I knew that he would be somebody who would speak up for something." Ossé and his siblings attended Friends Seminary, the tony Quaker independent school on the east side of Manhattan, for middle and high school. Classmates remember him as somebody who wasn't afraid to speak publicly, but was not very interested in politics. After graduating, Ossé headed to Chapman University in Orange, California, a roughly 30-minute drive from Los Angeles. There, he briefly studied hospitality and, at the time, intended to one day open his own restaurant. But in 2017 his father Reggie, better known as "Combat Jack," the prominent podcaster and music attorney who represented hip-hop artists like Jay-Z, died. Ossé headed home and never returned to Chapman to complete his degree. 
He's trained to speak up, trained to speak up for the underdog. I didn't see the politics coming.
- Akim Vann, Chi Ossé's mother 
Vann said Reggie's death forced her children to grow up quickly. Ossé started working at clubs and bars, taking freelance positions around the city. But the party came to an abrupt end in 2020, when Ossé found himself holed up in his room, quarantining like so many others. Roughly two months later on May 25, 2020, George Floyd was murdered and subsequently, the graphic video of his death began playing on repeat on every television news station and social media platform. 
"I am someone that always speaks up"
Three days later, Ossé headed to the Barclays Center, just minutes away from his home, to protest alongside thousands of others. He returned to protest the next day (this time with goggles to protect against tear gas), the next day, and every day after that until he found himself looking down over a crowd of thousands in Times Square on June 1, 2020, holding a microphone. 
He continued: "They want to hurt us. They want to beat us. They are taunting us. They like this. They are paid to beat us. They are paid to kill. If they do not kneel with us they are fucking against us. Applause. Don't let them break you. Be peaceful, no fucking looting, that's what they fucking want." Later that day, he took to Instagram, posting: "Day 3 of protesting for Black Lives. Speaking to hundreds of people in Times Square was one of the most amazing things that I have ever done in my life." The following day, he could be spotted atop a stone ledge in Washington Square Park. Then, he was back in Times Square, at the Brooklyn Museum and at the Brooklyn Public Library, pouring his emotions out to thousands of people. 
"It felt natural," he later said. "I am comfortable speaking from the heart. I am a loud person. I am someone that always speaks up about things that I'm dissatisfied with."
Day after day, he started to recognize many of the same faces at the protests he attended, many of whom were as young as he was. They banded together to form Warriors in the Garden, a Gen Z, Brooklyn-based collective of nonviolent activists that organized daily demonstrations against police brutality. 
At the same time, the media were beginning to take notice of him. He was featured on a segment on NBC News and a podcast producer friend began following him for what would eventually become an episode of the podcast "Resistance" that was later featured on the radio show "This American Life." 
He remembered feeling that despite the work he was doing with Warriors in the Garden, no laws had been written that would alter his life as a Black person in America - no "pen to paper." 
That's why on June 19, 2020, on his 23rd day of protesting, Ossé announced his run for City Council. He was running to be the youngest and first queer person ever to hold the 36th District seat. 
"I did not think that at that first protest, I would be doing what I'm doing today," Ossé said. "I never thought I would run for office before in my life." 
Before that point, he admitted he didn't understand how accessible the process for running for office could be. He also wasn't a college graduate and had only ever worked in nightlife. But in many ways, he found campaigning for office not dissimilar to promoting parties. 
"I love meeting new people," he said. 
Martin Rather, a former high school classmate who worked in politics, said word spread quickly among the Friends community that Ossé had become an advocate and was running for office. 
Rather, who had co-founded the November Group, a ballot access firm, gradually became involved in Ossé's campaign on the finance side. "In terms of the timeline, Chi has exceeded any expectation," Rather said.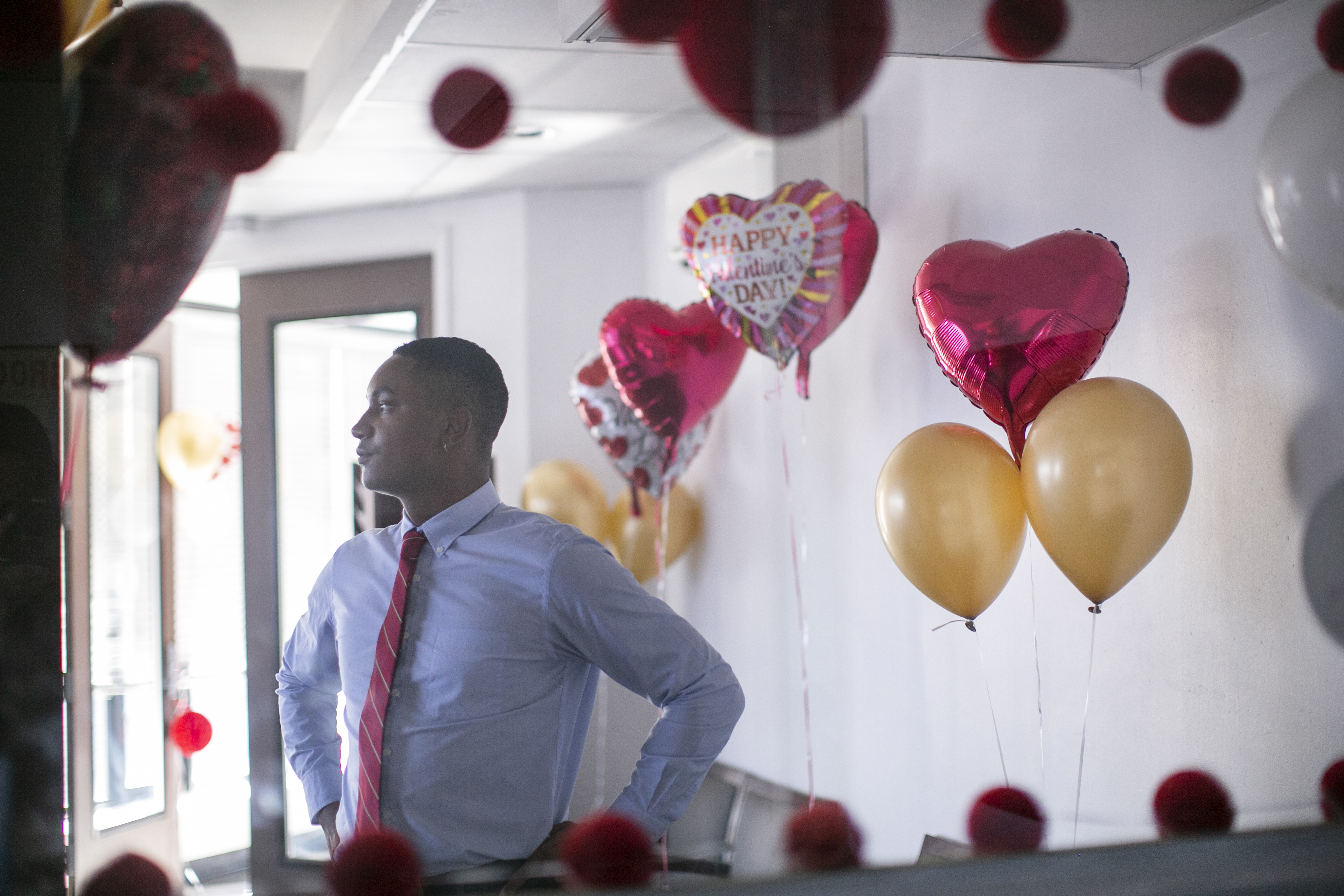 "The public doesn't realize what a quick learner Chi is." 
Here was this 21-year-old running for office for the first time, with zero political experience, in what Rather called "institutionally difficult" Brooklyn, fighting against four other candidates and the Democratic party apparatus. 
Ossé's campaign proved itself legitimate. He brought in enough low dollar donations in his district to secure an additional $160,444 in public matching funds – the maximum allowed. And he was winning a wide range of endorsements from politicians including Brad Lander, now the city's comptroller, former Council Member Jimmy Van Bramer and Rep. Alexandria Ocasio-Cortez's political action committee. He also won the attention of a number of prominent cultural figures in New York City: the late actor Michael K. Williams (a fellow Brooklynite) social media celebrity and filmmaker Nicolas "New York Nico" Heller, Raymond Santana of the Central Park 5, now known as the "Exonerated 5," and Ilana Glazer of the sitcom "Broad City." 
The campaign did not always go smoothly. He stumbled over debate questions. And Ossé was never seen as the front-runner. The favorite was Henry Butler, a community board district manager and retired subway conductor who had the support of the Brooklyn Democratic Party and most of the city's biggest labor unions. Both Ossé and Rather knew he would have to win convincingly to prove a potential victory wasn't a fluke.  
Then came election night, and to everyone's surprise Ossé had won 57% of the vote.
Rather had worked with other candidates before Ossé, and some had run for office seven or eight times before winning. Others had been thrown off the ballot or were not eligible to receive matching funds. "For Chi to adapt to the New York City political world as fast as he has, it's a difficult system to navigate," he said. "He is someone who is smart and navigates a system not designed to uplift people like him. The public doesn't realize what a quick learner Chi is." 
In the days before and after his victory was officially certified by the Board of Elections, Ossé was meeting prominent city politicians including Senate Majority Leader Chuck Schumer, Reps. Alexandria Ocasio-Cortez and Hakeem Jeffries, as well as the now Brooklyn Borough President Antonio Reynoso. 
Ossé was now in familiar territory – meeting with celebrities. "Some of them are big names in politics, and I respect the work that they do," he said. "But my main mission in those meetings is to advocate for my people because that's what I was put here to do." 
Ossé ran uncontested in the general election several months later and coasted into City Hall. He entered the council at a unique moment in its history. Because of term limits, an overwhelming majority, 36 of 51 council members, are, like Ossé, newly elected. There was a new speaker, Adrienne Adams, as well as a new mayor, Eric Adams. 
My personality, and myself, I think it attracts a crowd.
– Chi Ossé
Ossé's district is predominantly Black, though the percentage of Black residents has decreased significantly over the past decade, according to the NYU Furman Center. The poverty and violent crime rates stand higher than both the Brooklyn and citywide rates. Thirty percent of households in the district were severely rent burdened and 15% of people were unemployed, according to a 2017 report from the Institute for Children, Poverty, and Homelessness. 
Yvette Hackett, a constituent of Ossé's, is hoping to receive disability assistance from the city for her back problems. She also wants to see a community center where young people, like her unemployed son, can learn vocational skills like plumbing and carpentry. 
Another constituent, Joyce Koat, who has lived in the district for over 60 years, is concerned about homelessness. She also wants the city to impose regulations around scooters, roller skates and motorbikes on sidewalks because she said there is no place for the elderly to walk. Bary Cooper, head of the nonprofit Brothers Redefining Opportunity and a constituent who voted for Ossé, wants him to address the surge in gun violence. 
New council, new priorities
New council members often have to set aside their campaign promises, at least temporarily, to respond to constituents' demands. 
Ossé has already found this to be true. He has been getting calls and meeting with constituents who tell him that their biggest concern is housing. Tenants are being harassed by landlords, they tell him. They live in poor conditions, and are being, he said, "preyed on" by real estate agents. He heard this during the campaign. But now the sheer number of people who call to complain has made clear to him how dire the situation is. 
"When thinking about what my priorities were prior to fully stepping into office, there were other items that definitely were above housing," he said. "But it's really become the No. 1 prevalent issue in our office. And it's definitely my No. 1 concern in terms of how I'm thinking when it comes to writing laws and legislation." 
Presumably, Ossé has had to sideline issues he had anticipated working to combat, like public safety. Carol Kellermann, president of the Citizens Budget Commission and a columnist for Gotham Gazette, said this is part of being an elected versus an advocate. He may have run on wanting to fundamentally change policing. But his constituents are wondering what he will do to improve how they live. "Being an elected requires compromise," Kellermann said. "There's no other way, even if advocates think it's unacceptable."
Ossé has, at times, leaned into advocacy. Ossé was one of just six council members to vote against the city budget in June, which included cuts at the Department of Education and slight increases to the NYPD budget. As a result, Ossé and the other five council members were not credited for projects they supported as part of the "Speaker's Initiative to Address Citywide Needs." Ossé also sparred with NYPD Commissioner Keechant Sewell over questions on Mayor Adams' "Blueprint to End Gun Violence" plan during an oversight hearing. And just as he wore his signature beret during the 2020 protests, as chair of the Cultural Affairs Committee, he attended the Met Gala sporting accessories by designers from his district and an outfit representing the Black American experience during the Postbellum period.
He's balanced that with a focus on basic city services. Ossé worked with the Department of Transportation to install new crosswalks and speed bumps in his district. And since entering the council, he has taken on the issue of sanitation wholeheartedly, organizing garbage clean-ups in his district and even introducing a bill in May that would mandate annual reports on rat mitigation from the city. But he also reached back to his experience as a party promoter to introduce a bill that would provide the city's clubs and bars with Narcan kits to reverse drug overdoses. 
Ossé's age has been a topic of discussion. He said he encounters reminders of being a 24-year-old who still lives at home every day. "I think it's pretty amazing that I'm in this job," he said. "I think some people may see it in a negative way, less so now because I'm here now, but I always see it as a positive and as an advantage, sometimes, maybe, over my colleagues." 
His mother says that his age does not lessen his responsibilities at home. He still has to clean up and take out the garbage. "In local politics, you can really effectuate change, and if he ends up in some other area, I'm okay with that too," she said. "I just want him to maintain his authenticity." 
Vann hosted a small Chinese New Year dinner in February, and she allowed each of her children to invite one person - mostly for COVID reasons. While Chuma's chosen guest for dinner was his girlfriend, and their other two siblings brought their best friends, Ossé brought his photographer. 
"I think my personality, and myself, I think it attracts a crowd," Ossé said. "I think that can sometimes be misconstrued as narcissistic, but I think I'm just very honest with myself and my feelings with other people. And I think that level of comfort is comforting for other people." 
Elizabeth Maline is a New York-based journalist and recent graduate of Columbia Graduate School of Journalism.