Personality
Suraj Patel talks about his debate performance and why this is his year
His poll numbers have improved recently, indicating he might have a shot in the 12th Congressional District.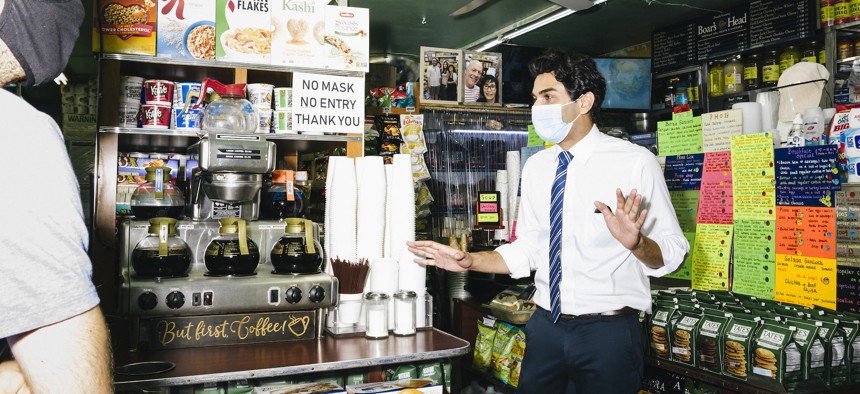 In the race to represent the redrawn 12th Congressional District in Manhattan, all eyes have been on Reps. Jerry Nadler and Carolyn Maloney, longtime colleagues who are now facing off against each other after redistricting combined their Upper East Side and Upper West Side districts. But in the shadows of the two senior lawmakers is Suraj Patel, a lawyer and former campaign staffer for President Barack Obama who is mounting his third consecutive bid for the seat. The past two election cycles, Patel challenged Maloney in the old 12th District. After a resounding loss in 2018, he came much closer in 2020. Now, with Nadler and Maloney duking it out, Patel has pitched himself as a new alternative to the pair of lawmakers who have 60 years of combined congressional service between them. 
Considered a long shot candidate at the beginning of the race, Patel has made some splashes recently that made it clear he might have a chance. A recent internal poll had him with 25% of the vote, not far behind Nadler and Maloney, who both were around 30%. It was an increase from the previous poll his campaign released, which had Patel at 19%. And he came out swinging in the first televised debate of the race on Tuesday night, setting himself apart as the only candidate on the stage to express support for President Joe Biden's reelection in 2024. With less than a month before Election Day, and even less time before early voting begins, Patel spoke with City & State about his debate performance, lessons learned from his past races and why this will be the year that he wins the 12th Congressional District.
Tuesday night's debate was lively. Tell me how you think you did and what it was like being on the stage with both Maloney and Nadler.
These are very experienced veterans, and we took it very seriously. But look, this is a very classic situation of two fundamentally different arguments in which two candidates are presenting an argument about their past, and why they are qualified to keep going for a 31st year in Congress. And, by necessity, puts them in the bind of defending the present. They're currently essentially taking credit for the state of the country, the economy, inflation, livability, all the things that are affecting New Yorkers every single day. And one candidate, me, is actually offering a plan for the future. And that necessarily makes for a really unique opportunity for viewers to get clear contrast. And I believe that's what we presented.
You were the only candidate on that stage who said you would support a reelection bid from President Joe Biden and accused your opponents of ageism because of it. Do you see any irony in that statement considering you're running against two longtime incumbents while accusing them of ageism?
Never in my entire (campaign) – and you can go through every transcript on Earth – have I ever uttered anything about Maloney and Nadler's age. The fundamental difference between Carolyn Maloney and Jerry Nadler and Joe Biden is that Joe Biden has been effective. The president's been effective. He uniquely was able to defeat Donald Trump and it is his prerogative as a leader of our party to decide whether and when he chooses to run for reelection. Carolyn Maloney and Jerry Nadler attempted to gerrymander their own districts and use their power to further their power, to further their time in office. And so my argument against them is sheer effectiveness and lack of a plan for the future. President Biden has plans. Carolyn Maloney and Jerry Nadler don't even have plan pages on their website. Fundamentally that much time in Washington and that much time away from everything puts you out of touch. The only thing that's ageist about this campaign is for Carolyn Maloney and Jerry Nadler to suggest that a 38-year-old person who's engaged, who has a family, who has a mortgage and is an attorney who's worked for the public and private sector (that) he's somehow unqualified or too young to be in an office that the Constitution itself prescribed 25 as the age.
Neither explained why they didn't affirmatively support Biden's reelection, why did you conclude ageism?
First off, it was a yes (or) no question. And they waffled, so they said no. And I don't think it's a logical leap for me to say that when, in history, never has the party, either Republican or Democratic Party, switched to mid-election cycle after one term to another person. And the zeitgeist across the RNC and the Washington Examiner, and you name it right-wing media, has been about Biden's age and capacity to do this office, when we've seen him be as effective as he can be with the recalcitrant Congress, then I don't think it's a logical leap. 
This is now your third campaign and you have a new opponent in Nadler. How have your past campaigns prepared you for this one and do you think it's tougher because you're up against two long-term incumbents instead of one?
I don't know about that. I think that we're running this race because we know that there's a fundamental desire amongst the vast majority of people for fresh new leadership, fresh, pragmatic, principled leadership. My first two campaigns prepared me from the standpoint one, learning a lot of lessons, learning some humility and then also applying some of those lessons to running a campaign more effectively and efficiently. You'll note that there are people out there, like Ro Khanna, for example, who ran a third time after coming super close and won quite overwhelmingly the third time. You are raising name recognition when you run these races. But fundamentally, our polling shows exactly why we're going to win this race, which is that with Maloney and Nadler, the base of voters who prefer somebody with experience in seniority is split between two people versus the people who want new leadership – there's only one game in town.
Recent polling had you in a pretty tight race. How have you made inroads in the new parts of the district on the West Side, and even the East Side of Manhattan, since you performed better in the Queens portion of the old district?
Currently, in this New York 12 as composed, we still got 20,000 to 23,000 votes two years ago, which is not nothing at all. Which is to say that as we did in Queens and Brooklyn from a margin standpoint, the bulk of our 38,000 votes came from Manhattan just by nature of the density of that part of the district. So we're starting from not zero at all on the East Side, in any way. And now on the West Side, we have been introducing ourselves with fervor to voters. I think reporters look at this a lot from the standpoint or lens of two chairs and seniority and incumbency and whatever. Voters don't. People will get this as a new district because it is a brand-new district. Yes the number is 12, but fundamentally, it's a new district. In many ways, there are no incumbents in this new district.
What's been occupying your time when you haven't been running for office in between cycles?
So first, remember, (the) last race took us three months and a subsequent federal lawsuit to count ballots that were invalidated due to post office error, through no fault of a voter. So I took my fight to court and won a federal injunction that most people thought was never going to happen to get 1,200 ballots more counted. We got laws changed in New York that added a giant red box that says: "Sign here." And then, like many New Yorkers, I will say this, I have to work. My family faced a foreclosure, a pandemic-induced foreclosure. And I worked that out. We made sure every employee got paid and had health care and came out on the other side. So it was actually a very difficult year for us, for me personally, from the standpoint of professionally. And then I remained very active in my civic work. In short, I've done a lot of things both civically and frankly professionally that I had to do, because I actually have to work.
And you're referring to your family's hotel, hospitality business?
Yeah. Now let me just say that there's a lot of mischaracterization about this company. And the fact of the matter is, it's a family-owned company that we built from scratch and we still run. (It's) significantly smaller than it once was, because after the financial crisis we faced multiple foreclosures and things. It was a really difficult time. Actually, that's where I cut my teeth in the economy, which is to work out foreclosure after foreclosure. It also colors my view of the effectiveness of D.C. politicians who have no idea how the economy works, and yet bailed out banks without bailing out community banks and small businesses and homeowners, just prolonging the Great Recession. And then coming out of COVID, it was a really difficult time for a lot of folks, including in New York City. It's no fun.
So 20 days out, are you feeling like the third time's the charm?
Momentum wins elections, and we certainly have it right now. I will say the reason we have it is because the argument I've been making for three years now has met its moment. People are ready for change, they're ready for new leadership coming out of the pandemic. I am very confident in our path to victory. I believe in our polling, we've nailed it in the past. And I know that come Election Day, we're on the verge of blowing up on the biggest upsets in American political history.