Winners & Losers
This week's biggest Winners & Losers
Who's up and who's down this week?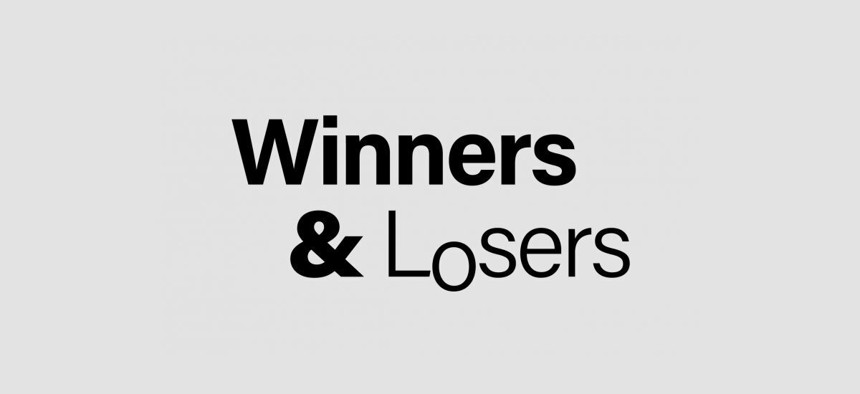 Former New York City Mayor Bill de Blasio may have had the best week of any of the dozen candidates who failed to clinch the Democratic nomination in the 10th Congressional District. The drop-out candidate not only managed to still garner 477 votes, but more importantly can skirt the blame heaped on other progressive candidates for failing to coalesce. Plus, the former mayor landed a plum teaching gig at Harvard University this fall. What, like it's hard?
WINNERS:
Michael Gianaris / Andrea Stewart-Cousins -
The leader and her deputy in the state Senate didn't lose a single incumbent to an insurgent challenger, despite the best attempts from candidates on both sides of the aisle. What, like it's hard? Most of them won big, hardly needing to break a sweat. Even state Sen. Gustavo Rivera, who faced the toughest challenge with oodles of cash spent to unseat him, came out of election night with a smile on his face. That's good news for state Stewart-Cousins and Gianaris, who also heads up campaign strategy for his conference. No upsets in the chamber this year, and Gianaris' pick for a brand new district is headed to Albany to boot.
Dan Goldman -
After funding his own campaign with millions of dollars of denim money (nothing against Levis, which are objectively the best jeans) and clinching that juicy NYT endorsement, Dan Goldman emerged top of the heap in the most-watched congressional race of the summer. Apparently serving the district for years in the Assembly and toiling day after day in the City Council aren't really voter priorities when it comes to experience. Apparently the main question is, have you appeared regularly on MSNBC? Best of luck in Congress Dan! Though, do you need luck when you've got so much money?
Kristen González -
In a night harkened as a strong showing for progressives overall, political newcomer Kristen González' sweeping victory against former City Council Member Elizabeth Crowley gleamed especially bright. What hurdles did she face? Well where to start? Her opponent was backed by New York leaders like the mayor and City Council speaker and she'd outstripped her in fundraising by hundreds of thousands - still, the DSA-backed candidate not only prevailed, but did so by a wide margin.
Nick Langworthy -
It looked at first like the controversial Carl Paladino was going to represent Republicans in the November election for the 23th Congressional District. But state GOP Chair Nick Langworthy pulled out a win in the end in a tight race in which just a few thousand votes separated the two candidates. Langworthy was likely sweating as he watched the returns roll in on election night. But it turned out to be a night of celebration for him, not just because of his own primary victory, but because of GOP incumbents who all fended off insurgent challenges. And state Sen. Peter Oberacker's reelection was another nailbiter.
Pat Ryan -
The Ulster County Executive's win against Republican Marc Molinaro in a special election to represent the 19th Congressional District is giving Democrats nationally renewed hope that their pro-abortion narrative in the wake of Roe v. Wade's reversal can drive voters to the polls. The Hudson Valley/Catskills swing district Ryan will represent for the next four months veers two points to the right and was seen as proving ground for how the party will perform in November. He pulled off the win by just two points.
LOSERS:
Eric Adams -
If you want to be a national political player, it helps to be a local political player first – and the mayor doesn't seem to have much pull. That's even in his own backyard (or is it his son's backyard?), where Eric Adams-endorsed Conrad Tillard is on his way to 16% of the vote against state Sen. Jabari Brisport. Adams isn't the only high profile endorser to have a bad night, with his one-win-out-of-four performance – but at least folks like Reps. Adriano Espaillat and Ritchie Torres hit the campaign trail. Adams needs to either work harder, or start endorsing winners.
Alessandra Biaggi -
The bigger the hype, the harder the fall? Not only did state Sen. Alessandra Biaggi lose big to Sean Patrick Maloney in the newly redrawn 17th Congressional District, she'll also soon no longer have her seat in the Senate where she represents parts of the Bronx and Westchester. Well, hopefully the new home she relocated to in the district can provide some comfort in the meantime as she prepares to make what will no doubt be a strong comeback in whatever comes next for the well-known progressive.
Michelle Bond & Josh Lafazan -
Another cryptocurrency crash? These two Long Islanders outraised their primary election competitors. And each also got hundreds of thousands of dollars of super PAC support from cryptocurrency-funded super PACs. What did all that real money derived from fake money get them? A distant second in the 1st Congressional District Republican primary for Bond, and a cool third place in the 3rd Congressional District Democratic primary for Lafazan. Some Long Islanders bought the dip though – crypto-money backed Laura Gillen won big in the 4th.
Mondaire Jones -
We hope Mondaire Jones snagged a short-term lease on his new Brooklyn apartment. The Hudson Valley Congress member failed to beat out a crowded Democratic primary field for Brooklyn and Manhattan's 10th District after facing a post-redistricting challenge from Rep. Sean Patrick Maloney in his current seat. Moving to Brooklyn a few months ago didn't quite shade over Jones' carpetbagger status, and the now one-term Congress member will now have to pack up his Capitol office at the end of the year. Still, Jones can take comfort in the fact that he'll be far from New York's briefest-serving member of Congress.
Carolyn Maloney -
In a sign of desperation, the Upper East Side Congress Member resorted to parroting the New York Post during the waning days of the campaign, referencing the tabloid's depiction of her longtime colleague-turned-opponent Rep. Jerry Nadler as "senile." The race seemed anyone's to win in its early days, but after a poll showed Nadler up by 19 points and The New York Times gave him the endorsement, the writing seemed to be on the wall for Maloney. In one final jab, she mentioned previous female leaders' fights against "sexist systems and misogyny" in her concession speech on Tuesday night.