New York City Mayor Eric Adams to endorse state Sen. Kevin Parker
The endorsement is Adams' latest show of support for a moderate candidate running against a progressive.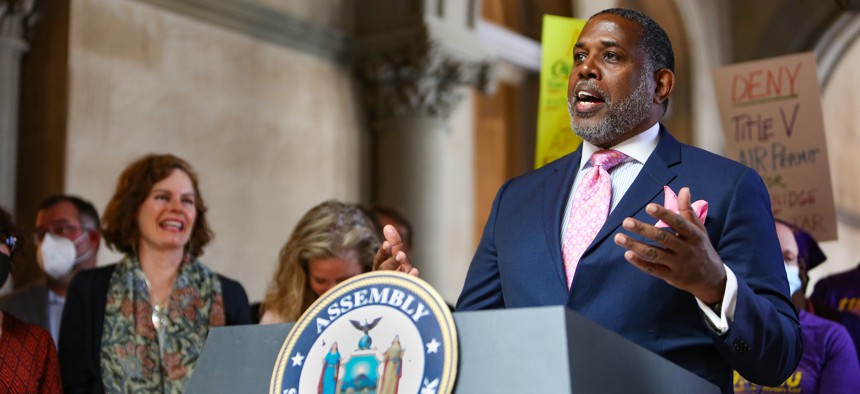 New York City Mayor Eric Adams will endorse State Sen. Kevin Parker in his bid for reelection, Parker's campaign told City & State. New York Attorney General Letitia James, Sen. Kirsten Gillibrand and state Comptroller Tom DiNapoli will also announce their support for Parker.
Parker is running against Democratic Socialists of America-backed candidate David Alexis and Kaegan Mays-Williams, a former assistant district attorney in Manhattan, in this month's Democratic primary for the 21st District in Brooklyn.
In a statement provided by Parker's campaign, Adams expressed confidence that Parker "will work to pass important gun control legislation, and will fight for more affordable housing, as well as increased school funding; and will continue to be an environmental champion for New York."
The endorsement follows Adams' announcement on Monday that he is backing another moderate, Conrad Tillard, in his campaign against Democratic socialist state Sen. Jabari Brisport. The mayor is also supporting centrist Democrat Elizabeth Crowley in this month's primary. She is running against DSA candidate Kristen Gonzalez.
Adams earlier this year announced his support for a slate of candidates running against competitors backed by the Working Families Party in the June primary, including Assembly Members Eddie Gibbs, Inez Dickens, Michael Benedetto, Nikki Lucas and Erik Dilan, all of whom won their respective races. Adams also endorsed Brian Cunningham, who ran against WFP candidate Jelanie DeShong in a special election in March.
Adams waded into two Brooklyn district leader races in June. He endorsed former City Hall staffer Pinny Ringel, who ousted incumbent 48th District Leader David Schwartz. But Adams-backed district leader candidate Renee Collymore lost to progressive incumbent Shaquana Boykin, who is aligned with the New Kings Democrats.   
Adams' push to elect Hercules Reid, a former aide to his mayoral campaign, also failed when Reid lost to Democratic nominee Monique Chandler-Waterman in the June primary.
He also opted to endorse Gov. Kathy Hochul in the Democratic primary over New York City Public Advocate and Working Families Party candidate Jumaane Williams, along with U.S. Rep. Tom Suozzi, a longtime Adams friend who turned down a job in his administration to run for governor.
With reporting by Jeff Coltin