Interviews & Profiles
Order over chaos: How Andrea Stewart-Cousins fixed the state Senate Democratic conference
The majority leader has presided over growing power and has delivered legislative successes with and without the New York governor's help.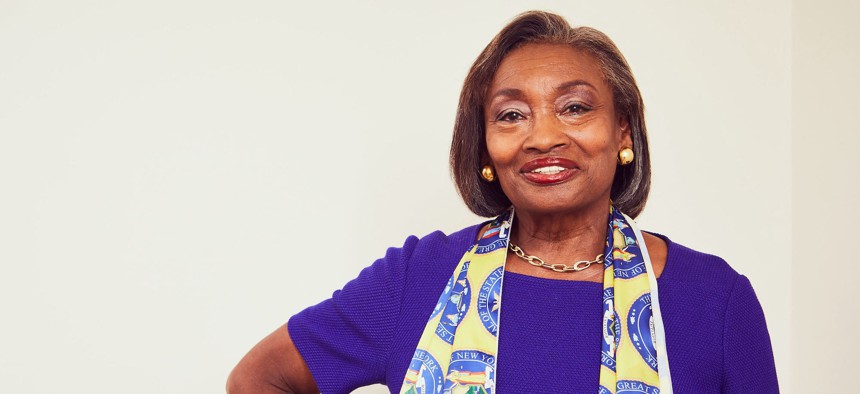 Andrea Stewart-Cousins takes birthdays very seriously. Whenever a member has a birthday, she ensures there's a cake for the celebration. But she's also serious about her own birthday, which just happened on Sept. 2. "She's very fierce when it comes to the birthday," Stewart-Cousins' former counsel and chief of staff Shontell Smith told City & State. "It's on my calendar to text the other senior staff." That seriousness, apparently, extends at least a little bit to astrology. When I told her that I shared her birthday, Stewart-Cousins seemed to light up about talking to a fellow Virgo. "You know how I am pretty much," she said in a recent phone interview.
The state Senate majority leader identifies with the broad strokes that astrological enthusiasts use to describe Virgos. She said she's meticulous about the words she chooses and took pride when her editor back in her journalism days did not need to correct her spelling or grammar. Virgos are generally described as Type A perfectionists who are very neat and organized. "I'm not going to say that I'm, like, a neat freak," she said. "But I do prefer order to chaos." She wasn't talking about her Democratic conference, but she might as well have been.
When state senators voted to make Stewart-Cousins their leader in December 2012, the Democratic conference was nothing if not chaotic. An infamous 2009 coup resulted in a leadership crisis during the first Democratic majority in the state Senate in decades. Then just as quickly as the party gained the majority, it lost it again in 2010 largely over anger about the MTA payroll tax. To cap it off, a group of Democrats left the conference in 2011 to form the Independent Democratic Conference and allied itself with the GOP. The IDC agreed to share power with Republicans in 2012, preventing Democrats from gaining control of the chamber despite having won back a numerical majority. If she prefers order, Stewart-Cousins certainly had her work cut out for her.
But she did more than simply bring political order to the fractured and chaotic Democratic conference. It didn't just survive, it has thrived under her leadership. It took a few years, but Democrats won a big majority in 2018, passing long-stalled legislation at the beginning of the new session in 2019. And far from falling apart like a decade earlier, the party grew its majority in 2020.
Stewart-Cousins, the first woman to lead the state Senate, managed to succeed where her predecessors had failed, not only in the world of electoral politics but in governance as well. Smith said Stewart-Cousins wields "subtle power" in contrast to the long history of men in Albany. It's a power refined over years of struggle and breaking barriers as well as fighting through the underestimation and prejudice reserved for Black women in particular. When she officially became majority leader at the beginning of the 2019 legislative session, she did so with a smile and carefully picked, soft-spoken words, rarely raising her voice or losing her cool. And so far, that style of wielding power has served her well.
---
Stewart-Cousins, 72, did not come up through traditional political channels before being elected. Raised in New York City public housing, she became a single mother at 19 and began working for the New York Telephone Company to support her son. She moved into marketing for the company when a class-action lawsuit forced it to open positions for women of color. When that company folded, Stewart-Cousins went back to school to study journalism while working in the field. It wasn't until 1995, already in her 40s, that Stewart-Cousins ran for office the first time, winning a seat in the Westchester County Legislature at a time when there were few Black women in Westchester politics. Her signature scarves once served to differentiate herself from the only other Black woman elected in Yonkers, Symra Brandon, who served on the City Council.
Those experiences prepared Stewart-Cousins to challenge then-state Sen. Nick Spano in a contentious 2004 race that was rife with allegations of voter intimidation and racism. Few at the time thought she could succeed against a popular, longtime incumbent from a powerful Yonkers political family. State Sen. Liz Krueger, then the chair of the state Democratic Senate Campaign Committee, thought differently when she recruited her now-majority leader to take the plunge. "I actually hunted her down and convinced her to take the run when she had no ideas about running for the Senate and mostly thought I was insane when I suggested it," Krueger told City & State.
That first election was a hard-fought battle for Stewart-Cousins that she lost months after Election Day, following lawsuits and recounts, by a mere 18 votes. But the reasons why she had run in the first place didn't change. "I ran because the Brennan Center had called the New York state Legislature the most dysfunctional in the country," Stewart-Cousins said. "I ran because I wanted to codify Roe v. Wade. I ran because I wanted to make sure that the (Campaign for Fiscal Equity) case that had been decided in favor of struggling schools was actually paid." Nearly two decades ago, she couldn't have known that the state would remedy these issues years later under her leadership.
With the 2004 experience under her belt, Stewart-Cousins returned for a rematch in 2006. Shelley Mayer, who is now a state senator, ran that year for the first time in an Assembly challenge against Mike Spano, Nick Spano's brother. "The striking thing to me, having started to work with her that year in 2006, was she was incredibly popular in the conservative parts of the district," Mayer recalled. "We would go to senior events with older Italian, I assume, largely Republicans, and they loved her." Even back then, Mayer said Stewart-Cousins was a masterful consensus builder, managing to relate to a large swath of voters despite political differences. "She was quite magical in these communities," Mayer said. Through it all, those who were paying attention to Stewart-Cousins were struck by her grace under pressure – even the man she would defeat. "(Her) strength is her ability to not get ruffled, to be able to stand up before a group who disagrees with her and to be able to try to persuade them to at least understand her position," Spano, who started his own lobbying firm after his loss, told City & State.
---
New York is filled with political power brokers and would-be kingmakers seeking to stretch their influence. In the state, few are more powerful than the Senate majority leader, a status that Stewart-Cousins embraces. "Do I have power? Absolutely," she said. "Do I use that power for the people? Absolutely." And despite not fitting the traditional role of a political power broker to make or break careers, or to reward those most loyal to her, Stewart-Cousins does not shy away from the outsized impact of her words. "I don't ignore the power," she said. "People come to me and ask for assistance, and I give it to people in ways that I feel will benefit them if they are the right people to serve." Stewart-Cousins may not be one to ask that her members "kiss the ring," but her impact is evident in the way the Democratic conference has grown under her leadership.
Stewart-Cousins' stately air when she presents herself in the public belies the bruising campaigns that she went through in order to win her seat in the Senate. "I'd worked so hard to get there," she said. "And there were so many things that I knew had to be done, and we couldn't do it." She entered leadership in a coup of sorts, unseating former leader John Sampson in 2012 after he lost the confidence of his conference. Stewart-Cousins was more than prepared to fight for her conference on the electoral playing field.
That strategizing bore fruit in 2018, starting first with the challenges to former IDC members. "The leader and I sat together and plotted out a course," state Sen. Michael Gianaris, the chair of the DSCC, told City & State. He said that happened after former state Sen. Jose Peralta defected to the IDC in early 2017, the last Democrat to join the breakaway conference. "She took charge of making sure there were no more defections and I took charge of defeating those who betrayed us." Every decision he made, Gianaris said, first got approved by the leader. Although the IDC, the Democratic conference and then-Gov. Andrew Cuomo came to an agreement in spring 2018 that brought the wayward members back into the fold, the gears were already turning. "By that time, all these candidates we wound up were already going," Gianaris said.
As part of the deal, Stewart-Cousins needed to give each former IDC member her stamp of approval with an endorsement, despite her direct role in the bid to oust them. "When the IDC came back, because of who I am and who we collectively have to be, it was very clear and I made it clear to everybody that they were back and everybody was going to be part of the team," she said. "And that's all. Period." Stewart-Cousins said she endorsed all her members because that's what she does, "that's it." But after the primaries knocked out all but two former IDC members and welcomed in seven new members, she decided to gather the new conference for a retreat usually reserved for after the general election to ensure the conference would stay unified and dispel lingering tensions.
Both insurgents and the remaining IDC members had nothing but praise for Stewart-Cousins' leadership then and moving forward. "She strives to create, and nurture, relationships with members individually," state Sen. Jessica Ramos, who unseated Peralta, told City & State. "And then she brings us all together regularly. … She'd always make time for me when I asked for it." Even unifying the once-fractured conference, she said she has never seen Stewart-Cousins yell, even when angry or reprimanding members. "The leader's so classy; she's a classy lady," Ramos said. That meant no ill will toward the two remaining former IDC members. Former state Sen. David Carlucci, one of those two, said Stewart-Cousins quashed any lingering tensions and opted not to engage in political horse trading despite the complicated history. "One of the things that was really a real change was … a willingness to work on the issues and put politics aside," Carlucci told City & State, noting that he had one of his most successful sessions in 2019 when it came to getting bills signed into law.
Carlucci was not alone – the state Legislature passed countless pieces of landmark legislation that year, including Stewart-Cousins' own Reproductive Health Act that codified Roe v. Wade into state law. Other long-stalled Democratic priorities like voting reforms, the state DREAM Act and updating sexual harassment policies. And where the 2009 Democratic conference in the state Senate failed to approve same-sex marriage, Stewart-Cousins got the controversial Green Light law, which allows undocumented immigrants to get driver's licenses, approved by a slim margin. Moderate Democrats from suburban areas did not support the legislation, putting it in jeopardy. But surprise support from state Sen. Simcha Felder, a nominal Democrat who still conferenced with Republicans at the time, pushed it over the finish line. "I don't think we would have been able to get it passed if she would not have helped … folks like Sen. Felder really understand the importance of passing that bill," Ramos said. "He wasn't going to do it on his own."
---
Democrats won back the majority in the state Senate in November 2018, part two of the fight that Stewart-Cousins and Gianaris had waged to unify and expand their conference. But Cuomo would have you believe that he played an outsized role in helping Democrats, even after years of allegedly keeping his own party from power to increase his own influence. He recruited candidates like Monica Martinez on Long Island and Pete Harckham in Westchester and publicly stumped for them on the campaign trail. He touted his negotiations as a major contributor to the IDC returning.
Stewart-Cousins didn't deny that Cuomo factored into the 2018 victories, but offered careful words about the role the now disgraced ex-governor played. "He obviously wanted certain candidates to win in our majority, and he stumped for those candidates," she said. "There's a saying: Success has multiple mothers and I think everybody can claim a part, but obviously we do the lion's share of this work." Stewart-Cousins was firm when saying that she and her conference had earned their majority.
After years of serving as the minority leader thanks in part to the IDC, which Cuomo empowered, and the continued power of the GOP, which Cuomo benefited from, Stewart-Cousins did not have the most amicable of relationships with the then-governor. Animosity never poured out into the public, but Cuomo was a man used to getting his way, and she had never been one to yield in the face of threats or challenges. "Her standing up to Gov. Cuomo at various junctions is another example of her leadership," state Sen. Brad Hoylman told City & State. "She's highly principled and won't back down if she feels like she's being misled or if the policy is wrong. She's tough."
Nowhere was that more clear than at the end of the 2019 legislative session when lawmakers needed to agree on renewing the state's rent laws. The real estate industry lobbied hard against strengthening tenant protections and rent stabilization, and given its contentious nature, Cuomo washed his hands of the negotiations. He declared that the Legislature needed to figure out a deal and that he would sign what they agreed on when it came to him. Cuomo had used a similar tactic earlier in the year around marijuana legalization. He said its passage relied on the state Senate whipping the votes and that he could do nothing until they got those votes. The hands-off approach flew in the face of his well-known 2011 strongarming of Republican state senators in order to get same-sex marriage passed. The message was clear: He didn't really want these controversial bills approved, and he didn't expect them to be.
In the case of cannabis, he was correct. Negotiations fell apart, it fell out of the budget and lawmakers didn't pass legislation until 2020. But when it came to rent laws, Cuomo wound up signing the most significant changes to tenant protections in decades. "I think with Cuomo, he underestimated her and instead of fighting publicly with him, she chose to just rise to the occasion and do what he thought she couldn't do," Smith said. "When the Second Floor said they weren't going to participate in negotiations, I think they thought we were going to crumble." But Stewart-Cousins already had a housing working group ready to go, prepared to deliver without the governor's help. "He never thought we were going to send him anything," she said.
When she took over as majority leader, many likely underestimated Stewart-Cousins, not just because history suggested the Democratic conference would fall apart, but because of her understated power that had been built up over the years. "I think that's one of the reasons, besides being a woman and a Black woman and the first woman leader, that she was really underestimated," Mayer said. "She does not throw her power around." And while the housing package put to bed the idea that she would fail, Stewart-Cousins had proven herself throughout the 2019 session in defiance of naysayers. 
In particular, Stewart-Cousins recalled her first budget, the spending document that dominates the first few months of the year. "I remember the former governor was, every time he looked around, he's like, 'Oh they're not going to get it done on time,'" she said while laughing. "It was almost a prediction. … And I kept pushing back like, why wouldn't we get it done on time?" Stewart-Cousins called it the "first hurdle" she and her conference faced – though it would hardly be the last.
---
Leading Democrats in the state Legislature has often been described as herding cats – a cliche, but still an apt one. During the 2021 legislative session, when remote lawmaking had replaced in-person meetings at the Capitol due to the pandemic, fractures emerged within the Assembly among new progressives and longtime members. Leaks from conference meetings reportedly enraged Assembly Speaker Carl Heastie, causing him at one point to pause the session in order to reprimand members and to split up meetings to prevent leaks.
In the state Senate, which has grown more ideologically diverse as new members continue to bolster the Democratic conference, no such fracturing occurred. Having fewer members likely played a role, but they attributed the unity to Stewart-Cousins' quiet leadership, ability to listen and individual personal time given to lawmakers. "She has always made herself available, and I think that is such a tremendous, tremendous asset," state Sen. Samra Brouk, who took office in 2021, told City & State. "She certainly prioritizes hearing from her members, and I feel respected and listened to when having those meetings and I think that's huge." Brouk said that Stewart-Cousins had actually already served as something of a mentor during her 2020 race in Rochester, making herself available to a candidate who would become one of only four Black women in the state Senate. "It was really important, especially as a Black woman who has walked in these shoes and gotten through all this she got, it was really important to have that person to bounce things off from."
Stewart-Cousins is known among members and staff for rarely, if ever, yelling, even when angry, disappointed or dealing with troublesome members. She dealt with grievances diplomatically, even if other lawmakers didn't have the same restraint. "When (former state Sen. Rubén Díaz Sr.) would do one of his tantrums, I would mock him to his face, in front of everyone in the conference, to embarrass him," state Sen. Gustavo Rivera, who freely cops to his adversarial nature, told City & State, referencing the conservative Bronx politician known for his homophobic remarks. "And she, in turn, has to keep him in line, and has to manage him and engage with him – knowing how disruptive he was – still engaging with him in a respectful way." He said how the leader managed Díaz in particular showed him how dedicated Stewart-Cousins was to consensus building.
Rivera had worked on both of Stewart-Cousins' campaigns in 2004 and 2006 and became her first chief of staff when she took office in 2007. He recalled how difficult those nine months were after she replaced Spano. "It (went) from a white Republican conservative from an extremely powerful family to a Black, progressive woman," Rivera said. "That made for some difficult times."
It takes skill to be as collected as Stewart-Cousins, according to Smith, and while the majority leader's life experiences may play a role, something else helps keep her grounded: meditation. "Because she does it every day, she's able to not be reactionary the way a normal person would be," Smith said, adding that she herself has tried meditating to get even a fraction of her former boss's cool. "Me, I pop off. Her, not so much."
Krueger has also given meditation a try. "I tried it once, and I fell asleep I was so bored," she said. But she said that Stewart-Cousins is a spiritual person, which her daily meditation plays into. "I definitely think that probably does help with her perception of total calmness under crisis situations as the leader of the Senate."
---
It's that particular identity and personal history that has perhaps contributed to Stewart-Cousins' famous calm. As evidenced by her own predecessor as majority leader, and even Heastie in the Assembly, Black women in particular are held to different standards – their failures are seen as greater, victories as lesser and emotions, particularly anger and passion, as outsized. For a Black woman in Stewart-Cousins' position, that pressure is even greater. "She's used to this type of adversity," Smith said. "Nothing was given to her. She had to work hard for everything, so at this point of her life, I think she just knows how to handle it." Smith echoed what others had said about Stewart-Cousins as someone who never raises her voice, describing her as incredibly balanced. "When we think of people being empowered, we think of men who, you know, they scream, they yell, they curse," Smith said. "She doesn't have to do that, and she doesn't do that."
Hoylman felt that strength on display when she supported lifting the religious exemption for school vaccinations, a moment that he felt Stewart-Cousins showed tremendous political courage with little institutional support behind her. This fight took place in 2019, her first year in power and her first test as majority leader. In the face of strong opposition to lifting the exemption, neither the governor nor the New York City mayor backed the idea, and Heastie had not taken a position either, leaving Stewart-Cousins as the lone major figure to put herself out there. "The noise and the vitriol was being directed at our conference on a daily basis," Hoylman said. "Death threats and, you know, swarming our offices and protests on the way to the State of the State."
Krueger attributed much of Stewart-Cousins' toughness and success, like Smith, to the history unique to her as a Black woman who faced hardships throughout her life. "I do think that there is a strength that has been honed by some really terrible experiences, the kinds of experiences, they either make you stronger or can destroy you," Krueger said. "And I think in Andrea's case, they make you stronger."
Powered By
NEXT STORY: This week's biggest Winners & Losers