Nonprofits
Southampton cannabis dispensary takes shape to support Shinnecock Nation
Chenae Bullock, managing director of Little Beach Harvest, discusses how the Long Island marijuana operation will deliver on social and economic equity and when it will be open for business.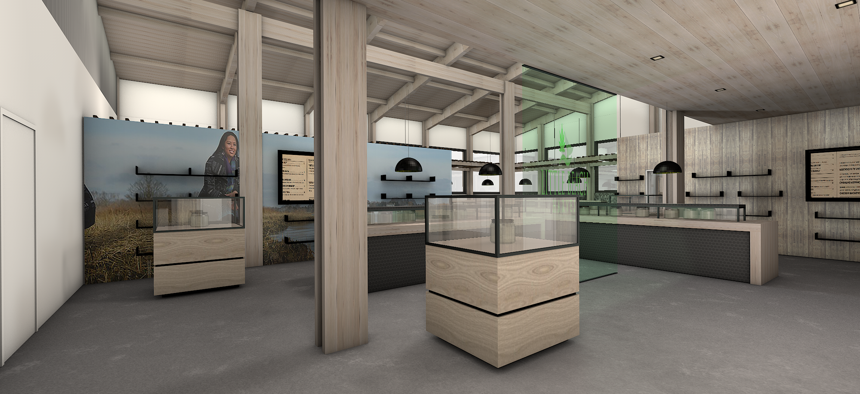 Paving the way for Indigenous businesses within the cannabis industry, Chenae Bullock is the managing director of Little Beach Harvest, the Shinnecock Nation's first wholly owned cannabis dispensary and growing operation. The creation of Little Beach Harvest was possible due to the Shinnecock tribe's own intergenerational knowledge of plant medicine, paired with their operational partners TILT Holdings and Conner Green. Facing challenges related to social equity and economic opportunity for their tribe, Little Beach Harvest's economic development partnerships aid in their mission to achieve socio-economic equity through their growth in the cannabis industry.
Native to the Shinnecock tribal territory of Southampton, New York, Bullock is passionate about the environmental, social, and economic benefits of their tribal ventures into the cannabis industry. Following the groundbreaking ceremony held in July, Little Beach Harvest is expecting an opening of their dispensary facility in 2023.
New York Nonprofit Media caught up with Bullock to learn how Little Beach Harvest came together, the promise of economic sustainability it makes for the Shinnecock Nation and how the dispensary will serve surrounding communities. 
This interview has been edited for length and clarity.
What inspired the creation of Little Beach Harvest?
Well, our tribe has been working with cannabis and using cannabis for a very long time. We've also been heavily affected by the war on drugs, like any other minority community. But because we have our own sovereign lands and our own sovereign laws, we've had to fight it very differently than other people. So our tribe came together, I would say almost eight years ago, to discuss how we can regulate it and if we were going to be moving in the direction of opening a dispensary and working with Shinnecock growers to fulfill that dispensary. So we worked for a substantial amount of time to create those regulations. The medical cannabis ordinance was passed underneath the law of the Shinnecock Nation back in 2016.
Since then, there has been a lot of work in setting up the business, Little Beach Harvest. Our tribe is extremely excited about it, because there are so many people that are really passionate, not only just about cannabis, but economic sustainability for the tribe.
Can you tell me a little bit more about the Shinnecock Nation's connection to plant medicine and how breaking into the cannabis industry is shaping your relation to surrounding communities?
Our relationship to cannabis is something that we've had for a very long time. From my grandfather's generation, to before his. They have been growing and utilizing cannabis for various different personal reasons. It was never really looked at as something for the economy.
There are many people that work with indigenous plants grown around our territory, because it has always been Shinnecock land. We were not placed somewhere else. So the indigenous knowledge of the botanicals that grow around us also plays a part into our connection with that particular place, cannabis being included in that. Now, as we're moving into this economic venture, there is a tremendous amount of benefit. It seems as though every single economic venture we try, there is always a challenge for us, specifically from the state of New York. There are a lot of challenges and roadblocks that are put in place. As soon as we almost get to the finish line, there's something that prevents us from doing that. We don't receive any of the benefits that other groups do. 
It's incumbent upon us to be economically sustainable, or self-sufficient. And we have our right to self determination just like most indigenous communities around the world do underneath the United Nations Declaration on the Rights of Indigenous Peoples, or UNDRIP, laws. We abide by them, and we always have. So, for us it's an exciting time because one, you have this healing plant that is really going to be able to provide wellness to our community, but we are not omitted from the war on drugs. We're also not omitted from the opioid crisis. The rate of deaths from opiod overdose is higher in Indigenous communities than the national average. We also have the highest suicide rate in teenagers and the highest rate of poverty among all minority groups, and we as Shinnecock live out in Southampton, New York. Additionally, we have some of the highest rates of missing and murdered women in our community, with many unreported cases across the United States.
The wealth gap is extremely clear. When you look across the water from our community you see Calvin Klein's house, Mel Gibson and Versace. We can just paddle to them in a kayak. So for us, this is an extremely exciting time because the plant medicines are connecting us with economic sustainability. It's something that's not only going to provide healing, but well rounded wellness within our community.
How is this impacting your nation's overall fight for social and economic equity? 
The Shinnecock nations is separate from the state of New York, and really separate from any other government, even other indigenous government. We govern ourselves in our own jurisdiction and territory. So you have economies within our jurisdiction in our territory, various economies. We have shell fishermen, growers, hunters and people that work with plant medicines. We have people that work with air quality, water quality, we have all of those different kinds of economies and industries. Yet, within our own jurisdiction and territory, we lack of resources to scale those industries to a certain level.
 When we talk about equality and equity, that's exactly what we are looking to do. Little Beach Harvest is looking to work with Shinnecock growers to help them scale their own business to manufacture products for our dispensary shelves. The problem is outside of our territory, we are not treated as a social equity group. There are tribes that have come together regionally, underneath NCAI, National Congress of American Indians. You can sit on panels, but when it comes to equity outside of our territory, we're not seeing that. Yet we do practice that because that's our cultural way. That's who we are. We practiced it when they came to our shores, we realized that they didn't know how to grow corn. So they were a social equity group to us. 
Has Little Beach Harvest's partnership with TILT holdings and Connor Green shaped your mission within Southhampton?
Within our territory, we have all these different industries that are going to be capped at a certain level of scaling, until they receive the outside resources. That's exactly what we're being provided with from TILT and Connor Green. This support provides financial resources, relationships and mentoring. The inclusion at that level of business as people of color, not just Native Americans, puts us in rooms we typically wouldn't be involved in. So what we're receiving is those resources that we're not getting from the state, we're actually able to sit down and talk to them. We've barely been able to have conversations with other people. You know, it's almost like we haven't not to beg, but to have a sit down respectable conversation with anyone on the outside takes two parties to be able to do that. 
Connor Green has been a part of this entire project since 2015, they're our tribal economic development partner. They've been able to help guide the structure of the Shinnecock Cannabis Regulatory Division, who regulates cannabis on Shinnecock territory. The board has a mixture of several different tribal members who have vet throughout the country to figure out how we make this work for the tribe. TILT comes in as our operational partner. They have a multitude of facilities throughout the country. And they are doing extremely well within different avenues of cannabis. So knowing what our plan is, what our vision is, they're able to provide the resources to help bring that vision to life.
Can you speak a little bit about what to expect on opening day for Little Beach Harvest in 2023? 
The groundbreaking ceremony that we had was July 11 was really exciting. We had a handful of different tribal members, from all walks of life, be a part of a community based project. Yet, we're a nation, intergenerational people, and there's been many people that fought and died for cannabis. For people to be able to see us get to this point, is super important.
On the opening day, we have a beautiful facility that is environmentally friendly. We're working closely with our cultural resource monitor, which goes to show any developer outside of our territory, how to engage with tribal consultation. We are utilizing the various departments within our own nation, environmental, roads and cultural enrichment department to make sure we aren't removing any endangered species of plants. Since we're doing it right, sometimes it's taking longer than most people that just rush to put a hole in the ground. That's probably why you see a lot of natives in front of bulldozers, because we know the land better than anybody else does, especially when we haven't left the land. The opening day is really going to be exciting for everyone that's been involved, including our partners. I think it's going to be more of a huge victory for every party that's been involved. 
I'm very passionate about it, but there's a lot of people that are not Native American that are very, very passionate about supporting our communities. I see that support with everyone that has started to work with us, because they're really seeing what we are up against. We only have a small amount of voice, so all support is helpful.