Personality
Nepo Babies of New York politics
By popular demand.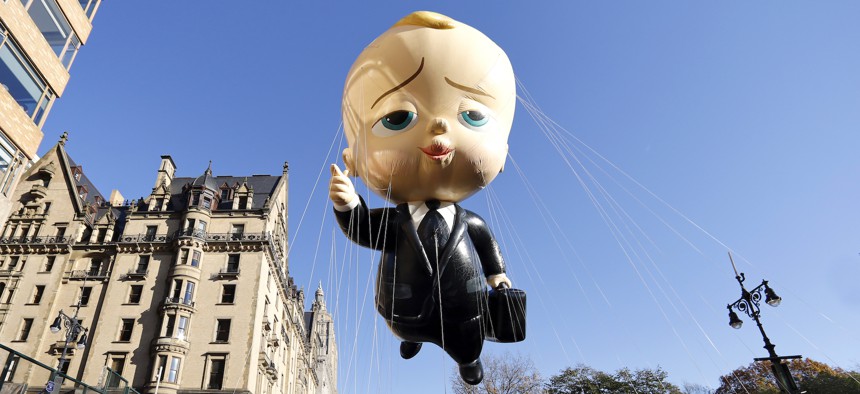 After New York magazine's exhaustive report of Hollywood nepotism, everyone's obsessed with nepo babies – people seemingly born with their foot in the door straight out of the womb, who may be advancing thanks to family connections. In the world of politics, we call them "political dynasties" – think the Kennedys, Bushes and Rockefellers. New York politics is full of nepo babies. Not to mention nepo husbands, brothers and cousins. The following list is non-exhaustive, and only includes folks at the higher levels because … could you even imagine if we included everyone? 
P.S. Ruben Diaz Jr. actually was in office before his dad Rubén Díaz Sr.
Scott Stringer, former New York City comptroller
First cousin once removed was Rep. Bella Abzug; mother Arlene was a (one-term) City Council member; father Ronald was counsel to Mayor Abe Beame; stepdad Carlos Cuevas was city clerk.
Eric Dinowitz, New York City Council member
Father is Bronx Assembly member and "Maid in Manhattan" actor Jeffrey Dinowitz. 
Andrew Cuomo, former governor
Dad was governor. (Who knew?)
Alessandra Biaggi, state senator
Grandfather Mario Biaggi was in Congress for 10 terms before going to prison for corruption. Fellow nepo-baby (of a Mario) Andrew Cuomo allegedly creepily gave Alessandra Biaggi shit about this.
Michelle Hinchey, state senator
Father Maurice Hinchey spent 20 years in Congress. 
Andrew Giuliani, former GOP gubernatorial candidate
Father is Rudolph Giuliani, former mayor of New York and Donald Trump lawyer – which might have helped him get that White House job as Trump's golf buddy. 
Yvette Clarke, Congress member
Mother is Una Clarke, the first Caribbean-born woman to serve in the New York City Council. Yvette succeeded her in the seat.
Grace Meng, Congress member
Like her father, former state Rep. Jimmy Meng, she was the first Asian American to be elected to represent New York (Congress in her case, the state Legislature in his). Unlike her father who was sentenced to a month in prison for his role in an $80,000 bribery scheme, she has steered clear from swaths of cash hidden in fruit baskets.
Stacy Lynch, chief of staff to Gov. Kathy Hochul
Father is legendary political operative and former deputy mayor Bill Lynch. 
Andrea Catsimatidis, Manhattan Republican Party chair
Dad is big time political donor, and former Republican mayoral candidate, John Catsimatidis. 
Zohran Mamdani, Assembly member
Mother is Oscar-nominated director Mira Nair, who may not have directly helped Mamdani into politics but might have had some influence on his short-lived rap career.
Melissa DeRosa, former secretary to the governor, under Cuomo
Her rise to power in state government can be attributed to her shadowing her father Giorgio DeRosa, chief Albany lobbyist for Bolton-St. Johns, since the age of 8, and she claims that politics is "sort of in my DNA."  
Ebony Meeks Laidley, partner at Empire Consulting Group
Father is Rep. Greg Meeks, mother is Simone-Marie Meeks, assistant commissioner of New York State Homes and Community Renewal. 
Vito Pitta, co-managing member, Pitta Bishop & Del Giorno
Law firms are notorious for nepo babies – but it's hard to find a family of firms more entrenched in New York politics than the ones chaired by Vito's dad Vincent. 
David Weprin, Assembly member, former New York City Council member
Mark Weprin, former New York City Council member, former Assembly member
Father Saul Weprin was Assembly speaker under Gov. Mario Cuomo. 
Jose Serrano, state senator
Dad, also Jose Serrano, was in Congress for three decades. 
David Paterson, former governor, lieutenant governor and state senator
Dad Basil Paterson was a major Harlem political player in "the Harlem Clubhouse," in the state Senate and a deputy mayor under Ed Koch. Like his son, he broke barriers as the first Black secretary of state in New York.
Paul, Peter (former New York City Council members) and Perry (political consultant) Vallone
Father Peter Vallone Sr. was New York City Council speaker, then founded a lobbying firm where his son works.