Interviews & Profiles
Is there still reason to hope that crypto can benefit New York?
In a Q&A, Assembly Member Clyde Vanel remains optimistic because the strong companies will survive this downturn.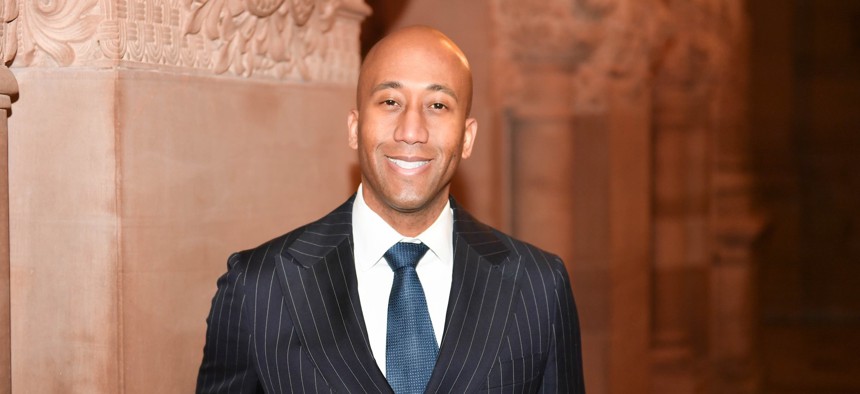 Assembly Member Clyde Vanel is an outspoken cryptocurrency advocate who personally holds more than 10 different types of cryptocurrency and has introduced multiple bills related to the industry. Last year, he co-sponsored the Cryptocurrency and Blockchain Study Task Force bill, which would have created a task force to study cryptocurrency and blockchain technologies. The bill was heavily supported by the industry, which viewed it as a more industry-friendly alternative to Assembly Member Anna Kelles' bitcoin mining moratorium bill. It passed the Legislature but was vetoed by the governor.
Why is it important for the state government to study cryptocurrencies?
This is the first asset class born in our lifetime. It's not going anywhere, so it's important to figure out how best our state should position ourselves with the entire industry and its ecosystem, which is not only as a potential currency, not only as an asset form, but the businesses and industries that surround this thing that they call cryptocurrency. The world is still trying to figure it out. So we felt it was important for us to formalize a task force with all stakeholders, which includes academia, which includes investors, industry, community, environmentalists, policymakers and regulators to get together and figure this out and figure out what the way forward is.
What benefits does the cryptocurrency industry bring to New York state?
I think that the industry has brought jobs. The industry has created many jobs in the financial sector downstate, and they created a lot of opportunities in technology upstate. The industry can also help New Yorkers when it comes to potentially closing the financial gap and the wealth gap. It can potentially help in closing the digital divide for communities that have been traditionally underrepresented and left behind.
How can cryptocurrency help close the financial gap?
One time, I was working with a group of at-risk youth, and I saw they owned denominations of cryptocurrency. They were on their phones showing me how they were watching the markets and figuring out when to buy and sell. Back then, kids, or those same people that were buying and investing in cryptocurrency, could not participate with traditional investments. They had to have at least $10,000 to participate. Cryptocurrency doesn't have that barrier of entry. You can invest with a dollar. And the muscles that these young people were using to watch the market – to figure when to come in, when to go out, when to hold, when the lows were, when the highs were – are the same muscles that experienced investors use. And these guys and girls with little money were doing that.
What would you say to critics who say it's all just a pyramid scheme?
It's not a pyramid scheme. It's obviously not a pyramid scheme because it's been here for years. There are many people who think that investing is a Ponzi scheme. Why is real estate worth so much? Why is a stock worth anything? You can ask that for crypto. You can ask that for whatever stock in the world. It's very important for people to invest and invest where you feel comfortable. Cryptocurrency is not the only option, but it is an avenue of investment. Whether you love it or not, whether you think it's a scheme or not, it's very important to be educated on it and have the best information that you can.
Did you support the moratorium on behind-the-meter proof-of-work cryptocurrency mining?
I thought it was a wrong policy for New York to implement. Now, keep in mind, every industry must make sure that we reduce our carbon footprint and that we're doing the best that we can for the environment. I think New York state has to work with industry and all the stakeholders. I worked with some aspects of the industry that's trying to figure out how to do this more responsibly and how this is going to look five, 10, 20 years from now with better usage of energy.
Do you remain optimistic about the cryptocurrency industry?
I'm very optimistic about the industry. What's happened with FTX is unfortunate. But I also think that we have to clear out the bad to get to the good. The strong companies, the strong exchanges, the strong coins will survive and the ones that are supposed to die will die. I think that's a good thing.