Personality
Andy Pallotta's still got a budget season between him and retirement
The outgoing president of NYSUT is proud of his legacy encouraging teachers to run for office – and securing Foundation Aid.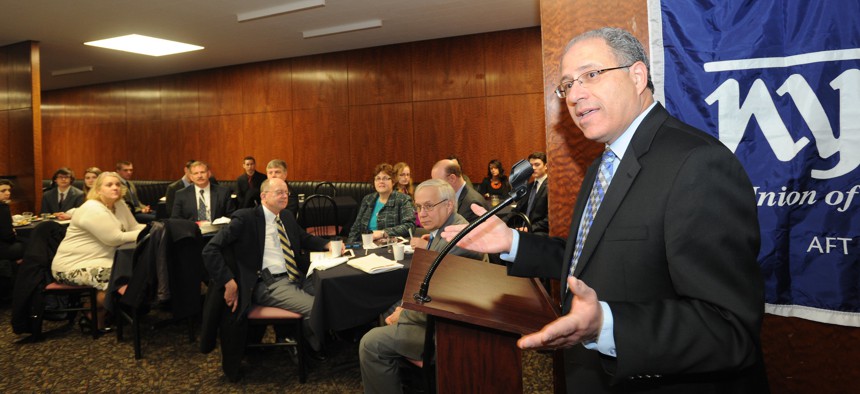 Andy Pallotta, the president of New York State United Teachers, has only a few weeks left at NYSUT after he announced his retirement in a letter to local union presidents in February. Despite the short timeframe, Pallotta still has one more job to do: the state budget.
"My retirement? Nothing to do with how hard we're going to work for our members and our schools," Pallotta said. "Maybe even a little harder to have a little trophy to leave with."
Going into budget season, Pallotta said that NYSUT has already accomplished one of its main goals for the year in having Foundation Aid "taken care of," something that Pallotta said previous Gov. Andrew Cuomo believed to be off the table. 
In Gov. Kathy Hochul's State of the State on Jan. 10, she pledged to fully fund Foundation Aid. The aid, which originated from a 2006 court case between the Campaign for Fiscal Equity and the state, is designed to make sure that all children in New York state have access to a "sound basic education" according to the case's plaintiffs.
"This is something where we say, 'We are going to give every child an opportunity for a great education,'" Pallotta said.
Another item Pallotta wants taken care of this year is an increased emphasis on community schools, a strategy which has schools take center stage in providing resources for students and adults experiencing things like food insecurity, a lack of stable housing and little to no internet connectivity at home. 
"You think of all the things that can hurt a student's education, that's what a community school is there to address," he said. "So, let's put money into that."
For the upcoming budget, NYSUT is requesting $100 million in community school program funding, Pallotta said. NYSUT is also looking to include universal pre-K, library materials aid and local control in approving charter school applications in the budget, according to a NYSUT press release. Gov. Kathy Hochul proposed lifting the New York City cap on charter schools in her state budget proposals, but she has seen pushback from state lawmakers. 
Looking forward to NYSUT's future, Pallotta hopes the union continues to increase its membership across the state, which in 2022 was over 600,000 people, as well as its members' political activity. 
He emphasized one of the union's current programs, the NYSUT political pipeline, in his goal. The program aids NYSUT members to run for office across the state. One topic they'll have to tackle, Pallotta said, is the nationwide teacher shortage.
"We have already a big crisis on the horizon and it's already hitting us in certain places around the state," he said.
After he leaves in March, NYSUT will need to hold an election for a new union president. NYSUT will hold its next election, which Pallotta won in 2017, on April 28 and 29 during the union's representative assembly in Albany.
While publicly announcing his retirement on Twitter, Pallotta also endorsed Melinda Person, NYSUT's current executive director, to be the union's next president. During her tenure as executive director, Person has directed some of Pallotta's key programs, specifically the NYSUT political pipeline, according to her campaign's website.
"It was a matter of seeing someone who could take the torch," Pallotta said of endorsing Person. "Someone I could pass the baton on to and then say, 'Run with it.'"