Personality
Does Mayor Eric Adams smoke weed? City & State New York readers are split
Behold, the results of our highly unscientific 4/20 reader poll.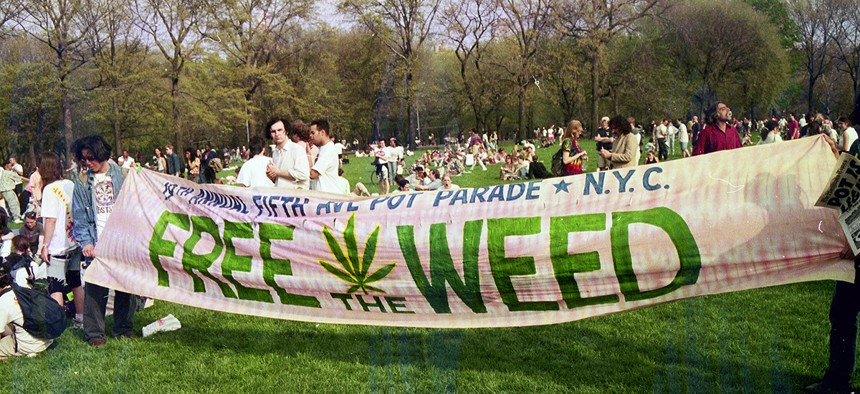 On 4/20, City & State New York posed a simple question to its readers: "You smoke?"
Over 300 readers responded to the question, along with a series of others ranging from predicting Gov. Kathy Hochul's drug habits to how New York City has handled marijuana over the previous years.  Of the respondents, two thirds said they do use cannabis, whether it be through a vape, joint or edibles. Less, however, use CBD products – only 47%.
One of the most evenly split questions was whether Eric Adams, the NYPD mayor who then-mayoral candidate Paperboy Prince told to "get out of my room," smokes weed. A plurality of 41% said yes and 36% voted no. The rest said that he used to, but doesn't anymore. 
Sadly, City & State did not implement ranked-choice voting in its 4/20 poll. If we did, maybe Adams would have crossed the 50% threshold for "yes."
Readers were also very confident that Hochul smoked during her college years at Syracuse University (where she also worked in the university's student government). Only 10%, or 29 people, said Hochul still smokes today. It looks like people do not believe that munchies are delaying the budget.
While readers are unsure about Hochul and Adams' habits, they did list who they personally want to smoke with. Blowing the competition out of the water was Rep. Alexandria Ocasio-Cortez with 21 votes. Other politicians received multiple votes like Adams – who also received two votes saying NOT him – Tish James and Gale Brewer.
Readers also voted for some more off-beat choices. Rep. Elise Stefanik, new Rat Czar Kathleen Corradi, Rep. George Santos and, presumably the ghost of, Mario Cuomo all received a single vote.
But, do readers want elected officials to be smoking marijuana at all? A vast majority, 72%, said they really don't care and that it doesn't bother them either way. The remaining voters were split between an enthusiastic yes and that politicians should not be smoking weed.
City & State also posed (in an extremely unscientific manner) two policy questions in the poll. 
At the beginning of this year, Oregon became the first state in the country to legalize the use of psilocybin "magic" mushrooms. Oregon voters approved the act through a ballot measure in 2020.
A majority, 60%, of City & State readers polled said mushrooms should be legalized with a legal market similar to the state's handling of cannabis. An additional 14% said that mushrooms should be decriminalized, but that their sale should not be legal.
Readers were more split on how New York City handled illegal cannabis stores throughout 2022. With the city starting to crack down more, City & State asked if the "lighter touch" was the right thing to do.
More readers, 47%, said yes, it was better to do so to avoid the bad legacy of drug arrests while 43% said no, citing the sheer amount of unofficial pot shops in the city. The remaining votes, which could have tipped the scales either way, said they had no idea