Personality
New York City is obsessed with the bad old days
The fear of going backward is growing, but the city is in a much better place today.
It was insisted, on giant screens looming above Times Square: We ♥ NYC. A new civic campaign launched as New York continues slowly lurching its way out of the pandemic, which seemed to hit the city harder, deeper and more immediately than anywhere else in the country.
From one perspective, it was inspiring – New Yorkers coming together to lift our spirits. Sure, most of the cooperation was to goof on the uninspired reimagining of an iconic logo. But hey, that's civic engagement too.
Peel back the heart stickers adorning Mayor Eric Adams' jacket, though, and you'll find something else. It's the conversation happening at parties, on Twitter, on talk radio and outside dining sheds. Crime rates are the highest they've been in 15 years, homeless shelters are overflowing, storefronts are empty and purchasing a home is out of reach for many. A January Quinnipiac University poll of New York City registered voters found 37% were "very dissatisfied" with the way things were going in the city. Across dozens of polls, that's the most very dissatisfied New Yorkers in 20 years. And that was an outlier – no other poll showed such high dissatisfaction, going back to even 1997. There's a certain feeling, widely held, that the city is going to hell.
So We ♥ NYC is a response, pleading to the profuse pessimism about the state of the city.
"New York is not coming back. New York is back," Mayor Eric Adams said at the March 20 press conference. "Don't believe the hype, believe in NYC."
That "hype" isn't the fun kind.
The campaign came about "because we see that negativity is much greater than reality. We're just too pessimistic," said Kathryn Wylde, the president and CEO of the Partnership for New York City who helped organize the campaign. She may hear more griping about the state of the city than anyone, since the Big Business interests she represents are among the loudest critics, as they lobby politicians for policies to convince them to stay. Do they have a point? Last year, almost half of private sector employees surveyed by her nonprofit said they were thinking about moving out of the city.
But Wylde lived through the fiscal crisis of the 1970s, the crime wave of the 1990s, and 9/11. It's "absolutely not" as bad now as it was then, she said. "But in people's minds – we have a psychological crisis today. And in people's minds, that can be a self-fulfilling prophecy."
Wylde has a point. But it's hard to counter. New York is obsessed with the bad old days. Everyone, it seems, is living on edge, with a concern that we'll slip back into the '70s, the '90s or the early 2010s – depending on your politics. It's often a quiet fear. You're known to be exaggerating if you suggest the city could actually return. The crime numbers were so high. The city was so chaotic. The finances were so bad. But New Yorkers, as a whole, seem more concerned we're going to hell than they have in decades.
If this is hell? New Yorkers should consider themselves lucky. 
But not everyone is so even-keeled. As Gov. Kathy Hochul took the stage at the We ♥ NYC event, to spare applause, a heckler shouted from beyond the barricades: "Get out while you can!"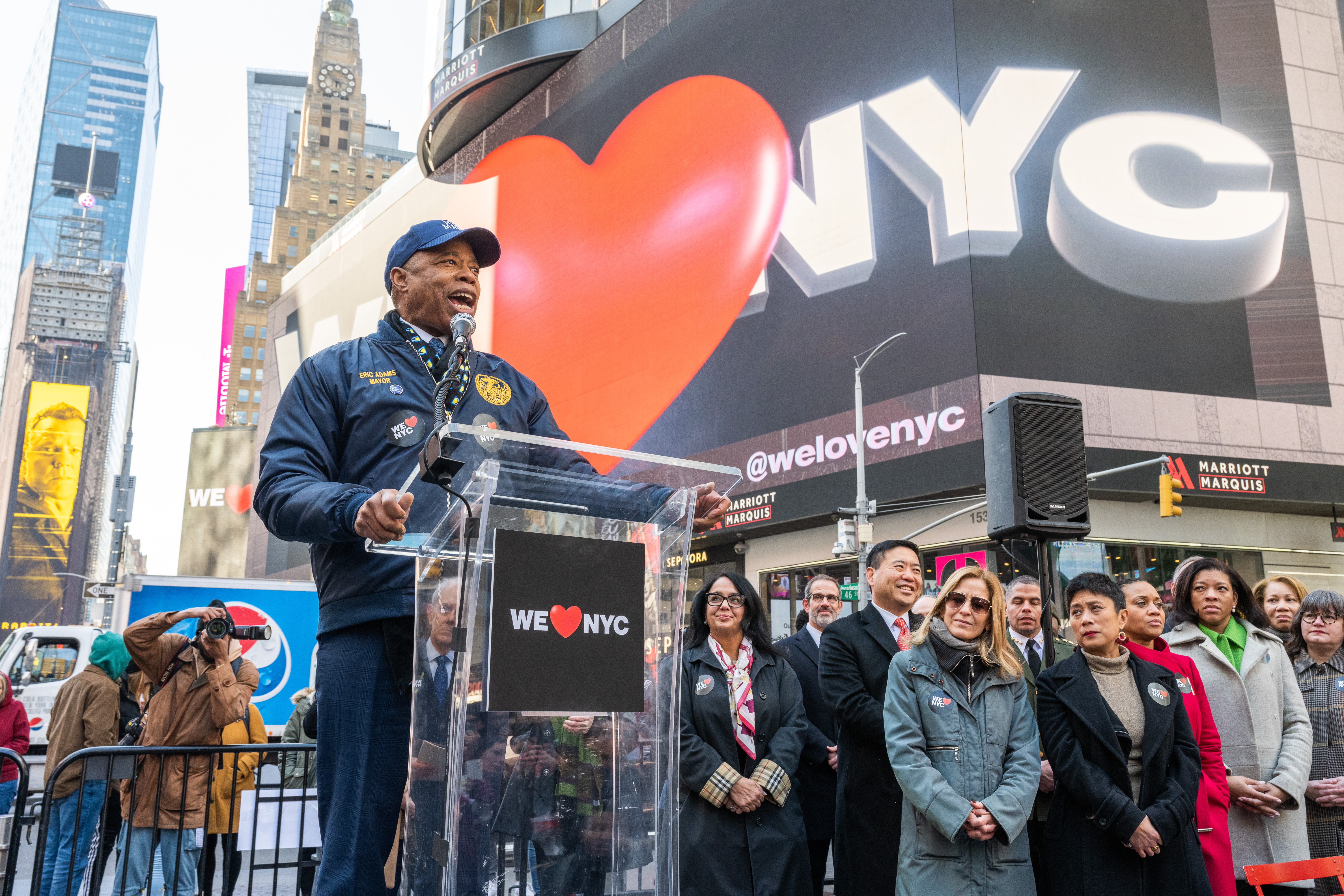 It's a fortuitous environment to be releasing a new documentary that looks back on the hellish days of the '90s and warning, subtly, that we're slipping back into them. "Gotham: The Fall and Rise of New York," released March 21, makes the case that New York was saved from hell by gumption, cooperation and, most of all, conservative, free-market ideas. And those same ideas can save us yet again.
For a while in the city, people felt so safe on the streets they wouldn't dream of being mugged, explained Larry Mone, the longtime president of the conservative think tank the Manhattan Institute, who produced the film. "That kind of mentality is under siege right now. But it's a question of human action. It's a question of doing things that we learned worked. And reclaiming public spaces for everybody."
The film is, above all, a hagiography of former Mayor Rudy Giuliani, and in that way it is a case study of a specific perspective: white men who believe that "America's Mayor" saved the city.
And that lack of diversity only hurts the movie's case. The city was incredibly diverse in the '90s, and a lot of people of color are also quick to agree that Giuliani's strong hand did pull the city back from the brink. But across 27 on-camera interviews, "Gotham" includes only one nonwhite speaker, John Burnett, the 2013 Republican nominee for New York City comptroller, who's Black. There are also just three women. Instead, the movie relied on Mone, a white man who lives in Hoboken, New Jersey, to make the case for them – that appreciating Giuliani isn't just a white perspective. "More Black people are alive today because Rudy Giuliani was mayor," he said.
Mone and Matthew Taylor, the filmmaker who Mone recruited to write and direct the project, both explained to City & State that they made "great efforts" to get some of the Black and brown New Yorkers involved in turning around the city into the movie, but nothing worked out.
In that way, the movie shows some of the limits of any kind of overly simplistic narrative when it comes to the state of the city, or where it's going. Where some see New York getting cleaned up, others see New York being attacked.
"I would take umbrage to the phrase that Rudy Giuliani saved the city. In a lot of ways just the opposite, he tore the city apart, if you will," said Keith Wright, director of strategic planning at Davidoff Hutcher & Citron LLP and the chair of the Manhattan Democratic Party, who represented Harlem in the Assembly during Giuliani's reign. He recalled one city budget battle, when Giuliani tried to close all the city-funded youth programs. "We were really taking a hit up in Harlem," Wright said. "We survived Rudy. Some people thrived. We survived."
For some New Yorkers of color in particular, the fear of slipping back into the bad old days, may not mean the pre-Giuliani days of the '80s and early '90s, but rather the Giuliani era itself.
Gerson Borrero, too, the journalist and political commentator who has been spitting fire at Giuliani for decades, bemoaned the limited perspective. "They can tell the story but all I see is white faces," he told City & State. "I'd like to see Spike Lee's version of what happened! I'm challenging him to tell the story of what we went through as people of color, Blacks and Puerto Ricans."
The question of who thinks New York City is going to hell, is, like everything else in the city, tied to race and politics. According to Quinnipiac University polls, white New York City voters are now the most likely to be "very dissatisfied" with how things are going, 42% of them, compared to a quarter of Black New Yorkers, under the city's second Black mayor. That's quite a flip from October 1997, four years into Giuliani's mayoralty, when just 4% of white city voters were "very dissatisfied," compared to 19% of Black New Yorkers.
There's also a separate – though correlated – difference in how people feel about the city based on their political leanings. Former Mayor Bill de Blasio was white, but as a progressive, he was hated by the city's more conservative voters (and, pretty quickly, much of the city's left wing too). Whether you think de Blasio's term was the best the city has ever been (at least until the pandemic), or a dangerous harbinger of the city slipping back into the bad old days, depends on your political leanings. 
That distaste for de Blasio shades the film. "Gotham," is quite subtle about it, merely showing a clip of former Mayor Bill de Blasio on election night, with Mone saying: "When (Mike Bloomberg) left office … there was no one to take his place. It was a total vacuum. And that's why the old political forces moved in so quickly, and so easily." The assumption is that the viewer knows he ruined the city.
Bruce Teitelbaum, a former Giuliani aide turned investor and real estate developer, who was not involved with the movie, was more straightforward. "We're in a drop, a downturn, and that's because of eight years of a disastrous mayoralty of Bill de Blasio," he told City & State. "People are becoming more aware of it. And it's going to take time to dig out of that hole. People aren't imagining the housing crisis or the public safety crisis or the jobs crisis or the education crisis."
Teitelbaum, like everyone else, isn't saying the city is back in its bad old days yet – "we're not even near that" – but New York is facing new and different challenges, like white-collar workers staying away from their Manhattan offices, affecting the residential versus commercial balance of the city. "I'm encouraged by the current occupant of City Hall, who I believe gets it," Teitelbaum said. "But it's a monumental task because of the disaster that he was left with."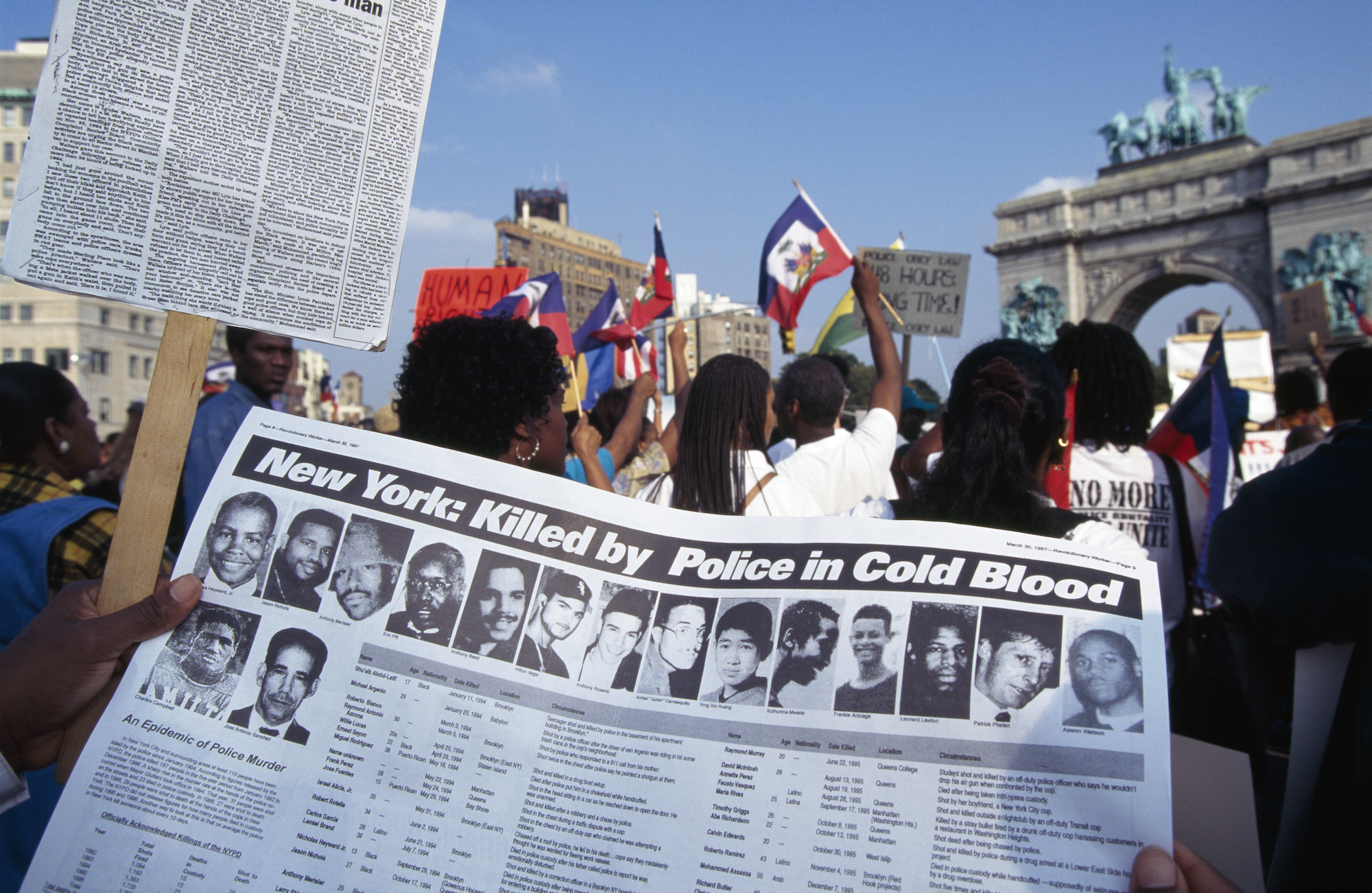 There's a proud tradition of politicians playing with the idea that New York is slipping. It nearly won Republican Lee Zeldin the governorship in 2022, and it was an undercurrent of Adams' winning mayoral campaign in 2021.
Once you take office, you have to be more careful. Adams' main role now is cheerleader, calling residents out of their pajamas and into the subways to commute to the office. But even he has allowed his rhetoric to strategically slip at times, saying crime was the worst he'd seen it, (which was, statistically, untrue) and saying when he looked around the city, he "was shocked at how bad this place is."
Overall, the Adams administration's view is that the last guy left the place a mess. De Blasio pointed blame at his predecessor too, for a while, but his contention was that Mike Bloomberg had cleaned it up too much – scouring the beautiful mosaic so hard that parts of it cracked.
Elected officials in the city have to find that balance between making New Yorkers with complaints feel heard, blaming previous leadership and promising it'll get better. New York City Council Member Amanda Farías gave a prime example in March, when City & State asked her if people in her southeastern Bronx district feel like the city's getting worse. "There are people that feel the stresses of the realities, because the pandemic exacerbated those. And that directly connects to the apathy in communities from previous leadership, that they felt unheard, and not seen. I think that's very real for some people," she said. "Personally, though, I do feel like, with the vast change in leadership that we've seen in New York City, with the priorities that we now see, (the council will focus on making things better for the long term.)"
Of course powerful government officials have been refuting the idea that the city is going to hell for decades. In 1948, The New York Times reported that Robert Moses, the infamously prodigious public servant who was then serving as city parks commissioner, objected to Time magazine's description of New York as a "hell of a town." It only got worse. In the 1970s, infernos engulfed the South Bronx – with some census tracts losing up to 97% of their buildings. The crack epidemic of the late 1980s and early 1990s hit New York City earlier than most cities, leading to an increase in crime.
More recently, filmmakers have been obsessed with showing the city's bad old days. It's not just "Gotham," but the 2020 documentary "Fear City: New York vs The Mafia," and streaming series "The Get Down" set in the South Bronx and "The Deuce" set in Times Square, and even "Joker," set in a Batman universe that looks a lot like 1970s New York City. 
History isn't just close in movies, but also in contemporary news coverage. The New York Post wrote three separate stories, in 2020, 2021 and 2022, each declaring that "squeegee men," "the scourge of the 90s," were back. New York City Council Member Bob Holden evoked the famous "Ford to City: Drop Dead," Daily News front page when talking about President Joe Biden's lack of support to New York City on the asylum-seeker crisis. Fox 5 ran a segment in March on New Yorkers responding to crime: "Are the 'Bad Old Days' back?" And it's not just conservatives evoking a slip to the past. When Adams revived the NYPD anti-crime unit, the Times chronicled fears about returning to "'90s era policing." And after Adams proposed budget cuts to libraries, progressives have used the specter of the bad old days of less funding to fight them. These kinds of stories are often cited by people pushing a political agenda – an appeal to fear is effective. 
---
There's a robust movement of New Yorkers out there who are eager to defend the city with statistics. They're all true, the recent crime rate is high by New York standards – up more than 30% since the start of the pandemic – but it's still lower than most other big cities. The public school graduation rate has risen from just over half of students in 2004 to more than 80% last year. Tax revenues continue to grow – up about 21% over the past five fiscal years.
But New York slipping into hell is never about statistics. "When people are talking about crime, they're not talking about the ups and downs of a CompStat sheet. They're using it as a shorthand for general disorder," said John DeSio, a communications consultant and a great defender of New York. "There are smells where there weren't smells before. … And no amount of statistical analysis is going to change that people feel things are dirty when they're on their commute."
But even in a city that loves to debate – "8.9 million people, 35 million opinions," Adams is fond of saying – everyone who feels like New York is going in the wrong direction might be able to agree on one thing. The city can be better, and it should be better – just as things could get a lot worse.
Even in its worst days, it never saw the population loss, the gutting of Rust Belt cities like Detroit or Buffalo.
Think of what author Robert M. Pirsig wrote in his book "Lila: An Inquiry into Morals" in 1991 – another one of the bad years: "New York has always been going to hell but somehow it never gets there."
Correction: An earlier version of this story incorrectly described Keith Wright's job at Davidoff Hutcher & Citron LLP.
Powered By
NEXT STORY: Guess when New York will have a budget for some sweet City & State swag