New York City
Another day of contradictory remarks from Eric Adams – this time on crime
Adams made the inaccurate statement in a Thursday interview on FOX 5 that he has "never witnessed crime at this level," only to deny making the claim hours later.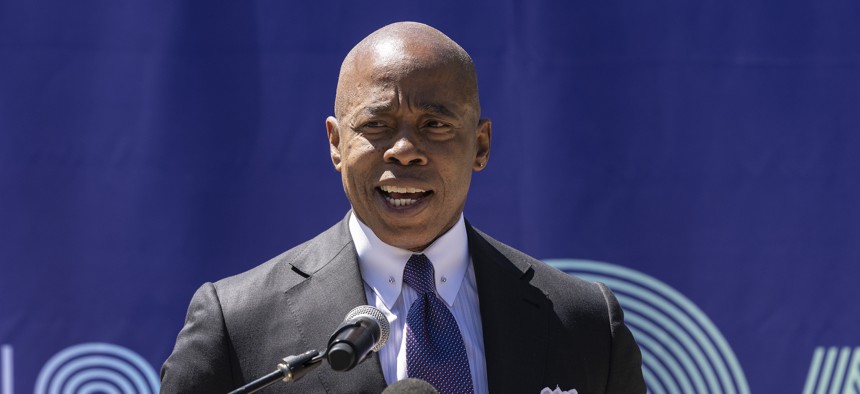 New York City Mayor Eric Adams was apparently hit with a double case of amnesia on Thursday. That, or he tried to pull a fast one on the public and the press.
In a morning interview on FOX 5's "Good Day New York," Adams made the inaccurate statement that "in my professional career, I have never witnessed crime at this level." A former New York City police officer from 1984-2006, Adams was on the force in 1990, when there were a record 2,262 murders in the city. According to the NYPD's own statistics, major crimes were down more than 80% at the end of 2021 compared to 1990, and the murder rate dipped 78%.
After feeding the soundbite to the network's local viewers, Adams denied making the reamark hours later in a terse exchange with reporters at City Hall.
"I didn't say crime is higher than it's ever been and if you find that quote, show me," he said. "What I stated is I have never seen anything like this: the over availabilities of guns, the easy use of guns and the comfort people have in carrying guns."
In all fairness, Adams did follow his comments about crime in the FOX 5 interview by discussing the prevalence of illegal guns. "In my professional career, I have never witnessed crime at this level, and the willingness to carry guns and the willingness to use a gun," he said. 
But even that statement defies facts. This year, police have taken more than 2,600 illegal guns off the streets, according to officials. In 1990, the NYPD confiscated 17,575 illegal guns.
When asked why the mayor appeared to make two publicly false statements on Thursday, his press office pointed to the full context of the FOX 5 quote. "There is very clearly a comma and an 'and' in that sentence . . . the mayor said he made clear there was more context to the statement," Press Secretary Fabien Levy said in an email to City & State.
The interview was among four TV appearances Adams made on Thursday morning, three of which heavily focused on his gun-violence prevention efforts in the wake of Saturday's mass shooting in Buffalo, along with several recent shooting deaths in New York City. A 20-year-old was reportedly shot execution-style in the Bronx on Wednesday, just two days after police said 11-year-old Kyhara Tay was killed in the borough by a stray bullet.
Adams made a similar statement during a PIX11 interview on Thursday, but in that case, he was clearly talking about gun violence. "I've never witnessed anything like this before in my professional career," after describing an "endless" flow of guns on the street. "A young child brought two nine millimeter guns to school the other day in their book bags," he said. 
It's true the city has experienced a wave of high-profile crimes in recent months, and that shootings and homicides, part of a national trend, increased during the pandemic. Shooting incidents through May 15 of this year are 70% above what they were during the same time in 2020, before an especially severe summer crime wave set in, according to NYPD data. The statistics show a 36% increase in the seven major felonies compared to 2020, including a 95% increase in car thefts, a 36% increase in petty thefts, and 29% increases in both robberies and felony assaults.
Since then, there has been a bit of a reprieve in cumulative gun violence. The NYPD recorded a total of 447 shootings through May 15, compared to 484 during the same time last year, nearly an 8% decrease. Major crimes overall, however, are up 41%, but murders are down almost 12%.
After COVID-19 shutdowns brought a temporary freeze in tourism and companies mandated employees to work from home (a trend that still has not fully reversed and may never will), Adams took office at a time when businesses were desperate for anything to help them recover. His strategies and rhetoric on crime have appealed to both small business and corporate leaders, but have put him at odds with progressives and police-reform advocates.
Convenience stores and pharmacies have reported an uptick in thefts. Many stores in Manhattan were also targeted by looting during the summer 2020 protests, creating a perception of chaos that is rarely seen in the borough. Before he even took office, Adams promised to crack down on theft. "I know what it is to wear that bulletproof vest to protect children and families in the city," he said on FOX 5 in October. "And I'm going to let them know that we're not sitting back, watching people walk into Duane Reades and other stores and grabbing garbage bags full of supplies." Amid complaints about blight, Adams has also ordered sweeps of homeless encampments, what he billed as an effort to get unhoused people into shelters, though few have complied.
Thursday's statements on crime are hardly the first time Adams has contradicted himself during his short time in office (remember FishGate?). He has flipped between being a Democrat and Republican twice in his career. As a candidate, he sold himself as a mayor who identified with the city's working class and received endorsements from major unions. As mayor, he frequents the city's most exclusive clubs and is regularly seen with celebrities. To Adams, these contradictions are a strength. He has repeatedly called himself "perfectly imperfect." 
But to police-reform activists, his contradictions on crime "feel like fear-mongering," Jessica Sanclemente-Gomez, board chair of the advocacy group the Justice Committee, told City & State on Thursday. The mayor appears to be "capitalizing on people who are just switching on the channel," she said. "My gut reaction is 'wow he's really utilizing people's emotions right now to justify the aggressive policing he's putting out there. He's not thinking tactfully."
With reporting by Jeff Coltin
Powered By
NEXT STORY: City & State event highlights efforts to help MWBEs