New York City
Eric Adams isn't following his own COVID-19 guidance
The mayor isn't reimplementing a mask mandate amid a surge in cases despite the city's own alert system recommending it.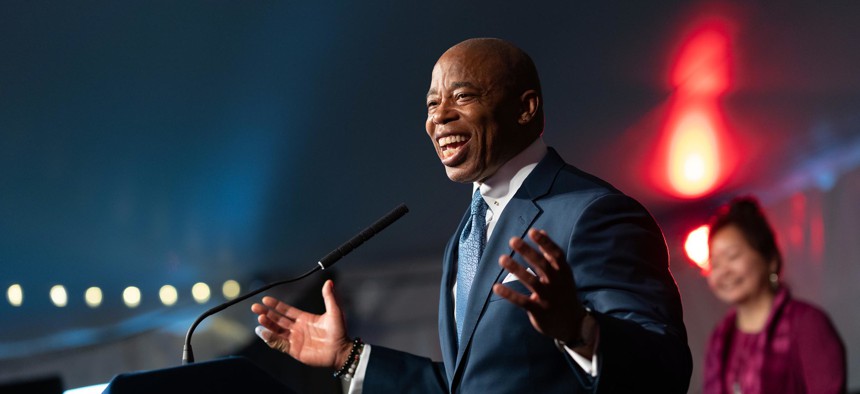 In a series of interviews on Thursday morning, New York City Mayor Eric Adams held firm that the city would not reimplement COVID-19 health precautions like an indoor mask mandate in public settings, despite the city experiencing a surge in cases. 
"I don't think we need to do that at this time based on the information from my medical teams," Adams said in an interview on CNN, before stating that the city also has to "build consumer confidence" – appearing to reference the importance of the city's economic recovery and its ability to attract business and tourism.
In a Q&A with the press on Wednesday, Adams suggested that the city won't be able to function if it overreacts to every rise in COVID-19 cases. "Variants are going to come," he said. "With every variant that comes, we move into shut down thoughts. We move through panicking. We're not going to function as a city."
The mayor's comments gloss over the fact that the city already has a system in place to prevent under- or overreaction to COVID-19 waves – and the mayor himself introduced it. When Adams rolled back school mask mandates and the Key to NYC vaccine requirement for indoor restaurants and other venues in March, he followed through on a campaign promise to release a color-coded matrix laying out guidance for what steps the city should take in the event of future COVID-19 surges.
New York City has been working its way up the four levels of that matrix in recent weeks, hitting the "high" level earlier this week. That level comes with explicit recommendations including increasing testing and vaccination capacity, and requiring face masks in all public indoor settings. Though the city is recommending masks in indoor public settings, it isn't requiring it as the city's own guidance – which, again, was introduced by Adams – suggests it should do.
Adams' repeated suggestion this week that reimplementing measures like mask mandates amounts to panicking ("let's be prepared and not panicked," he said on CNN Thursday, "let's get the city up and operating"), casts doubt on how seriously the city is taking its own COVID-19 alert system.
New York City isn't alone in resisting a return to mask mandates. Other cities run by Democrats – who over the past two years have been more supportive of public health restrictions than Republicans – are also hesitating to bring back the mandates despite their earlier support for them. Gov. Kathy Hochul, too, isn't moving to reimplement mask mandates.
Adams was asked on Wednesday why the city isn't taking the step of mandating masks indoors despite it being one of the steps explicitly recommended for the "high" alert level the city is now in. "We have all of these tools that we did not have when we first set the color coded system," he said. "The fact that you can now call up and get your medicine delivered to you, the amount of testing we're doing."
The city is distributing oral antiviral pills for free for those who do test positive for COVID-19, prioritized for people who are at increased risk. And while diagnostic testing for COVID-19 in the city is roughly even or slightly below where it was in early March, the city is making at-home tests available. "Between March 2020 and May 2022, the city provided New Yorkers with 20 million at-home tests through various organizations and entities," Adams spokesperson Fabien Levy wrote in an email. "In the next month alone, we will provide access to 16.5 million tests."
But as cases surge in New York City – and across the state – some health experts said that the city ought to be reimplementing mask mandates in indoor settings and taking additional steps to curb the spread of the virus. "If you just make recommendations, I think that it won't really make much of a difference in the potential to reduce the amount of spread that's happening right now," Dr. Denis Nash, a professor of epidemiology at the City University of New York, said. The U.S. Centers for Disease Control and Prevention advises that masks – when worn properly and consistently – are effective at reducing the spread of the virus. 
Dr. Jay Varma, an epidemiologist and former senior advisor for public health to former New York City Mayor Bill de Blasio, told City & State earlier this week that given the relatively low uptake of booster shots among the already vaccinated, the city should consider reimplementing its Key to NYC vaccine passport program, with an added booster requirement.
But Varma acknowledged that reimplementing mandates is tough to do politically today. "It's not something you can see that a lot of jurisdictions are moving towards," he said. "In fact, pretty much every jurisdiction around the country is moving away from mandates like that."
New York City is currently reporting a daily average of over 4,000 cases over the last seven days – roughly a 58% increase from two weeks ago. While hospitalizations and deaths are still far below what they were at the peak of the pandemic, hospitalizations are reported as "stable" by the city, while deaths are currently rising. The 7-day daily average of deaths is currently at six in New York City, while hospitalizations are at 68.
Adams said several times on Thursday that deaths and hospitalizations were at a "manageable level." "Based on their analysis in the morning, we're doing great with our hospitals, our deaths," Adams said on NY1. "We don't have people on ventilators. We're not going to fight the methods of an old war (for) this future war."
Nash said that while deaths and hospitalizations are low right now and aren't straining hospitals, if a larger surge in cases occurs, it could be too late to stop additional hospitalizations and deaths. "I really hope that the city is in a place where we're going to be able to weather this surge, even if the mayor and the city don't take any more steps," he said. "But I do remember how over a three-month period from the BA.1 omicron surge, 5,000 New Yorkers died. I think we're in a better place with vaccines and boosters and immunity now, but hundreds and or even a few thousand deaths is not something we should be accepting as a city that has all the tools it needs to prevent the impact of surges."