Politics
'Real good energy:' Eric Adams leaves Albany optimistic about mayoral control
New York City Education Committee Chair John Liu said talks with the mayor were productive.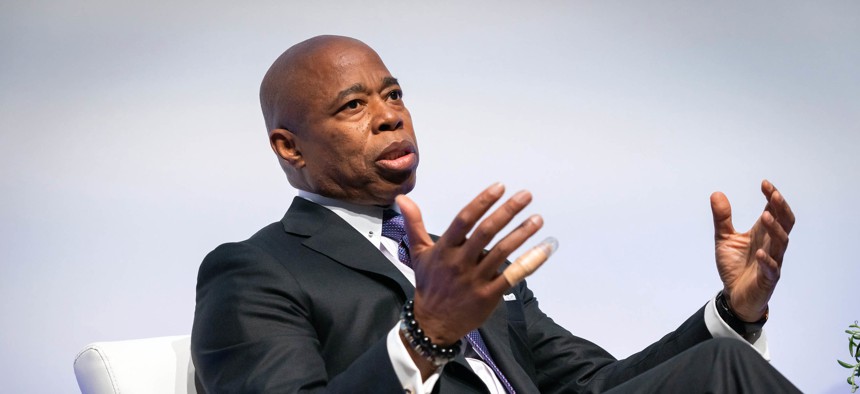 When New York City Mayor Eric Adams made the trip up to Albany on Tuesday, he went with a singular priority: renewing mayoral control of city schools. Adams has other agenda items, of course, but he scheduled one-on-one meetings with the chairs of the committees that oversee city schools in both chambers of the state Legislature, the only non-group meetings he had scheduled. And at least one of those chairs said that Adams is set to get his renewal, albeit with some changes.
State Sen. John Liu, chair of the New York City Education Committee, told City & State that he felt his meetings with Adams went well. He met with the mayor three times over the course of Tuesday – once with their staff present, once as part of the Black, Puerto Rican, Hispanic and Asian Caucus and a third time with just the two of them. "I think the mayor was totally engaged and on top of the issues," Liu told City & State. "I've been having ongoing discussions with him and his team for the last few months, but it was important for him to get questions directly from other legislators."
An Assembly source said that in that chamber, some legislators vehemently opposed the idea, though negotiations continued. Similarly, Liu said that his conference has not yet reached a consensus on the matter of mayoral control, adding that he has colleagues with "a range of opinions and with varying intensities." But he said he expects Democrats in his chamber will reach a resolution. "That resolution, I am confident, will not allow New York City schools to revert back to the system that existed 20 years ago with local school boards," Liu said. That means approving a renewal. But that deal will likely involve some changes to how lawmakers will set it up, according to Liu. He said that they were looking at "significant changes" to the Panel for Educational Policy, the body that governs the city Department of Education, to enable greater parental input.
In a brief gaggle with reporters following his meetings and before he left to catch a train back downstate, Adams spoke positively of his interactions with state lawmakers on Tuesday. "This was a good exchange of ideas, we took a lot of notes," Adams said. "We've heard some great ideas about education, great ideas around public safety, and it was just a real good energy." He said that he has faith in the legislative process to unfold now that he has made his case to lawmakers. 
The top leaders in the state – Gov. Kathy Hochul, state Senate Majority Leader Andrea Stewart-Cousins and Assembly Speaker Carl Heastie – were all absent from the Capitol on Tuesday. They instead went to Buffalo, where a mass shooting left 10 people dead over the weekend, to join President Joe Biden on his visit. Liu said Stewart-Cousins had been prepared to meet with Adams in Albany before tragedy struck and Biden scheduled his visit to Buffalo. But the timing meant that the mayor did not get the chance to speak with the people who will ultimately sign off on any deals. State Senate Deputy Majority Leader Michael Gianaris, the highest ranking member of his chamber in Stewart-Cousin's absence, told City & State that he did not attend any of the meetings with Adams. He instead met with Deputy Mayor Sheena Wright to discuss workplace development.