Interviews & Profiles
Zohran Mamdani is bringing Hollywood glamor to Albany
Dubbed 'the socialist, Muslim Ronald Reagan,' the state legislator takes a creative approach to fighting for increased MTA funding and single-payer health care.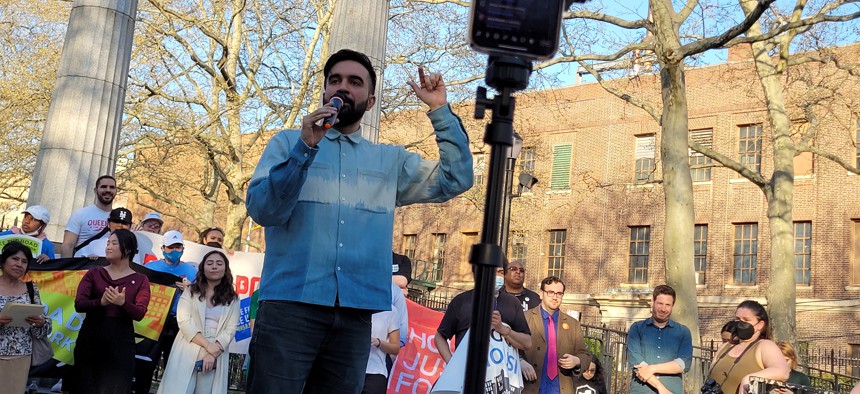 Inside his district office in Astoria, Queens, Assembly Member Zohran Mamdani was ready to answer questions about his socialist politics, his plan for free buses and his career so far in Albany. 
"So," I started our hourlong interview, "Mr. Cardamom."
Mamdani broke out in laughter. "Mr. Cardamom" is the name he rapped under during his short-lived music career before deciding to run for office. He released just one song: "Nani," a rap written for his late grandmother. South Asian movie superstar Madhur Jaffrey stars as the titular "Nani" in a music video directed and edited by Mamdani – a love letter to New York City's South Asian diaspora. Due to its high-profile star, the 2019 music video became the subject of articles in publications like The New York Times and The Guardian. Months after its release, Mamdani announced he would run for Assembly against an incumbent as a socialist.
Now a sitting lawmaker, the 32-year-old Mamdani has brought his cinematic flair and performance instincts to the campaign trail and the halls of the state Capitol. He has also become something of a spokesperson for the crossroads of his multiple identities; he's one of the state's most prominent socialist lawmakers, one of only a handful of Muslims in state office and among the first South Asians to serve in the Legislature. But where others may shy away from it, Mamdani thrives in the limelight. And he has been able to use that to his advantage in notching major victories less than two full terms into his tenure in the state's lower chamber. "I think a lot of politics is storytelling, and that is also at the crux of rapping and filmmaking," he told City & State.
---
Mamdani's career path may appear to an onlooker as unusual, until one takes into account his parents. His father, Mahmood Mamdani, is a prominent Marxist scholar at Columbia University, and his mother, Mira Nair, is an Academy Award-nominated film director. Part of his childhood was spent on movie sets, and Mamdani curated and produced the soundtrack for his mother's 2016 movie, "Queen of Katwe." Under his rap alter ego "Young Cardamom," he contributed a rap to one of the songs featured in the film. "It's truly a wild thing when your mother happens to be one of your favorite filmmakers," Mamdani said. But her success didn't come easily as an Indian woman looking to make movies in Hollywood about issues facing the South Asian diaspora. "She has this mantra of, if we don't tell our own stories, no one else will," Mamdani said.
After initially pursuing the arts, Mamdani began getting involved in progressive politics. He joined the Muslim Democratic Club of New York and began volunteering for electoral campaigns. The first campaign he volunteered for was election attorney Ali Najmi's unsuccessful race for a New York City Council seat in 2015. He made quite an impression. "I remember him wearing a very eccentric, but fashionable, shirt that I'd never seen before, and he had that flair in him from Day One," Najmi recalled. "He's a natural, he had a gift with people that we saw and that we invested in."
It would take several more years before that investment ultimately paid off. In the meantime, Mamdani continued working on campaigns. In 2017, he was part of the New York City Council campaign of Khader El-Yateem, an Arab Lutheran pastor from Bay Ridge, Brooklyn, who was running as a socialist. "It was a campaign that changed my life," Mamdani said. The next year, he joined progressive journalist Ross Barkan's unsuccessful run for a state Senate seat in southern Brooklyn. Then in 2019 – the same year he released the "Nani" music video – Mamdani worked on public defender Tiffany Cabán's campaign for Queens district attorney, a race she came within tens of votes of winning. "He is a charismatic, compelling, joyful person where you're just like, 'I want to be a part of whatever he's a part of,'" said Cabán, now a City Council member representing Astoria, Queens.
He's the socialist, Muslim Ronald Reagan.
Ali Najmi, a former New York City Council candidate
Eventually, Mamdani was persuaded to run for office. At the time, he was working as a housing counselor focused on foreclosure prevention for the nonprofit Chhaya Community Development Corp. Unlike many politicians, winning elected office was not always one of his life goals. "If you want to run for office, you would definitely not get involved in Palestine solidarity activism and then become a rapper," he quipped. With the support of the Democratic Socialists of America, he challenged then-Assembly Member Aravella Simotas in the 2020 Democratic primary.
The western Queens race was contentious; although the policy differences between Mamdani and Simotas were minimal on paper, both sides offered consistent attacks on the other. Mamdani painted Simotas as a machine politician while Simotas emphasized her working-class roots in the district in contrast to Mamdani's Hollywood background and status as a recent Astoria transplant. But it was a good year for insurgents, and Mamdani became one of a sizable class of progressives and socialists to unseat sitting lawmakers in 2020.
Since joining the Assembly, Mamdani has drawn on his unique background in film production and performance to advance socialist causes. "Why do we only need to make a glossy, accessible, fun, compelling video when you're running for office as opposed to when we're in office fighting for the things that we said we would do?" he asked. Instead, Mamdani has tried to bring a Hollywood approach to selling his preferred policies to voters – recalling another famously charismatic politician. "He's the socialist, Muslim Ronald Reagan," Najmi said.
Using money from his campaign account, Mamdani built a sleek website laying out the tenets of the plan – a subway fare freeze, free buses, six-minute service and higher taxes on the rich to pay for all of it. The site includes a campaign-quality launch video with an upbeat percussion beat and crisp visuals that features Mamdani traversing New York City's public transit system while explaining why people should care about his proposal.
A novel approach to marketing policy is all well and good, but without substance, the effort could be moot. Mamdani's comprehensive plan to improve the Metropolitan Transportation Authority attracted a powerful ally in state Senate Deputy Majority Leader Michael Gianaris, who agreed to sponsor the Senate version of the bill. "He did the work, he and his team did the work," Gianaris told City & State. "He approached me, and we sat down and walked through the bill … and it made a lot of sense to me." Gianaris said the partnership works well, with Mamdani "playing the lead organizer role and me doing what I can to bring the benefit of my position and experience to the table."
The Fix the MTA campaign has already secured an initial victory. Although the proposal received a lukewarm reception from MTA leaders and Gov. Kathy Hochul excluded it from her initial executive budget proposal, the final state budget deal will include a free bus pilot program for five lines in New York City. By Albany standards, where initiatives and legislation often languish for years with minimal movement, that's a big victory for a backbench Assembly member.
It isn't the first time that Mamdani's skills with public organizing have landed a high-profile and powerful advocate to achieve one of his goals. Shortly after taking office, Mamdani launched a campaign to help struggling cab drivers. One way he brought attention to drivers' plight was by enlisting the support of U.S. Senate Majority Leader Chuck Schumer. "Taxi drivers have been caught in an unprecedented crisis due to predatory lending that took advantage of them, and they need help," Schumer said at the start of another highly produced video featuring him and Mamdani. In the video, the two take a ride with a cab driver and medallion owner, who shares his own story for the camera. "(Mamdani) helped bring Chuck Schumer into that fight," Cabán said. "That's how we helped win our taxi driver fight."
The connection between Mamdani and Schumer may run deeper than a shared interest in helping cab drivers. "In many ways, there are similarities between a young Chuck Schumer and young Zohran in terms of how they approached politics and policy when they were in Albany," Barkan said. "As an Assemblyman, Chuck Schumer was very good at getting press attention and securing eyeballs to various causes. He, despite being a backbencher, would end up in The New York Times repeatedly when that mattered a lot." And we all know where that young gun wound up, still famous for showing his face at every New York event while leading the U.S. Senate.
Mamdani views much of politics as simply another form of storytelling. In 2021, he organized a late-night vigil on the steps of the state Capitol with fellow DSA and progressive lawmakers in order to share the personal stories of New Yorkers impacted by insufficient health care, part of an effort to advance the New York Health Act. The monumental piece of legislation, which would create a single-payer health care system in New York state, has existed for over three decades and attracted many co-sponsors on paper but never garnered the necessary momentum to pass the Legislature. "He's extremely creative, and I honestly admire the consistent ways he finds to reinvent how we engage with politics in Albany," said state Sen. Jabari Brisport, a fellow DSA member who ran on the same slate as Mamdani and is now roommates with him in Albany. "Zohran's been a great example of someone who constantly looks for new ways of ensuring that the voices of working-class people are heard."
My parents always made it clear to me that their successes in film and in academia were not validations of this economic system, but aberrations of it.
Zohran Mamdani
Brisport and Mamdani collaborated on a comedy sketch video to promote the New York Health Act. Organizers with the Campaign for New York Health reached out to the pair in the hopes that they would perform the already written sketch, which imagines a world where firefighting works the same as the privatized health care system. Mamdani plays a firefighter, decked out in an FDNY shirt with red suspenders and a firefighter's helmet. He and Brisport – who at one point pursued an acting career – deliver their satirical lines with straight faces as they deny aid to a man whose apartment is on fire, citing complications with his insurance. "We loved the idea and ran with it," Brisport said of the sketch. "I know it didn't get us the New York Health Act in 2021, but it definitely changed the narrative around it … and really propagandized in a positive way."
Mamdani's sense of humor and ability to bring some levity to serious topics emerged as a common theme among those who know him well. "He doesn't take himself too seriously, and he does come to the table with humility and understanding of the severity of the issues that we talk about," said Assembly Member Marcela Mitaynes, a fellow socialist who ran on the same slate as Mamdani. "His humor and his personality allows him to be more – what's the word – approachable in a sense." Gianaris said his gregarious nature has aided him in building coalitions. "Even people who don't necessarily agree with him on an ideological approach would have no problem spending time with him and talking through things," he said. "And ultimately, that's how you grow your influence and get more people to listen to you."
It's not every day that a young Assembly member teams up with the majority leader of the U.S. Senate, or that New York City Mayor Eric Adams finds himself aligned with a Democratic socialist. "I think some of the best elected politicians, the best electeds we're seeing especially now – or I should say progressive organizers – are former theater geeks and they're service workers," Cabán said. "They just know how to connect with people."
---
In many ways, socialist politics is in Mamdani's blood. "My parents always made it clear to me that their successes in film and in academia were not validations of this economic system, but aberrations of it," Mamdani said. He recalled accompanying his parents to protests against the Iraq War and to Marxist lectures, which he compared to rock concerts as a child. "When you're the kid of two parents who are very involved in social justice, a lot of times what you remember as a playdate was you being at some rally or some march," he said.
Mamdani's economically privileged upbringing became a target of attacks during his 2020 campaign, but his fellow socialist legislators said it has not created tension between himself and other members. "When I first met him, I wasn't aware of it," Mitaynes said. Although they are both immigrants – Mamdani was born in Uganda and Mitaynes in Peru – they come from very different class backgrounds. Mitaynes grew up in a rent-stabilized apartment from which her family was later evicted, while Mamdani lived in an Upper West Side apartment provided to his father by Columbia University, and his mother owned a nearly $2 million Chelsea condo.
Mamdani has never denied the privileges he enjoyed growing up, but as a socialist, he has shown he does walk the walk. "What I would say about Zohran is he is deadly serious about socialism," Barkan said, adding that Mamdani is more ideologically committed to socialist politics than even some other DSA-endorsed elected officials. "Zohran is one of the true believers … he believes this stuff fervently."
At a recent DSA budget rally in an Astoria park, Mamdani shared the outdoor stage with political celebrity Rep. Alexandria Ocasio-Cortez, who spoke passionately about the need for tenant protections and public power. But while she was talking, Mamdani wasn't next to her in front of the crowd. Instead, he was off the side, speaking with a lone counterprotester who was screaming at rallygoers and politicians. Organizers of the rally had been trying for more than 20 minutes to corral this person away from the rally, and the police soon showed up.
But Mamdani, who has advocated for curtailing the power of the New York City Police Department, held the cops at bay in favor of continuing his conversation with the man. Eventually, the protester left peacefully without the interference of police. "He was just someone who wanted to be given the time of day," Mamdani told City & State following the incident. "He had frustrations that ran the gamut from the way which he feels that Asian Americans are treated writ large in the progressive movement to the fate of one specific individual who was arrested in Tennessee." He took the man's card and offered a promise that his office would give him a call, even though the man was not one of his constituents. 
It was one of the many ways that Mamdani has since answered a question he posed when announcing his run for office in 2019. "You know, I'll be forever spicy but I'm taking a break from being a spice to answer the question of what happens when a B-list rapper runs for office," he wrote in a tongue-in-cheek tweet from his Mr. Cardamom handle – the last message he sent from the account. "Come through @ZohranKMamdani if you want answers."
Powered By
NEXT STORY: This week's biggest Winners & Losers