Heard Around Town
Eric Adams is skipping the Met Gala, but other pols are going.
It's the first year after AOC and Carolyn Maloney's ethics investigations tied to the gala were revealed.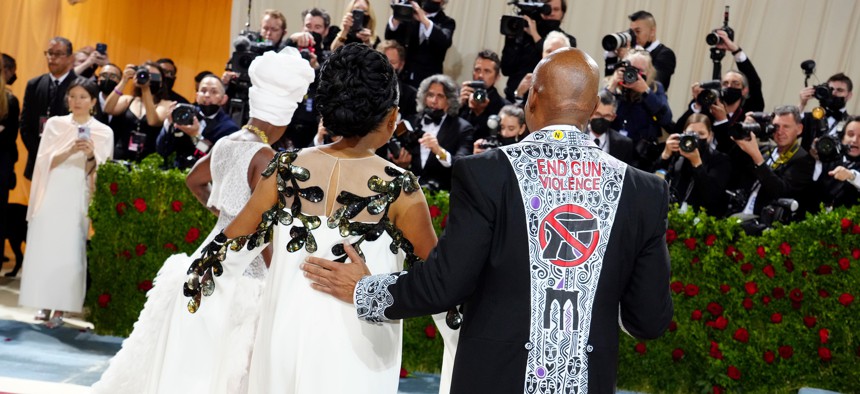 Is the glitz and glam of the Met Gala worth the scrutiny for politicians to attend?
For New York City Mayor Eric Adams, maybe not – after going last year in a custom "End Gun Violence" tux, with girlfriend Tracey Collins, he's skipping the event Monday night. So is Rep. Jerry Nadler, who newly represents the Met's Upper East Side neighborhood after redistricting. "It's up to each member's discretion which events are important for them to attend, but the Met Gala is not really my scene," Nadler told City & State as part of a longer statement calling the Met one of the city's "crown jewels."
Elected officials crossing into the world of celebrity has always raised some eyebrows. In fact, former Mayor Bill de Blasio didn't go for the first seven of his eight years, apparently thinking it clashed with his focus on ending economic inequality. But this is the first gala since it was revealed that both Rep. Alexandria Ocasio-Cortez and former Rep. Carolyn Maloney were subjects of House ethics investigations related to their attendance at the gala. AOC was accused of not initially paying for the costs of her provided dress, room and transportation, while Maloney allegedly shook down Met officials for an invite after she was cut from the list in 2016. Neither of the investigations has been publicly resolved yet. 
That kind of heat could keep politicians away. "After AOC went there was a lot of attention added to it," said a former Congressional staffer.  "If you were an elected, you might think twice about going."
Maloney herself even skipped last year. She'd already been contacted about the ethics investigation, and her already-competitive reelection bid might have factored in too, since red carpet photos can and will be used against you on the internet. 
Who's on the list?
But some pols are still puttin' on the Ritz, like city Comptroller Brad Lander and City Council Speaker Adrienne Adams. ("Let's go Met," Adams said Thursday when asked by City & State, in a cultural crossover.) They earn invites to the The Metropolitan Museum of Art's Costume Institute Benefit as ex-officio trustees of the Met. So do Mayor Adams, Parks Commissioner Sue Donoghue and Cultural Affairs Commissioner Laurie Cumbo – who famously got engaged on the red carpet last year. Both commissioners will be going to the Gala, their offices said. So will City Council Members Chi Ossé, chair of the cultural affairs committee, and Keith Powers, whose Upper East Side district de facto includes the Met. Will he be dressing to the theme, honoring the late fashion designer Karl Lagerfeld? 
"I'm just wearing the tux that I own," Powers told City & State. "I would try my best Karl Lagerfeld, but I fear I would probably fail at that, so I'm going to keep it more down the middle."
While the names change, the people in those roles have historically been offered free admission as guests of the Met – like in 2018, when local pols chatted about former Attorney Eric Schneiderman's downfall, which happened at the same time as the annual party. "Fashion's biggest night," is, after all, a fundraiser for a local nonprofit. And even if this one gets international attention, that's the type of event that fills politicians' and public officials' calendars.
A comped ticket is a small price to cover for the Met, which spends tens of thousands of dollars a year on lobbying city officials on issues like capital funding and security bollards. The museum got nearly $23 million in city funding last year, according to the annual report from the CFO, or 8% of its annual operating revenue. And invites to the gala might play a role in that. An email exchange among Met staffers published as part of the Maloney investigation said that the museum saw a huge drop in capital funding from the city after it reduced the number of government officials on the guest list. 
Adams' ethics
But it may be wrong to assume that Mayor Adams is skipping this year to avoid the ethical scrutiny. After all, the mayor's attendance at fashion week events, Wells Fargo credit card parties and private club Zero Bond show the "blue collar mayor" has no hang-ups about partying with the rich and famous. A source familiar with the mayor's thinking confirmed that "optics" didn't play a role in him skipping it.
Rather, Adams' public schedule suggests he's spending the evening and events slightly more tied to the political world. He's expected to attend the Hotel Association of New York City Foundation's Red Carpet Hospitality Gala at The Pierre hotel before heading to Cipriani South Street for the Literacy Partners Gala, where he's being honored by the reading education nonprofit. 
Other elected officials don't even get the chance to decline an invitation, like Council Member Gale Brewer, whose district includes Central Park and the Met, and once represented the whole island as Manhattan borough president. "I believe Ms Wintour decides who goes?" she said, referring to Vogue Editor-in-Chief and Met Gala host Anna Wintour. "She's never invited me."
Correction: An earlier version of this article misstated the hotel where the Red Carpet Hospitality Gala was scheduled to take place.
Powered By
NEXT STORY: Zohran Mamdani is bringing Hollywood glamor to Albany