Kathy Hochul
Hochul gets the last laugh in press show rebuttal: 'Is that guy from Colorado still telling me what to say?'
The governor got some good-natured ribbing for her multiple trials and tribulations over the past legislative session.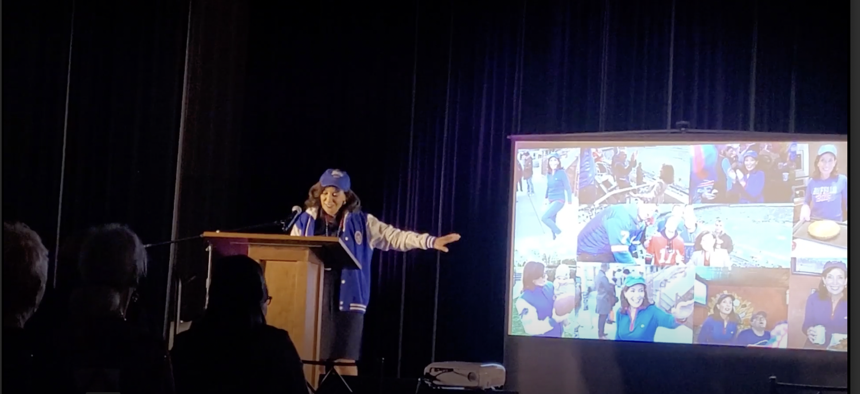 Gov. Kathy Hochul made light of her budget tardiness, her obsession with the Buffalo Bills and her penchant for listening to farflung advisers Tuesday night at the 121st annual Legislative Correspondents Association show. 
"We joked last year about how the budget was nine days late," she said. "That was child's play." Perhaps the biggest laugh of the night came when Hochul referenced her former adviser Adam Sullivan, who The New York Times reported was the architect of her weak electoral strategy last year while working remotely from Leadville, Colorado. "It's been a great year for all our hometown teams," she said, listing successes from the Yankees, the Jets and the Bills. "Last night the Denver Nuggets won the Western conference championship. Is that guy from Colorado still telling me what to say?"
She couldn't resist a dig at her predecessor, former Gov. Andrew Cuomo, as Hochul donned a Bills hat and jacket after complaining about the chilly temperature: "Remember the last guy? Kept it really cold?" she quipped.
(Watch the video here.) 
Hochul joked she made history as the first female governor to drink a Genesee beer at the LCA show. The governor said it was her favorite since high school when the drinking age was lower. (It turns out she only took two sips before our Rebecca C. Lewis downed the rest.) 
The governor also seemed to have gotten over the bitter nomination fight for her first pick for chief judge, Hector LaSalle, when she joked about the power of the state Senate Judiciary Committee. "It's also nice to be back at a different venue. Let me guess … the Senate Judiciary Committee didn't like your first choice," Hochul said.
Her rebuttal followed the 121st annual show – "Everything's Coming Up Kathy" – performed by the Albany press corps. Spectrum News' Kate Lisa played the Gov. Kathy Hochul, Politico's Joseph Spector played Assembly Speaker Carl Heastie and former Bloomberg reporter Keshia Clukey played state Senate Majority Leader Andrea Stewart-Cousins. The show kept a light-hearted spirit as members of the press dunked on the failed LaSalle nomination, reliance on Sullivan and money spent on consulting firm Deloitte. Our very own Lewis performed the Electric Boogie, a spin on the All Electric Buildings Act.
Republican state Sen. Joe Griffo also delivered a rebuttal that featured a PSA asking for donations to help neglected state Republicans over the vocals of "In the arms of an angel" crooner Sarah McLachlan. State Sen. Liz Krueger joked on Twitter that former state Sen. John DeFrancisco is apparently furious that Griffo broke his record for best Republican rebuttal at an annual show. Krueger also joked the former state senator vowed to make a return just to reclaim his crown – we'll stay tuned.