Interviews & Profiles
Not passing housing in the state budget was a 'missed opportunity' for labor
A Q&A with Greater New York LECET Director of Strategic Partnerships Justice Favor.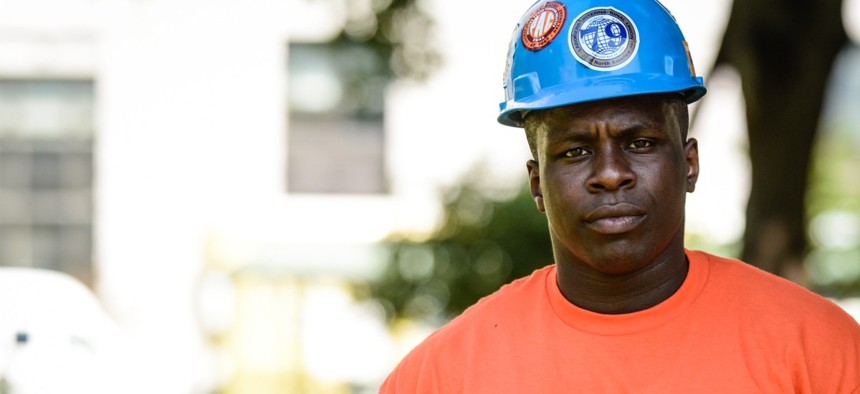 Greater New York LECET Director of Strategic Partnerships Justice Favor said that when Gov. Kathy Hochul's plan to build 800,000 housing units in the next decade fell out of the state budget that it was a "missed opportunity" for the state to help marginalized communities. City & State spoke with Favor about the affordable housing crisis, the diversity within his labor union and how New York City can move forward with its own housing goals. This interview has been edited for length and clarity.
Your organization had a lot to gain if Gov. Kathy Hochul's housing plan was part of the budget, representing both laborers and developers. What is your perspective going forward in regard to the plan?
Any time we have an opportunity to partner with developers or contractors that will build with union labor, specifically Local 79, it's an opportunity to actually grow our union density and actually impact groups and communities and marginalized people that often were overlooked. Quite honestly, it felt like it was a missed opportunity to impact communities where affordable housing is being built. Most of these communities are communities that have already been disenfranchised and disadvantaged communities. We are already dealing with a housing crisis. We don't want it to stagnate the relationship that Local 79 has built with some of these developers that actually are building these developments.
It's clear that your members would benefit from the extra work that would have come from this deal. But would they also benefit from having more affordable housing available?
The labor union is the largest, most diverse union in New York City. It's comprised of about 10,000 members (and) over 87% live in the five boroughs. So when you think about the impact we have, we have a contingent of us reentry folks that reformed their lives and on a pathway to middle class. We have a contingent of immigrant folks. And when you think about the dynamics of oftentimes, that crisis, the housing crisis is impacting people of color, right? For all people that's economically impacted, most of it will be people of color. So when you think about that, it's hurting everyday people, hurting people that are looking to have a stable living environment and also being able to work in that community. So it's interconnected and a series of waves.
With the state plan on hold, is there any concern that it will slow progress for the Adams administration's "Get Stuff Built" plan?
We know the importance of that when the state sets the stage on tax abatements, different things like that. I think that it's important for the mayor to roll out his plan because the state is the state, the city is the city, and every entity or rather, every geographical area, has its own uniqueness, its own nuance. What was going on in New York City is totally different from what is going on in Buffalo, New York – the demand, the people. So it's important for him to lay out his plan to show what's in need, right? And when we think of dealing with the homelessness crisis, you're dealing with a housing crisis. The influx of migrants that have come in has continued to put a strain on the resources and many more on the housing resources that are already there. So it was important for him to lay out a plan.
Powered By
NEXT STORY: 'She couldn't handle it' – why Kristin Richardson Jordan dropped out