Interviews & Profiles
Jennifer Raab says goodbye to Hunter College after nearly a quarter century
The exiting college president sat down with City & State to discuss her impact on the school and the legacy she leaves after more than 22 years of service.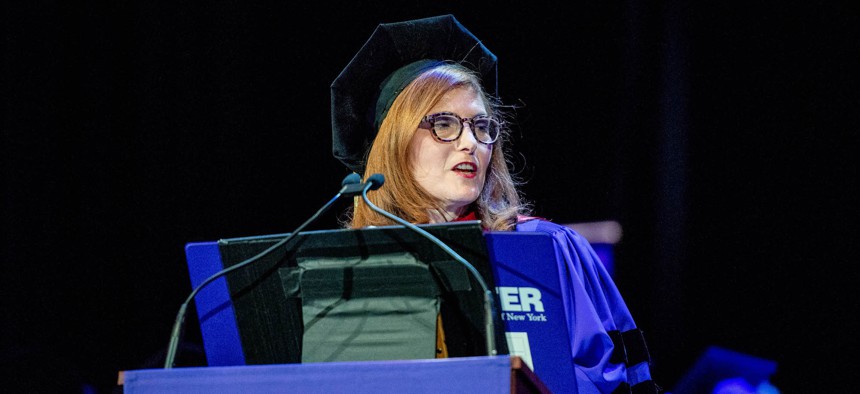 Jennifer Raab is taking some time off this summer after finishing a 22-plus-year run as president of Hunter College. Raab served more years than any of her predecessors, except for the school's founder Thomas Hunter. The college, a part of the City University of New York, originally was for women only until men were first admitted in 1946.
During her tenure at Hunter, Raab seized on the opportunity to, in her words, "prove the proposition that public education could be first rate and as excellent as private institutions, and at a price point that most New Yorkers could afford." 
To do that, Raab turned to college supporters to help raise $500 million for the school, including a recent $52 million gift that was the largest ever made to the school. She also added new degree programs that helped it earn a reputation for being New York City's public college for the arts. Raab also pushed for the creation of scholarship and fellowship programs and oversaw a new era of school expansion. Her interim successor is senior CUNY administrator and professor Ann Kirschner.
City & State caught up with Raab to discuss her lifelong relationship with Hunter, tenure as president and the impacts she helped make on the college and its programs. 
This interview has been edited for length and clarity.
You first came to know Hunter College by attending the very selective high school that it operates and provides funding for, known as Hunter College High School. Please talk about how you got into the school and the impact it made on you.
When I was 12 years old, I was in a public school in Washington Heights and was one of 10 girls who had tested high enough to be able to take the Hunter College High School entrance exam. So we got on the No. 4 bus with our No. 2 pencils and got off on the corner of 68th Street and Lexington Avenue. A few weeks later, they came back to the school and said three of us had "made Hunter," which is what they would say. We were told that we were going downtown to the fancy Upper East Side and that we would become man-haters, because of course, it was all girls. My mother, who was widowed, uneducated, barely graduated high school, and rarely was able to give advice said, "You're getting on that bus."
What I learned was the importance of incredibly excellent public education. My life was really transformed. I became a scholar, a student, a learner, and from that I became the first in my family to go to college, much less three Ivy League schools. So I saw in Hunter a place of opportunity and excellence in the public education space, and I wanted to devote a large part of my career (and have) to making that dream come true and making the American dream come true for so many first generation students as myself and immigrants. 
So you've got Hunter in your DNA, right?
I bleed Hunter purple, they say.
And after more than 22 years as president, how does one serving for so long make the decision to stand down? 
We transformed this institution as a team, and we reached so many success points that it seemed the right moment to give the keys to the next generation. I felt so proud of what we accomplished together and the impact we've had on the city that I cherish.
Hunter isn't shy about noting that today it is called the "crown jewel of the CUNY system," by the Princeton Review. How did it come to have such a distinction under your leadership?
We had the opportunity to raise standards, and it was a challenge. But as we raised standards, we became more attractive to stronger students. And with more stronger students, I was able to recruit a high ranking and diverse faculty. And as the faculty got stronger and we brought in more grants and more creative projects, more students were interested. 
And then we were able to become a very attractive place for New York City supporters to invest in, and our fundraising is very much what brought back our alumni base, many of which had lost faith in the school. 
How did you help raise $500 million?
Much of the money I've raised has been from people who share my dream of excellence in public higher education and they will support a particular part of our mission. New York is the arts capital of the world. There are people here who love the fact that we provide affordable education to top notch artists. So they will support our art programs, our music programs, even though they didn't go to Hunter. They understand and appreciate and want to invest in the mission. 
It's been a really wonderful experience because it really brought back alumni that are so proud, and we've also brought back families who are extremely proud. One of my favorite campaigns, which is about over $9 million, is the Mother's Day campaign, and it really talks about Hunter's role in the city. Hunter, the ninth school in the United States to accept women into higher education, started in the 1870s. We have been supporting the education of women for over 150 years. And there are so many successful and influential New Yorkers whose mothers and grandmothers went to Hunter and received a college education when it was not common to be educated. Families who had money often sent their girls to Hunter because then they didn't have to send them away to school and they didn't have to pay. And then there were immigrant families where there was no choice, where a girl was not going to college. She could convince her father to let her go because it was free and she could go on to be a teacher or a nurse and have income. So this brought in legions of extraordinary women –  trailblazing women.