Interviews & Profiles
Jessica Ramos' statewide wage transparency law is going into effect this weekend
And she says she's not running for mayor … at the moment.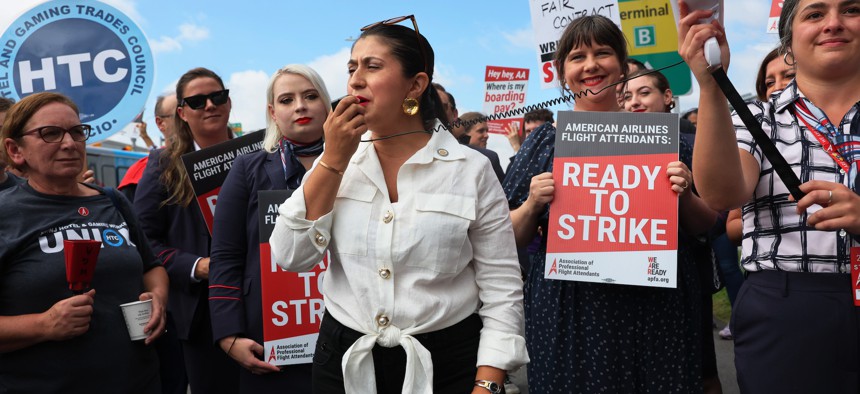 Starting on Sept. 17, New Yorkers will have a new tool at their disposal while job hunting. Under a new state law about to take effect, employers with four or more employees will have to provide a good-faith salary range for any job posting, enabling applicants to have an idea about the compensation they should expect for a particular position. Employers found in violation of the law will face penalties of as much as $3,000 per violation.
The new law, which covers the entire state, is similar to a New York City wage transparency law that went into effect last year. Other localities including Albany and Westchester have also enacted their own local versions of the law in the past. Bill sponsor and Labor Committee Chair state Sen. Jessica Ramos spoke with City & State about the statewide regulations about to take effect and their importance for New Yorkers, as well as rumors about a run for mayor and potential state action on the migrant crisis.
What do New Yorkers need to know about the new wage transparency law that will soon go into effect?
People need to know that corporations, companies, employers in New York State will now be required to disclose salary ranges in job descriptions when they're posted, with the intent of informing applicants and prospects about the salary expectation for that particular position. And I think that's really important because we're looking at creative ways to close the pay gap between women, between people of color. And we want to make sure that people are being properly compensated for the work that they perform. This is about equal pay for equal work. So before a New York or applies for a job, they should be able to anticipate and know what salary offer to expect.
Ahead of it taking effect, do you think there has been enough awareness about what both employers and job seekers should expect and to make sure they know about these new rules?
Upon the implementation of the (New York) City law, we had already begun to see corporations complying with the salary disclosure on job descriptions. Unfortunately, too many corporations were starting to provide very wide ranges in order to disguise what a realistic salary would be. Which, of course, was not the intent of the law. That's why I'm so happy to see that the city's Human Rights Commission has stepped up to enforce and ensure that compliance with the law is done. That being said, we haven't seen a lot of information out in anticipation of the statewide law. But what's important to know is that within the bill, we actually included a mandate for a public service announcement campaign that the state will have to do in order to inform New Yorkers in every corner of the state that these are their new rights.
Aside from some bad actors, how do you think implementation has gone in New York City?
We know that New Yorkers have been yearning for measures like this. It's best seen in the union organizing that is manifesting across industries, across sectors around the city and state. I think that New Yorkers are overworked, tired of feeling like they're not being properly compensated for their work and their sacrifices. It's precisely why having this nugget of information before applying for a job actually allows New Yorkers to choose the best possible employers to sell their labor to.
So it sounds like you think implementation has gone pretty well overall.
Yeah.
What kind of impact have you seen the city version of the law having since it has been in effect? You mentioned, obviously, the significant union activity we've seen in recent months and years.
If you asked me what the state of the worker in New York is, I would say burned out. I think people are really yearning to spend more time with their families to actually be able to take a vacation. But more and more New Yorkers feel like they're running on a hamster wheel, working, working, working. But it's like somehow, the money's not adding up to be able to save to buy a house or the like. So I think all of these measures along with robust union organizing is a response to that state of the economy.
Do you expect the state Legislature will hold hearings to evaluate the efficacy of the law, particularly in aspects like pay equity that it hopes to address once the data is available?
I think it'll take us a little time to collect the appropriate data for analysis of how successful our measure will be. But we will certainly be diligent in working with the (Department of Labor) to capture that information and assess whether any wrinkles need to be ironed out in the future. It's still eyes on the prize, right? The aim here is to tackle and hopefully eradicate pay inequity in New York.
Looking ahead to next session, are there any other pieces of legislation that you're sponsoring that you'd like to see get approved that would complement or supplement the wage transparency law?
I carry a very related bill, and that is the SWEAT bill. The SWEAT bill, which is an acronym that stands for Securing Wages Earned Against Theft, is a bill that would allow workers to put a lien on employers' assets until they are paid every nickel and dime that they are owed for the work that they have performed. I think that goes hand in hand (with this law). If the worker knows how much they expect to be paid, and then it turns out that the check bounces or they're not being paid for overtime the way they were told, or they're being asked to work some extra hours off the clock, things like that, we want to make sure that there is a course of action for for the workers to win their money back.
Regarding a different labor issue, there's a new bill in your chamber that would grant asylum-seekers temporary work permits at the state level in light of federal inaction to expedite work authorization. Is that something you'd be supportive of?
I think New York would be wise to lead on a permanent state measure to authorize employment in New York state, and let that put the pressure on the feds to act. Our immigration system has been broken for just so long. There are people who have been here for decades paying their taxes, contributing to our daily life who have been unable to formalize their immigration status. And then we have, of course, the newly arrived migrants. So I think we're seeing it all come to a head. In the face of federal inaction, the state could always step up.
On an unrelated note, there has been a lot of buzz about potential Democratic challengers to New York City Mayor Eric Adams, and yours is one of several names to come up. Is running for mayor something you're considering?
I just announced I'm running for reelection.
But that's next year, and mayor is 2025.
And I just ran the Jackson Heights mile two weeks ago. That's all the running that I'm doing at the moment.
Powered By
NEXT STORY: This week's biggest Winners & Losers