Interviews & Profiles
Mark Levine talks COVID vaccines, affordable housing and tearing down FDR Drive
The Manhattan borough president wants to help New Yorkers get vaccinated – and then undo the sins of Robert Moses.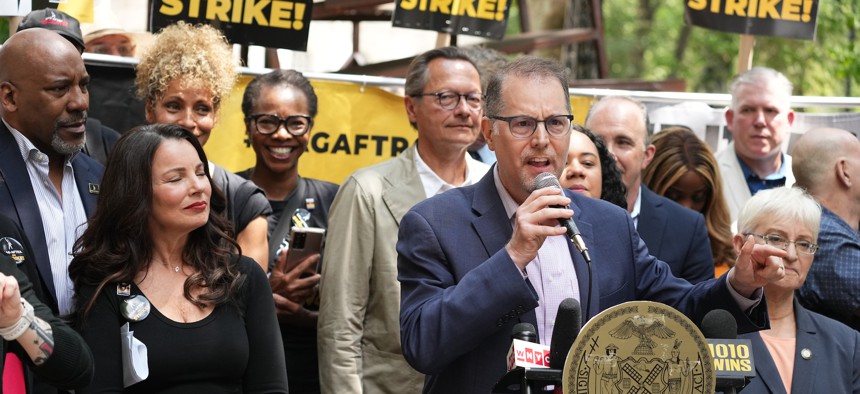 Manhattan Borough President Mark Levine is frustrated. With the surge of COVID-19 cases across New York City, supply issues impacting vaccine accessibility and a stalled housing plan, there are many issues at the top of Levine's mind. In recent months, the city has seen increases in COVID-19 cases. Recently, a new vaccine has been rolled out throughout New York, but there are reports of supply shortages and inaccessibility across the state. Levine spoke to City & State about the city's response to the COVID resurgence, his housing plan and his new goal to tear down a portion of the FDR drive. This interview has been edited for length and clarity.
COVID-19 has surged across New York City in recent months. How do you feel about the government's current response? What's the latest on the availability of vaccines?
I am very concerned about challenges in the rollout of the updated vaccine. Now, this is unlike previous rollouts, it is mostly not in the hands of the city government. The problems are in supply – that is something the pharmaceutical companies need to be held accountable for – and there's been challenges in the way insurance companies have been handling billing. As a result, it's been very hard for people to get appointments and many of those appointments have been canceled, because billing companies were not accepting the federal payment for this program. So it's been really two full weeks of enormous frustration from New Yorkers who are trying to get vaccinated. I'm hopeful that by next week that supply problem will be fixed because we are continuing to see more cases week after week right now. 
With the state-run mass vaccine clinics closing and reports that the vaccine hasn't arrived in certain locations or has already run out, what is being done to ensure that the vaccine is available to people? 
Since the city is no longer in charge of distribution, it's all happening in the private market at this point: the chain pharmacies in particular, community clinics, private doctor's offices. There is going to be, I think, a pretty robust vaccination program starting in our public hospital system, scheduled to begin Oct. 2. But they are limiting that to people who are existing patients of (NYC Health + Hospitals) and so for people who are just looking for a way to get vaccinated, that might not work. That's why we really needed supply to start moving to pharmacies and other private providers.
You said that the pharmaceutical companies should be held accountable for the supply issues. What does that look like to you?
You know, I don't have eyes into the supply chain, nationally, but I can say that it's been too slow and too little coming to New York. New Yorkers have been really frustrated by how hard it's been to get an appointment. Many New Yorkers have been waiting in some cases for months on getting a booster because they knew an updated formula was coming and so now they have to wait additional weeks. It's very frustrating.
What do you think is the city government's role in responding to COVID-19, if manufacturers and private actors are involved in the supply side?
I think the best role for the city is in the next stage. We generally have an early group of very motivated New Yorkers who are trying to find the vaccine and often there's a challenge to find appointments. And then quickly, we move to the other problem where suppliers are plentiful and the challenge is motivating New Yorkers to get vaccinated. And I think that the city government has a much bigger and clearer role in that second stage, where we can use the power of communication and education and outreach to help people begin to see this as part of an annual routine, just like flu shots are. Even that term "booster" really doesn't apply anymore. So I'm counting on the city to play a big role in that phase, and I know they're planning on it. And I'm hoping for a big campaign throughout the fall. 
Housing isa huge issue for many New Yorkers,and you released a plan this year to build housing in vacant lots across Manhattan. But public opposition stalled development at one of those lots, 388 Hudson. Has this been frustrating? 
Well, I'm very excited about this proposal. It's the last city owned vacant lot in the West Village and in a community that's had very little housing development in general. Currently almost no affordable housing development. It is desperately needed. And I think (the New York City Department of Housing Preservation and Development) should be commended for going the extra mile on getting community input, beyond what's required of the normal land use process. I think we're gonna get something really good here. 
I have been a little frustrated with some of the rhetoric directed at the project. I think that we can absolutely go big and maximize the amount of housing we get while respecting considerations of the context of the neighborhood. But I've been a little concerned about some of the opposition to the project that's already mounted. To me, this is really quite compelling and desperately needed.
Last week you unveiled a new plan to tear down the FDR Drive south of the Brooklyn Bridge. What made this a priority for you? 
Well, it was a classic example of Robert Moses cutting off a community from its waterfront. He extended the FDR south of the Brooklyn Bridge in 1950. And it's just noisy, it's ugly. I think we're at a unique moment where we have a chance to re-envision that corridor. There's a billion-dollar-plus resiliency project that's in planning now for the waterfront, and tearing down the FDR and replacing it with the beautiful boulevard makes sense to do in conjunction with that resiliency work. Also, there's a unique funding opportunity because the U.S. Department of Transportation has a program under (Commissioner Pete) Buttigieg that is called Reconnecting Communities that would potentially pay for a big part of this. 
So I view it as a window of opportunity here. I have to say the response we've gotten in the last week has been beyond what I could have dreamed, just really passionate support, 95% Positive. I think this really has resonated with people. They see the potential. And so I'm optimistic that we'll have a really good coalition and we're gonna push to get this up.
What are your next steps looking like to make this happen? Who have you been having conversation with about this planning?
Well, we've spoken to elected officials, community board members, local businesses, transportation advocates, leaders of local cultural institutions and just about everybody. Local residents, of course. Just about everybody is excited by the potential of this project. I think there have been, to be fair, questions raised about the impact on local traffic – in particular, how the implementation of congestion pricing would impact this – and those are all fair questions. 
But we've done this in other parts of the city, and this has been done in other parts of the country more recently, and the results have been spectacular. There used to be an elevated highway on the West Side, and we tore it down really in the '80s. And now Hudson River Park is one of the most incredible green spaces in the city. I think people see that, and we want it for the East Side south of the bridge, and we can do it.