Personality
New York lawmakers who used to be in unions
From the union hall to the halls of power: legislators previously worked as union nurses, educators and bartenders.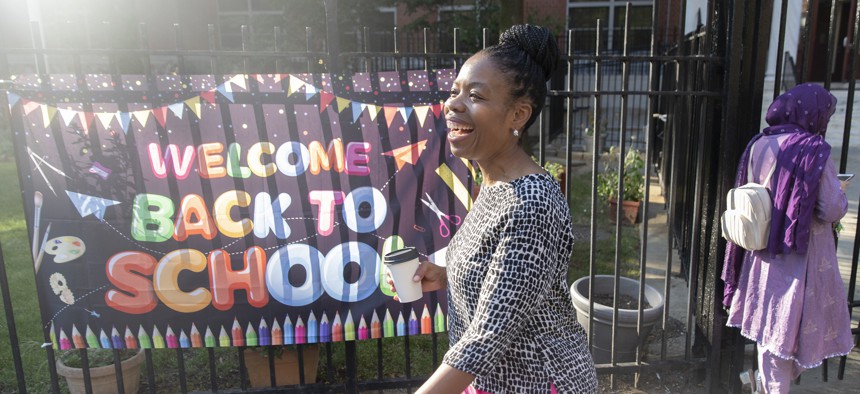 New York City is a union town, and both the City Council and state Legislature are full of politicians who belonged to unions before running for office. Their personal experiences with unions have given them a better understanding of the issues facing organized labor – not to mention a useful ally during campaign season.
"When a piece of legislation … comes across my desk, my first phone call is to the unions that I think it might impact because they know best," union member-turned-Council Member Justin Brannan told City & State. "I do think that it's important for legislators, if they want to understand how to be a champion for working people in labor unions, it certainly helps if they've been a member."
Here are some of the union jobs that lawmakers held before becoming politicians.
Nurse: State and local lawmakers who have worked as nurses include Assembly Members Phara Souffrant Forrest and Karines Reyes and Council Member Mercedes Narcisse. All three worked in New York City hospitals and were members of the New York State Nurses Association.
Teacher: State Sen. Jabari Brisport and Council Members Eric Dinowitz and Rita Joseph all worked as teachers in New York City public schools, and Dinowitz served as a chapter official for the United Federation of Teachers. State Sen. John Mannion worked as a public school teacher upstate and was president of the West Genesee Teachers' Association, which like the UFT, is part of New York State United Teachers. 
College professor: Council Member Bob Holden worked as a professor at the New York City College of Technology, where he was a member of the faculty union: Professional Staff Congress – City University of New York. In 1999, Holden even won the union's Excellence in Teaching Award.
Radio station employee: When Council Member Justin Brannan worked for local radio station WNEW in the 1990s, he served as a shop steward for the American Federation of Radio and Television Artists (which later merged with the Screen Actors Guild to form SAG-AFTRA). "No one had really done any organizing before I got there," he told City & State. "It was the first time I'd ever joined a union." After the station began requiring employees to work on the weekends, he and other staffers organized and confronted management – and won a pay raise.
Union staffer: Council Member Selvena Brooks-Powers worked for the Service Employees International Union, where she helped organize the union's own staff into a local union affiliated with the Communications Workers of America. (State Sen. Jessica Ramos, the current chair of the Senate Labor Committee, worked as a staffer at both 32BJ SEIU and Social Service Employees Union Local 371 but was not herself a union member.)
Transit worker: Council Member Darlene Mealy worked for the New York City Transit Authority, where she helped keep city buses running and was a member of Transport Workers Union Local 106.
Public defender: State Sen. Sean Ryan worked as a public defender at Neighborhood Legal Services, where he served as vice president of the independent staff union and negotiated a contract. Council Member Tiffany Cabán worked as a staff attorney at The Legal Aid Society, where she was a member of the Association of Legal Aid Attorneys, an affiliate of the United Auto Workers. (And before that, she worked as a unionized bartender at Citi Field!)
Government staffer: Council Member Lincoln Restler worked for the city – first at the Mayor's Office of Comprehensive Neighborhood Economic Development and then at the New York City Office of Financial Empowerment – and was a member of the public sector union District Council 37. Assembly Member Michael Durso worked for the town of Oyster Bay in Long Island, whose employees are represented by the public sector union Civil Service Employees Association Local 881. State Sen. Robert Jackson worked for the state Department of Labor as a fraud investigator and was a member of the public-sector union New York State Public Employees Federation for more than two decades. Over the years, he held a number of roles in PEF, including field representative, statewide labor–management coordinator and downstate director of field services.
Law enforcement: Police unions remain among the most powerful unions on the local level, despite some attempts to kick them out of the labor movement, and a number of former cops have pivoted from enforcing the law to making it – including State Sen. Rob Rolison and Assembly Members Phil Ramos and Joe Angelino. Of course, Mayor Eric Adams is a former NYPD captain who belonged to the Captains Endowment Association. (Though when Adams ran for mayor in 2021, his former union endorsed Andrew Yang.)
Freelance writer: While in college, state Sen. Julia Salazar worked on the UAW's campaign to organize adjunct faculty at Barnard College. After graduating, she joined the National Writers Union, a union for freelance writers that at the time was affiliated with UAW. "I did a bunch of odd jobs, including administrative work, a research assistant, organizing, writing & editing gigs," Salazar told City & State in a text. "I wanted to pay union dues and be a union member especially after the Barnard Adjunct Faculty campaign. But then I learned that I could join NWU so I did in early 2017."
Carpenter: Council Member Sandy Nurse did training programs with the Laborers' International Union of North America and the New York City District Council of Carpenters. After completing her training, she got a job with a worker-owned cooperative, so she never technically ended up joining the union – though the Carpenters union told City & State that they like to consider her an honorary member. "I would have (gone) union had the intake been ready right after my trainings, but this came up first and I needed work so I went for it," Nurse explained to City & State in a text message. "I chose the worker-owner route even though the company was not union, because equity and a democratic workplace was very appealing. I love the Carpenters dearly though. And the Laborers!"
– Annie McDonough contributed reporting
Powered By
NEXT STORY: Sam Berger's victory could hold lessons for Democrats in other purple districts