Interviews & Profiles
Rick Cotton on LaGuardia, World Trade Center, Port Authority Bus Terminal projects
The executive director of the Port Authority of New York and New Jersey has learned a thing or two about getting massive projects to the finish line.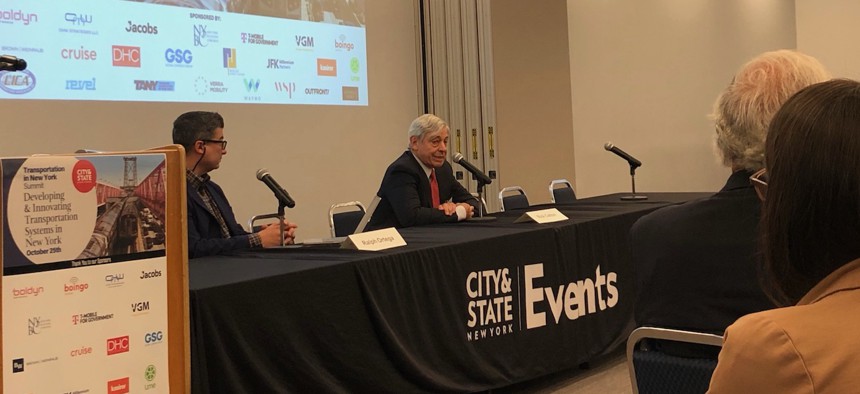 While New York City's transit systems are slowly recovering from the losses of the coronavirus pandemic, the issue of modernizing these transit systems remains a pressing one. 
Rick Cotton, executive director of the Port Authority of New York and New Jersey, was joined by leading transit experts and government leaders at City & State's Transportation in New York Summit, to discuss upcoming projects and challenges facing New York's transit landscape. 
City & State Editor-in-Chief Ralph Ortega held a Q&A with Rick Cotton to discuss major projects at LaGuardia's airport and Port Authority Bus Terminal. 
I'd like you to talk to us a little bit about what it's been like to see LaGuardia go from zero to hero in these last few months. 
The framework here, if you look at the Port Authority's three major airports' passenger surveys in 2014, every single survey puts all three airports last in terms of their capabilities, convenience and passenger experience. Unfortunately, that was the situation and the ambition was to reverse that. The goal is quite literally world class airports. The foundation was the concept of public-private partnerships. Three-quarters of that $8 billion in terms of construction capital was provided by the private sector by our partners and LGP, LaGuardia gateway partners and Delta. The framework for public-private partnerships is you get the advantage of private capital. There's a lot of financial structuring that goes into that, you also get the advantage of private expertise. What the role then becomes in terms of public-private partnership, is the public partner has to set the expectation. The KPIs, the key performance indicators, the private sector has to bring the commitment on time on budget, technology, cutting edge, something else that government is not good at, but the private sector has to monitor and accountability becomes key. … And the goal is attractive, appealing, iconic and very, very importantly, the goal is that the neighborhood's surrounding our airports, the communities, who bear many of the burdens of living close to an airport share. And the MWBE commitment is iron clad, which is 30% of the contracting goes to minority- and women-owned businesses. And I'm proud to say that at LaGuardia, $2.2 billion of contracts went to minority- and women-owned businesses. I don't believe you can do major infrastructure projects, unless you have that kind of engagement with the community, you get community support and it's only then that you can actually push these major projects forward.
I also would like to ask just for a follow up on the transportation options for getting to LGA with Air Train's demise.  
Well, ground transportation access to an airport is a critical component of the passenger experience. In terms of both building and rebuilding an airport, we have to focus on how people are going to get to it and in the New York, New Jersey region, we come to that task, however, with the built environment as it exists. The challenge is, what can you do with our hardscape constraints? But frankly, the costs at the end of the day just ran away from us. We had to increase our cost estimate three or four different times, with marketplace escalation and inflation was the real need to relook. We're 100% committed to improving bus access. We will create a new nonstop express bus route from the end of the NW line Ditmars Astoria direct to all three terminals at the airport, we will improve working with the MTA the Q 70 Express bus service. Those bus services are seeing very significant increases in terms of the Q 70, in terms of ridership. And that's how we're moving that forward at Newark. There, we're committed to building a brand-new air train service. At JFK, we have this major terminal rebuilding program, we're rebuilding the roadway network. 
Regarding the Select Bus Service that's available on 125th Street, is there an equitable level, a chance that we could see that kind of pricing for any traveler at some point to get to the airports?
Those bus services, the Q 70 at this point, are free. As you point out the M60 Select Bus Service, those bus services will remain at the MTA's airstrip fare structure. I referenced the cost to build an air train. A lot of commentary on this: building heavy gauge transportation is astronomically expensive. … If you have the occasion to travel through the three stations that were built as additions to the Second Avenue subway, they're triumphs in terms of spaciousness in terms of functionality, and they're fabulous from a safety point of view, but they are astonishing in terms of their expense. The bus service is going to stay economical, it is going to stay affordable. We need to look at how we can make it better. And we need to look at least the rail options, but only in circumstances where we can really find ways to answer. 
Rick, let's pivot over to the seaport. Talk a little bit about how it emerged from the pandemic becoming one of the largest operators on the east coast during COVID, and now where it stands in its position against other seaports in the nation.
 The seaport of the Port Authority of New York and New Jersey is the largest seaport on the East Coast. What happened during COVID is that the cargo volume going through the ports of the United States had extraordinary spikes in volume in 2021, 2022 raised extraordinary volumes as people ordered things on the internet. What happened within that framework is that the West Coast ports got severely backed up. So one of the dynamics of the COVID period was not only an extraordinary increase in cargo, but there was a significant shift from shippers who moved their cargo from the West Coast ports to the East Coast ports, and in particular to the port of New York and New Jersey. The reliability for shippers … has simply been a huge credit to the port department of the Port Authority and that dynamic is really one that we're very proud of.  
AI technologies are starting to be used at the port. Do you see that increasing in capacity?
Technology is a really critical element of being able to increase capacity. I would say that one of the challenges of big organizations in general, is to adapt to change. Obviously technology is new, it is always changing, keeping up with it is very difficult and public agencies just aren't good at that. I would put artificial intelligence increasingly at the top of the technology agenda, but there's so much technological change. I mean, (let's consider) autonomous vehicle technology. Our view is if you really put autonomous vehicle technology to use particularly on our express bus line (Lincoln Tunnel), you could expand that capacity by 30%, maybe even 40%. We want to see it move into vehicles in a way that it can expand throughout the tunnel. But how do you do that? You've got a whole variety of actors that you got to convince to work together. You have to have interoperability. Artificial Intelligence, we want to incorporate it. It has huge potential, so we've created an "Innovation hub" where we're trying to be sure that there are advocates internally for change, for staying in touch with the developments in terms of new technology. 
I want to talk about transit hubs, one in particular: the Port Authority Bus Terminal. I understand that that's the other major transit hub in our region that's about to be redeveloped? I'm sure you've met opposition protests?
Well, interestingly, the project has evolved in an interesting way, which reflects on that. We're talking about a $10 billion facility in the middle of the west side of Manhattan. And unlike many projects, this is a total teardown and rebuild, we have the support of the community boards, virtually every elected official whose district incorporates the bus terminal. … We proposed to expand it dramatically, to increase the cost dramatically. Our challenge is funding and working with the community. We're working with the community, we're putting a ton of Port Authority capital into it, but we need the support of the city. And we need the support of the federal government. But this would be a bus terminal like you've never seen before, it would be designed for electric vehicles, you get to a point where only electric buses were allowed in that requires working with the bus carriers, but the conception is a 21st Century conception. I do wind up talking on occasion with reporters and one reporter who I talked to relatively frequently ends any discussion by saying, "Is the bus terminal going to be your Waterloo?" So that's hanging in the air.
I'd like to also talk a little bit about the World Trade Center, it really has come full circle hasn't it, with the performing arts center opening. Can you talk a little bit about how far it's come along? 
It really is pretty astonishing. And that's a comment on 20 years of effort on the part of the community, the city, the state, the Port Authority, and private developers. The core of that 16-acre campus now has four very large office buildings, the memorial and museum, the Greek church and the new performing arts center which opened in September. But it now forms a real oasis, in terms of lower Manhattan. Some of the people who had been involved with it for a long time, (wanted it to be) a place to grieve, learn and remember, but that it also should be forward looking and celebrate life. And that is the performing arts center. I think it's actually quite inspiring and astonishing, and it has become a real landmark in lower Manhattan.
Economic development Case Studies
Powered By
NEXT STORY: Halloween costume inspiration from New York government mascots