Bill de Blasio
Flanagan's mayoral control standoff with de Blasio tops post-budget education agenda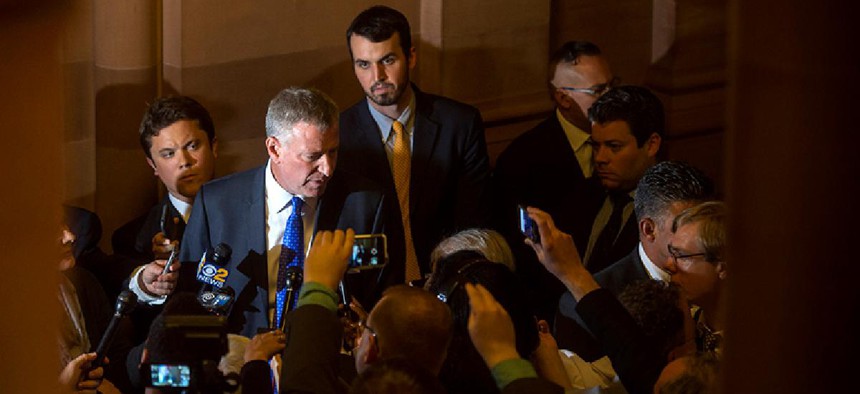 Gov. Andrew Cuomo has highlighted a few high-profile education measures that were approved in the state budget – notably a "free tuition" program and increased school aid – but a handful of education issues are still up for debate. Here's where the key players stand.
Charter schools and mayoral control
State Senate Republicans are delaying the renewal of mayoral control over New York City schools while GOP state Senate Majority Leader John Flanagan bargains for a higher cap on charter schools in the five boroughs. Tensions between Flanagan's conference and New York City Mayor Bill de Blasio were heightened after a failed effort by the mayor to oust state Senate Republicans from power in 2014, and since then mayoral control has been extended only for one year at a time. Assembly Speaker Carl Heastie, a de Blasio ally, rejected the linking of charter schools and mayoral control, which expires in June. Nonetheless, Flanagan has repeatedly called on de Blasio to share more details about the city's education spending before his conference agrees to renew mayoral control for another 12 months.
RELATED: New York City schools deserve an extension of mayoral control
Excelsior Scholarship
This year's state budget included Gov. Andrew Cuomo's marquee free tuition program, although it is somewhat limited in that it only covers last-dollar costs for certain in-state residents at SUNY and CUNY schools. In a last-minute change, state Senate Republicans inserted a controversial mandate that scholarship recipients would have to work in-state for four years after graduation or have the funds converted to a loan. Some Assembly members have proposed to loosen the requirements, including on taking a full credit load or the four-year graduation timeline, and the education committee chairs in both houses have raised issues about insufficient state funding.
Federal budget cuts
Another major issue facing the state budget is the threat of severe funding cuts by the federal government. Last week, President Donald Trump's administration rolled out its 2018 budget proposal, which the state Education Department said would reduce education aid to New York by $433.5 million. While many observers expect Congress to ultimately pass a budget with less draconian cuts, state Education Commissioner MaryEllen Elia and state Board of Regents Chancellor Betty Rosa warned that the proposed cuts "will have far-reaching impacts across the nation, with life-shattering consequences for New York's children."
RELATED: New York City's damaging school-to-prison pipeline
No more Common Core
Following widespread outcry among teachers, parents and elected officials, the state Department of Education announced that it would revise and rebrand the controversial Common Core standards. This month, the new education standards – dubbed the Next Generation English Language Arts and Mathematics Learning Standards – were officially rolled out following an extensive review, and the Board of Regents are expected to vote on the changes in June. If the changes jeopardize federal funding or fail to ease tensions in local school districts, state lawmakers could be taking another look at the matter.