Education
With no agreement on mayoral control, what's next for New York City's schools?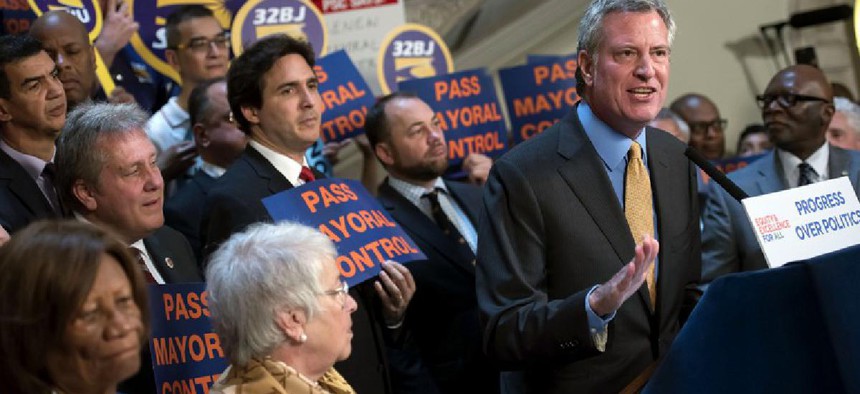 The biggest state policy battle that remains unresolved with one day of the legislative session left is mayoral control of New York City's schools, which is set to expire at the end of the month. 
And while the key players have proposed ways to renew it – state Senate Republicans are tying any extension to raising the city's charter school cap, Assembly Democrats linked their two-year extension to expiring local property tax measures,  and the governor wants a three-year renewal but has expressed pessimism about reaching a deal – what if there simply isn't any room for compromise?
New York City Mayor Bill de Blasio and New York City Chancellor Carmen Fariña have insisted that extending mayoral control is absolutely critical. But other education experts downplay the urgency for a deal on an extension before it expires on July 1, noting that mayoral control briefly expired in 2009 and was renewed when the state Legislature returned in August to extend it.
But if there's no special session later this year, and no progress in resolving the impasse?
RELATED: In the mayoral control vs. charters face-off, will anyone back down?
Then the city would revert back to the old Board of Education system, which is still in the city's statute books because it was never repealed, just replaced. If mayoral control lapses, the mayor would appoint two people to the new school board, and each borough president could appoint one person, for a total of seven members.
Fariña would likely be elected to run the board, experts say, because there would be little appetite to disrupt the city's education leadership.
David Bloomfield, who served as counsel to the Board of Education in the 1990s, said a return to the old model would actually change very little. 
"99.999 percent, they would appoint Carmen Fariña and life would go on and that's what would happen," said Bloomfield, who is now CUNY professor. "Contracts would be in place, schools would still open on time. Behind the scenes, there would be some wheels beginning to turn about community school board elections in the spring, but all the district superintendents would remain in place. There would be absolutely no external consequence."
The de Blasio administration has argued that letting mayoral control lapse would cost the city an estimated $1.6 billion over a decade, and the mayor has warned of a return to "corruption and chaos." During a conference call on Tuesday, de Blasio also touted the achievements made under mayoral control.
"It was just 15 years ago that our school system barely graduated half of our students. I'm proud to say the work of Mayor Bloomberg and now my administration, both believers of mayoral control, now have the all-time high graduation rate of 72.6 percent," de Blasio said. "Our dropout rate is under nine percent compared to not so long ago it was well over 20 percent. It's undeniable that mayoral control is at the essence at these fundamental changes."
Speaking to reporters in Albany, Fariña said there also is no guarantee she would be elected as head of the board if mayoral control expires. "There's no guarantee on that," she said. "I don't know who these people will be. I do think we're taking a chance."
Bloomfield disagreed, saying de Blasio would still likely be in charge. "I think everybody would understand that it's a matter of public responsibility to just maintain things as they were until the Legislature inevitably, it seems to me, renews mayoral control," he said. "It'll still be entirely under his control. His scenario is a post-community schools board election scenario, which nobody believes will take place. His is a dystopian fantasy."
RELATED: NYC principals adjust to reined-in role under Carmen Fariña
If no deal is reached, even in a special session, the city would eventually have to hold elections for the 32 community school boards, which were a part of the old system. Under that system, critics say there were 32 different educational policies and no cooperative effort to improve schools, like there is now.
"There was tremendous inequality in schools and your education was determined by your zip code and that was a bad thing and there was a tremendous amount of patronage and corruption," de Blasio told reporters. "It also meant 32 different sets of standards."
Elections would have to be held next spring. Fariña questioned the process, saying voter turnout for school elections has been less than 1 percent.
For now, though, even without a last-minute deal on Wednesday, the immediate consequences are less than dire.
"They have left town before without extending mayoral control and, oddly, nothing happened. There was no immediate consequence," said Tim Kremer, executive director of the state School Boards Association. "Everybody kind of speaks in horror of if we have to go back to the old system and everyone refers to the old system of being this chaotic, corrupt, clumsy system and, of course, those are elected board of education – members I represent – that works everywhere else. But I acknowledge that the old system prior to mayoral control was certainly not ideal."