Education
New data show more than half of NYC teachers judged, in part, by test scores they don't directly affect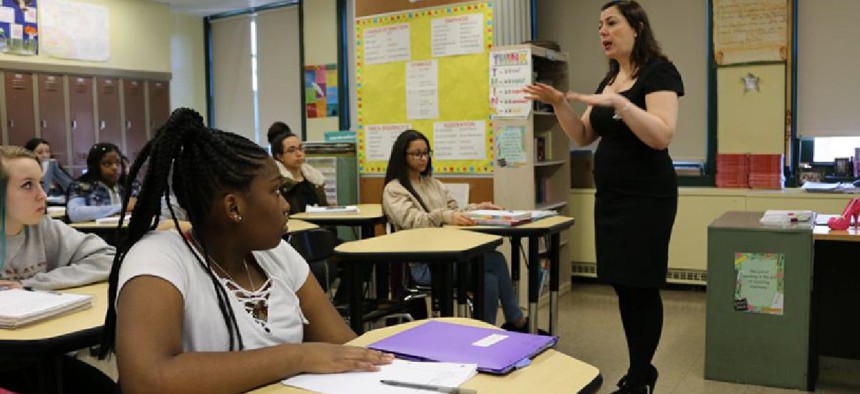 Just over half of New York City teachers were evaluated in the 2015–16 school year, in part, by tests in subjects or of students they didn't teach, according to data obtained by Chalkbeat through a public records request.
At 53 percent of city teachers, it's significant number, but substantially lower than in previous years, possibly thanks to a moratorium placed on using state tests, instituted mid-year.
That figure also highlights a key tension in evaluating all teachers by student achievement, even teachers who work with young students or in subjects like physical education. Being judged by other teachers' students or subjects has long annoyed some educators and relieved others, who otherwise might have had to administer additional tests.
Supporters say evaluating teachers by group measures — often school-wide scores on standardized tests — helps create a sense of shared mission in a school. But the approach could also push teachers away from working in struggling schools.
RELATED: Do school vouchers really work?
"The key point around school-wide measures is that this could serve as a strong disincentive for these teachers in non-tested grades and subjects to stay in lower-performing schools," said Matthew Steinberg at the University of Pennsylvania, who has studied teacher evaluation systems.
Will Mantell, a spokesperson for the New York City Department of Education, defended the district's approach.
"Selecting school-wide [or] grade-wide … measures may better measure educators' practice and support professional development," he said. "For example, it makes sense for a social studies teacher who emphasizes writing in her classroom to be evaluated partially on an assessment of students' ELA skills."
New York's evaluation system has gone through a number of substantial changes since it was first codified in state law in 2012, part of a nationwide push to connect teacher performance to student test scores, spurred by federal incentives.
Student assessments have comprised anywhere from 40 percent of the evaluation to essentially 50 percent, under a matrix system pushed by Governor Andrew Cuomo in 2015. Most recently, New York stopped using grades 3-8 English and math state tests as part of the system, but teachers must continue to be judged based on some assessment.
States across the country have struggled to evaluate teachers in traditionally non-tested grades and subjects. New York City has created a number of exams — known as performance assessments — in non-tested areas and given schools significant flexibility in which measures are used to judge their teachers.
In the 2015-16 school year, 53 percent of teachers were evaluated by a group metric, meaning one not focused on their subject or students. In the two previous years, the number was much higher — around 85 percent. It's not clear why there was a substantial drop, but a spokesperson for the city's education department notes that 2015-16 was an "outlier" due to the moratorium on state tests, instituted mid-year.
In all three years, most teachers were also evaluated by at least one individualized measure targeted to teachers' grade, subject and students.
Data for the most recent school year are not yet available.
It's also not clear what percentage of a teacher's rating was based on group measures, and Mantell said this "varies from teacher to teacher."
The United Federation of Teachers has pushed to give schools more individual options, including the use of more "authentic" assessments, not based on multiple choice questions.
"Right now, we don't have enough options, which is why our most recent agreement with the DOE seeks to build more authentic assessments for additional grades and subjects," said Michael Mulgrew, president of the UFT in a statement.
RELATED: De Blasio strikes deal with charter schools
Group measures offer an alternative to creating exams for each teacher in every grade and subject, which can lead to a proliferation of new tests, though in New York City teachers have often been judged by both group and individual metrics.
The challenge of evaluating teachers in traditionally untested areas is not unique to New York, and a number of states have embraced group or school-wide approaches. An analysis of 32 states, conducted by Steinberg, found that the average teacher in a non-tested grade or subject had about 7 percent of his or her evaluation based on school-wide achievement measures, though this averaged together substantial variation from place to place. Teachers in Tennessee and Florida have sued (unsuccessfully), arguing that it is unfair to evaluate them based on students they didn't teach.
A more popular option, used in some districts in New York, has been student-learning objectives, in which teachers set goals for students often based on classroom exams. This approach has been praised for helping teachers set specific goals, but criticized as burdensome and easy to manipulate.
Research has found that using school-wide measures of performance tends to bring teachers closer to average performance. An analysis by the Brookings Institution showed that these group measures pulled down ratings of teachers with higher individual ratings at low-performing schools.
This story was originally posted on Chalkbeat, a nonprofit news site covering educational change in public schools.