Bill de Blasio
De Blasio just said New York City's schools are safer than ever. Is he right?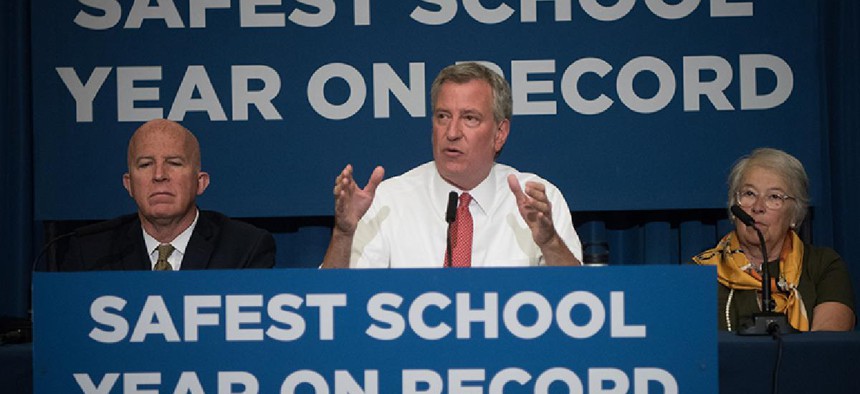 Sandwiched between two banners that proclaimed last year the "safest school year on record," Mayor Bill de Blasio announced Tuesday that the city's schools are less violent than ever before.
The press conference represented a victory lap for de Blasio, who has pushed to reduce student suspensions and interactions with police in favor of more "restorative" practices that emphasize de-escalation and group discussions to resolve problems instead.
"As a result of these efforts," de Blasio said at a press conference at Brooklyn's M.S. 88, "the school year that just ended was the safest on record in the history of New York City."
But even before the press conference started, Families for Excellent Schools — a pro-charter group that is one of de Blasio's biggest critics — issued its own press release claiming the city's schools are more violent than ever.
RELATED: Do school vouchers work?
So what explains the radically different perspectives on how safe the city's schools really are — and who's right?
The mayor's claim that schools are safer than ever is largely based on a single statistic.
When de Blasio says the city's schools are safer than ever, he's mostly referring to seven major crimes categorized by the NYPD: murder, rape, robbery, felony assault, burglary, grand larceny, and grand larceny auto. Last school year, there were 503 major crimes in schools, according to the NYPD, an 18 percent decline over three years.
It's the lowest since 1998, when the city began tracking major crimes in schools, officials said. That might be an important piece of evidence, but doesn't necessarily mean that schools are safer than they've ever been.
The mayor also noted that suspensions have dropped dramatically on his watch, and school-related arrests and summonses issued by the NYPD fell last year — by 8 and 11 percent respectively.
But it's impossible to know based on publicly available data whether students are actually facing fewer arrests or summonses for school-related incidents than ever before. Until 2016, the NYPD did not release data on how its regular patrol officers (as opposed to its agents stationed in schools) interacted with students on school grounds. That changed last year, when they were compelled by a new city law to begin releasing those statistics, which show that black and Hispanic students are more likely to be arrested or restrained.
How can Families for Excellent schools claim the city's schools are actually more dangerous?
In an email blast immediately before de Blasio's press conference, the pro-charter group published a series of eye-popping statistics: Over the four school years that preceded 2015-16, assaults with serious physical injuries shot up roughly 82 percent, forcible sex offenses went up 18 percent, and overall violent incidents increased 30 percent.
Those statistics are based on data collected by the State Education Department through a system called VADIR (Violent and Disruptive Incident Reporting). But that system has come under fire for exaggerating the dangerousness of incidents in schools by using terminology associated with serious crimes.
The VADIR system has also been criticized by the state itself: Former education commissioner John King said in 2013 that the system "rarely reflects the realities of school health and safety" — and state education officials are currently working to update the system.
RELATED: 5 things to know about New York City's 3-K For All program
Asked about the state data, city officials pointed to a situation last year in which a first-grader was hit with a milk carton — later classified as a violent incident in VADIR.
"If my kids were in the first grade and they threw an empty milk carton or they were on the receiving end, there's no way in the world I would consider that a violent incident," de Blasio said. "The state, we've said many times, has a very different standard."
At the press conference, somewhat ironically given their critique, city officials were eager to showcase how few city schools met the state's classification of "persistently dangerous" — only two city schools down from 27 the previous school year.
The VADIR data also doesn't look good for charter schools, which saw a 54 percent increase in violent incidents over a two-year period, Politico New York reported.
Overall, the evidence for "safest school year on record" is thin
Asked if there is additional data to back the mayor's claim, neither the NYPD nor Department of Education could point to other statistics that show the city's schools are safer now than ever before.
Setting aside the state's VADIR data, some of the city's own statistics offer a less rosy picture. Research based on the city's annual surveys shows teachers and students think school climate has deteriorated under de Blasio.
And last school year, there were 1,429 incidents "involving weapons and dangerous instrument" — a 33 percent increase over the previous year, according to NYPD data.
De Blasio pointed out that the weapons statistics could show that more weapons are being found, as opposed to more being brought into schools in the first place.
This story was originally posted on Chalkbeat, a nonprofit news site covering educational change in public schools.