Education
Trump, racism controversies on the syllabus at On Education event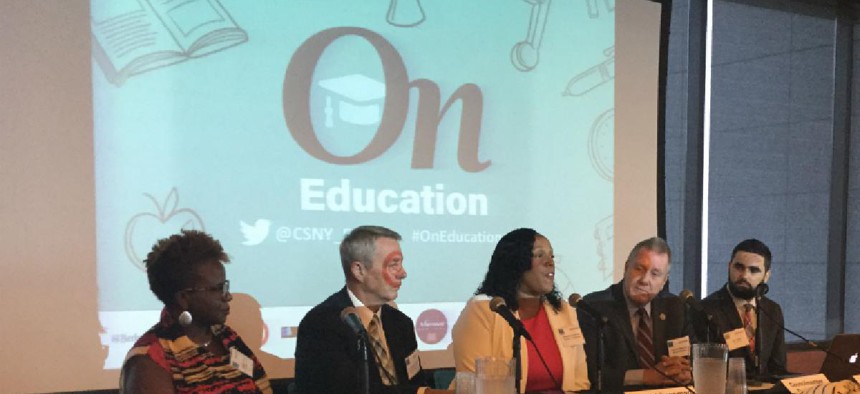 With President Donald Trump again drawing a moral equivalency between the white nationalist marchers and their counter-protesters in Charlottesville, Virginia, this past weekend, racism and diversity have become a central topic of discussion at many events – including at City & State's forum on New York education policy. 
"I think that what's happening in Washington is something we need to talk about in our classrooms," New York City Councilman Daniel Dromm said during a panel discussion at the annual On Education event, held Wednesday at the Museum of Jewish Heritage in Lower Manhattan. Dromm said that controversies surrounding the Trump administration are raising issues about culture and history that students need to understand.
Assemblywoman Alicia Hyndman agreed, adding that the Trump administration has "instilled an institution of fear in our public schools."
"I think that kind of climate sets a bad tone, not just in New York state, but across the country," added Hyndman, who previously worked for the state Department of Education and served on New York City's Community District Education Council 29.
RELATED: Dr. Christina Greer on Trump's racialized rehotoric
The president's remarks and his administration's education policies was a recurring theme during the conference. During a discussion of a federal push to promote private schools, Timothy McNiff, superintendent of schools in the Archdiocese of New York, said that many professionals in private schools were skeptical of the president's campaign promises to dedicate $20 billion of federal funding to school choice.
The events in Charlottesville, in which brawls broke out and a counterprotester was struck by a car and killed, and the president's response remained at the forefront of many discussions, even ones related specifically to New York. State Board of Regents Chancellor Betty Rosa criticized New York City Mayor Bill de Blasio's proposal from June, which outlined ways to increase diversity in New York City schools but failed to mention the word "segregation" or directly address integration.
"Call it out. You've got to name it," said Rosa. She added that the events of the past six days had underscored the importance of school integration, alluding to Charlottesville.
The New York education sector has had its own controversy over race in the past week: Daniel Loeb, a political donor and chairman of the board of directors of Success Academy, the state's largest charter school network, said in a since-deleted Facebook post that state Sen. Andrea Stewart-Cousins, who is black, was worse for racial minorities than "anyone who has ever donned a hood," because of her support of teachers' unions. A separate 2016 Facebook post from Loeb was also uncovered this week saying the teachers' union "has done more to perpetuate poverty and discrimination than the KKK."
RELATED: Dan Loeb and the political price of racism
Loeb's comments have been roundly criticized, including during a Monday rally in Harlem where politicians showed support for Stewart-Cousins. Loeb has apologized for the comments, but many, including de Blasio, called for him to step down from the Success Academy board.
Rosa joined the chorus today, saying she was "outraged on every single level" that Loeb would compare an African American woman to the KKK, adding that Success Academy students would be better served by having somebody else as chairman of the board.
There were other signs of tension involving charter schools. Last month, the State University of New York introduced a proposal that would let some charter schools hire uncertified teachers and instead develop their own in-house certification that was less arduous. One proposal would require only 30 hours of classroom instruction.
"I could go into a fast food restaurant and get more training than that," said state Education Commissioner MaryEllen Elia. Rosa called the proposal "insulting." 
Janella Hinds, vice president for academic high schools at the United Federation of Teachers, connected the proposal to the Trump administration, saying it was "an indicator of  what's happening nationally around the deprofessionalization of education and this privatization moment that doesn't really serve students or their families."