Suspensions, evaluations and the Absent Teacher Reserve: What a new union boss has on his mind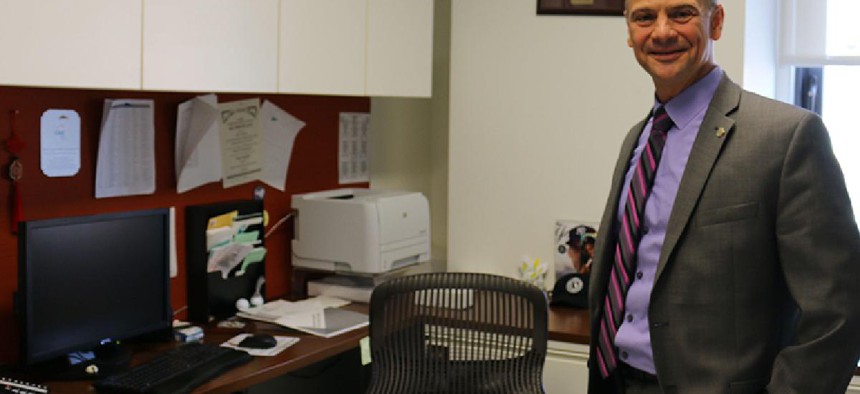 Mark Cannizzaro thinks New York City principals have a nearly impossible job. Now, it's up to him to help them get it done.
This September, Cannizzaro will become president of the Council of School Supervisors and Administrators, the union that represents more than 6,000 school principals, assistant principals and other education administrators.
"Nothing is more challenging than leading a school or being in school leadership," Cannizzaro told Chalkbeat.
After a decade of leadership, Ernest Logan recently announced his retirement. Cannizzaro, who has served as executive vice president, will take the helm until at least 2018, when the next election will be held.
RELATED: Eight top 10 lists from NYC's 2017 state test scores
The union's relationship with City Hall has been relatively smooth under Mayor Bill de Blasio. But that doesn't mean there won't be clashes. The CSA has been outspoken about its concerns over changes to school discipline policies and about the Renewal program, the city's expensive turnaround strategy for struggling schools.
Principals themselves have also criticized what they see as a loss of autonomy under the current administration — a far cry from when former Mayor Michael Bloomberg and Chancellor Joel Klein described principals as the CEOs of their schools. For example, the education department recently announced it would place unassigned educators from the Absent Teacher Reserve into schools that have vacancies, even potentially over principals' objections.
In an interview with Chalkbeat just before taking on his new role, Cannizzaro, a former Staten Island principal, suggested he would take a quieter approach to getting things done.
He also seemed to tone down his predecessor's criticism of Renewal, saying there have been tangible gains in some schools.
Here's what else he had to say about principal evaluations, working with schools Chancellor Carmen Fariña and the bane of school administrators everywhere: mountains of paperwork.
This interview has been edited for length and clarity.
What's the single most pressing problem facing principals today?
Let me talk about the problem the system faces with our folks right now. It's a retention and recruitment problem.
The job is virtually, by the numbers, undoable. The amount of things that you have to know and be able to do — from the size of the chancellor's regulations to standard operating procedure, the manuals, the paperwork, all of the work and the compliance issues — the workload is tremendous. And the seasoned principal finds the shortcuts to get the job done. A new person coming in doesn't know right away what things they can work around, which becomes overwhelming.
I think between the paperwork and the workload, budgets are always a challenge. Too many people spend their summers fighting for the basic minimum when they should be spending their summers planning curriculum and setting up their schools.
These have been ongoing issues. I was a principal under the prior administration and I had the issues of paperwork and budget concerns then, also.
RELATED: Elia, Fariña and Milliken address equity and ESSA
Under de Blasio, the school system was reorganized in such a way that principals had to answer to superintendents again. What do you think of that change?
I was a proponent of superintendents being brought back into the districts and empowered, mainly because I always felt it was important to have someone who knew my school well to also be the person who was evaluating me, rating me and hopefully providing support to me.
In the former structure, it's not that I felt that there was a lack of support. I felt the support was OK. But mainly, the evaluation was based on statistics that came out and the person who was evaluating didn't always have such an intimate relationship to have context around those numbers.
Should student test scores count in principal evaluations?
I think it's difficult to get around test scores being used at all, but right now they count for about 50 percent of an evaluation, which is way too much. We're talking about test scores, really, in math and English. … Our school leaders feel that they are responsible for so many things other than just math and English.
What changes under this administration have been the most helpful for principals?
I mean, look, we have an educator, which I think is a huge plus because we're able to speak to the chancellor. She's been there. She's walked in those shoes.
Now, have we had — and I'm not going to share specifics with you — but have we had concerns where we felt that, "Hey, don't forget us. We're here leading this system, making this system work"? Of course. But we had those concerns also with the other administration from time to time.
Have there been any other changes under this current administration that were particularly positive or negative for your members?
I think what's been most helpful is, it's very, very easy to pick up the phone to have conversations. Carmen has been very open. She comes here often, she comes to our chancellor's consultations — which is a change. And I think that's a positive change.
We meet once a month with a team of the chancellor's representatives. And we just talk about issues. She comes herself to that — almost all of them. She's here and she is listening.
Some principals have told us that the restructuring of the system has led to more micromanagement on the ground. Is that a fair perception?
I don't know if micromanagement is the term, but in some areas, our folks feel that their discretion or their ability to make the decisions — it's not what it should be.
Can you give an example?
The changes in the discipline code. The decision whether to suspend a child shouldn't be on anyone else's plate other than the principal of the school. They need to make the decision because they're closest. They know the effects on the community. They know what's best for the child, as well as the other children.
When a child's behavior is unacceptable, we understand that doesn't mean the child needs to be cast aside. We need to also be mindful of the fact that there is still a child there that now needs to be welcomed back when he or she comes back. So there are a heck of a lot of things that we need to do to make sure that we respond to student behavior more appropriately, but taking the decision away from the principal is a bad thing.
But wasn't the restriction on K-2 suspensions enacted because suspensions were being overused?
You can't jump to suspension. Suspension is not the first answer to most things, unless something was so egregious. And there were probably areas and pockets where it maybe was being overused. But in a system this large, those are the areas where you need to address and do a little digging and find out what it is, and what's the reason and how come this is happening here? And let's address how come it's happening here.
You've been pretty measured so far in talking about the city's decision to place educators from the Absent Teacher Reserve into schools. Isn't this a reversal of the chancellor's promise not to use forced placement?
If I've been measured, it's because we haven't seen the implementation yet, and there's no reason to not be measured until we see the implementation. And we've had a very consistent, ongoing and open dialogue with the DOE [Department of Education] on being able to work together to make sure that schools ultimately benefit and no one is harmed here.
Obviously it's a change in the way they've been doing things. But if you go back, there was a time when every excessed person was placed. Then there was this change in policy — which listen, for school leaders, it was great. You didn't have someone placed in your building.
But then the practical issues came in. The media and the public were saying, "Look at all of this money that is being spent." So everybody wanted to solve it their own way. But remember the way that this came up was through collective bargaining.
RELATED: How the New York Times' fact-check of Renewal test scores falls short
The United Federation of Teachers did the bargaining. But your members are also affected by the change.
Don't get me wrong, every principal would want their ability to simply pick whomever they want whenever they want. But there's a reality here and we're going to work very closely to make sure this is done well.
Your predecessor was pretty outspoken about the rollout of the Renewal program. He once called it a "recipe for disaster." What do you think about it?
The rollout had some real issues. We've since gotten a lot better.
In an effort to improve the Renewal schools, there were so many people going in to evaluate and probably not enough people going in to support one vision. So you had a group come in and say, "OK, let's do this." And another group would come in and maybe they hadn't communicated the way they should have.
[Now] I think there's just better communication between the school, who's supporting and who's evaluating.
The principal is the one at the center of this. The principal is the one who is ultimately responsible. The principal is the one who is being held accountable. The support has to come around what the principal needs.
We recently reported that schools in the program aren't showing significant gains compared to schools not in the program.
There are some schools making some tremendous gains, and there are schools that need more resources. The other thing is, how old is the Renewal program? Do some research and find out how long it normally takes for school turnaround to show results in the scores.
But the mayor was the one who promised "fast and intense" improvements in these schools.
Everybody is in a rush, and I understand why everybody is in a rush. What it means is, let's go back to the superintendent relationship. I want to know from the superintendent, who is back in the schools, how does this school look today compared to the way it looked when it started. If there's improvement, the scores will follow.
How will your leadership be different from Logan's?
I'm going to build on some of the great things that Ernie has done.
You probably won't necessarily know about all of my issues unless I feel like I need you to know about my issues. If I can get something done quietly, that's probably the most effective way to accomplish something.
But I also have a habit of telling the truth. And sometimes people will agree, and sometimes people won't agree — but I like to engage people in the debate, then.
We have 6,300 or 6,400 active members. Many, many of them go about their jobs every day and do a great job. We don't hear from them that much and they don't hear from us as much as they probably should. This is their union. We need to get that mantra out there.
This article was originally posted on Chalkbeat, a nonprofit news site covering educational change in public schools.