Donald Trump
Advocates, officials defend program that let terrorism suspect into U.S.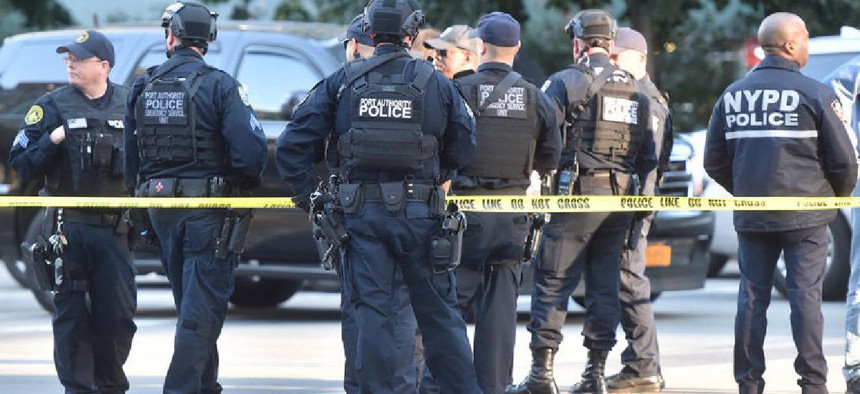 On the morning after a stunning terrorist attack in lower Manhattan that killed eight people and injured a dozen more, President Donald Trump cast blame on the immigration program that allowed the suspect to enter the country.
"The terrorist came into our country through what is called the "Diversity Visa Lottery Program," a Chuck Schumer beauty. I want merit based," the president tweeted on Wednesday morning, referring an immigration program sponsored Schumer and other Democrats as well as some Republicans in 1990.
"We are fighting hard for Merit Based immigration, no more Democrat Lottery Systems," Trump added in another tweet, apparently inspired by a segment on the Fox News show "Fox & Friends." "We must get MUCH tougher (and smarter).  @foxandfriends"
In a third tweet, he then repeated a claim made on "Fox & Friends" that Schumer was "helping import Europe's problems."
"Senator Chuck Schumer helping to import Europes problems" said Col.Tony Shaffer. We will stop this craziness! @foxandfriends

— Donald J. Trump (@realDonaldTrump) November 1, 2017
The president's remarks spurred an angry response from New York officials and advocates at City & State's "On Immigration" forum on Wednesday morning. 
"I can't use profanities?" Assemblywoman Michaelle Solages, the chairwoman of the Assembly Task Force on New Americans, said half-jokingly when asked to respond to the president's tweets. 
"I would just say that's despicable, horrendous … and can I curse?" added Steven Choi, the executive director of the New York Immigration Coalition.
Franco Torres, an immigration attorney wiith Catholic Charities Community Service, argued during the panel discussion with Bitta Mostofi, the acting commissioner of the New York City Mayor's Office of Immigrant Affairs, Choi and several others that it was unfair of the president to "blame an entire program for the actions of one individual."
According to law enforcement officials, Sayfullo Saipov, a 29-year-old immigrant from Uzbekistan, drove a rental truck onto a bike path during the attack. Officials said Saipov was inspired by ISIS, the Islamist militant group. 
"It sounds like just another sound bite with out the substance," Torres said. "To single out a specific program because one person does something wrong is not the way to go. We shouldn't eliminate the diversity lottery system. It was put into place so we could give people an opportunity from countries that are undersubscribed, that aren't from here, so they could come to the United States, so that they can add culturally and intellectually to our society. I think that's a benefit, and that makes us stronger, it makes us better."
The State Department's Diversity Immigrant Visa Program is open to those living in countries with lower immigration rates. Under the program, up to 50,000 people can qualify each year for a green card, which grants residency status and a path to citizenship. 
Schumer, who responded by accusing Trump of politicizing a tragedy, had actually proposed doing away with the diversity visas as part of a comprehensive bipartisan plan to overhaul the immigration system in 2013, but the legislation died in the House of Representatives.
Gov. Andrew Cuomo also criticized the president's tweets on Wednesday, saying they were misleading and struck the wrong tone. 
Although there has been support across the political spectrum for ending the program, Choi argued that the president's call to eliminate it in response to a single incident was misguided. 
"It is exactly this kind of logic, that they're going to shut down an entire federal program because of the actions of one individual, I mean, that's ridiculous!" said Choi, who went on to liken Trump's rhetoric to the White House's efforts to reduce the number of refugees entering the country.
"I remember when people were talking about the refugee system," Choi said. "The fact is that the United States has resettled 700,000 refugees in the past 15 years, and something like three of them were convicted of terrorism-related crimes, but those three were complete B.S. anyway. And then we don't think about all the good that those 700,000 have done for the United States, in places like upstate New York that depend upon these refugee communities in so many ways."
Solages criticized what she called just another GOP talking point from the president. She said was still waiting for Congress to pass legislation banning bump stocks in the wake of the deadly shooting in Las Vegas.
"We're sitting here and we're allowing this gentleman – I'll be nice – to just keep distracting us from what the common goal is, which is to support diversity and support each other," Solages said. "So we have to keep making that message very loud."
Correction: This article originally erroniously attributed a quote by Assemblywoman Michaelle Solages to Bitta Mostofi, the acting commissioner of the New York City Mayor's Office of Immigrant Affairs.