New York City
Where New York stands on 5 big transportation projects
New York's 5 biggest transportation projects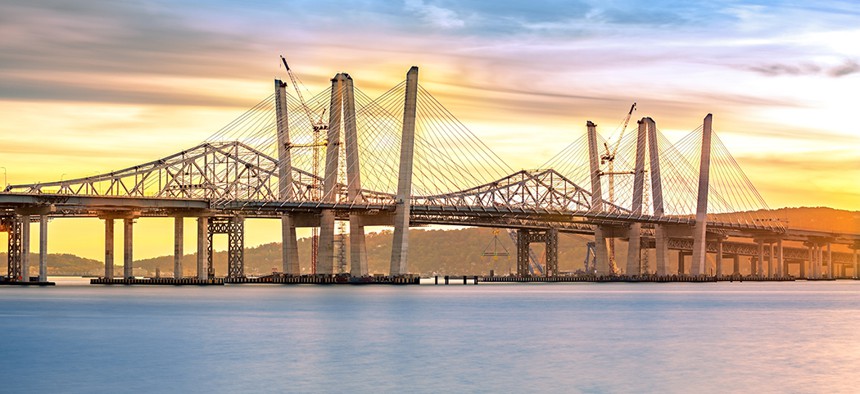 Getting from point A to point B should, theoretically, be a relatively simple task. But in order to travel, the transportation infrastructure needs to be in place and up to par. Across the state, major projects are underway to repair and update that infrastructure so that New Yorkers can get where they need to go – whether that's through the air, over land or over water. Though some may be on track to be completed while others wallow in planning, here are five major projects underway that should make it easier for New Yorkers to get around.
Gov. Mario M. Cuomo Bridge
Construction for a new Tappan Zee Bridge, since officially named the Gov. Mario M. Cuomo Bridge, began in 2013, and the first lane of traffic opened in August. The old Tappan Zee was closed to traffic on Oct. 6, 2017, although the original date had been set for Feb. 17, 2017. The entire project, both the new bridge construction and the old bridge demolition, was originally projected to be done by April 3. Needless to say, that deadline was not met. Matthew Driscoll, the state Thruway Authority's acting executive director, told the Journal News in January that the completion date would likely be toward the end of this year. The project utilizes a process known as design-build, which bundles the planning and construction phases into one for a potentially speedier and more efficient process. Gov. Andrew Cuomo recently announced that the debris from the old Tappan Zee will be put to good use in six artificial reefs around Long Island, which would also save money compared to sending the debris to a salvage yard.
LaGuardia Airport
The renovation of LaGuardia Airport began in June 2016 with an expected completion date of 2021 and total cost of $8 billion. The construction will constitute a complete overhaul of the airport, which former Vice President Joe Biden famously described as like something out of a Third World country. The first portion involves completely replacing Terminal B with a new central terminal, an undertaking Cuomo has called the largest public-private partnership in the U.S. The second half will connect Terminals C and D with the newly constructed Terminal B. The project will also include an AirTrain line between LaGuardia and the Mets - Willets Point No. 7 subway station. Since the start of construction, the new Terminal B parking garage was completed. The project also hit a milestone on March 26 when the final piece of steel was installed at the new main terminal.
Brooklyn-Queens Expressway
The $1.7 billion project to repair a one and a half mile stretch of the Brooklyn-Queens Expressway was announced in 2016, but the repairs have not started. The expressway has long suffered from crumbling infrastructure that, without speedy repairs, transportation officials have said the road will become so unstable that, to avoid its collapse, they will need to ban trucks from using it. As part of the state budget, the state Legislature recently approved the project to use design-build procurement, which will reduce the price tag by an estimated $100 million. It would also speed up construction by two years, shifting the estimated end date to 2026. Hitting a 2026 deadline would avoid the need to reroute trucks onto local streets. If all goes according to plan, construction is expected to start as early as 2021, rather than in 2023 without design-build.
Long Island Sound link
The idea for a connector between Long Island and either Westchester County or Connecticut over (or under) the Long Island Sound has been thrown around for decades, dating back to at least 1957, though every proposal has ultimately failed. The proposal was revisited in January when the Montreal consulting firm WSP released a study commissioned by the state that examined multiple possibilities for a bridge or tunnel across the Long Island Sound. It concluded the project could cost as much as $55.4 billion and could only originate from Oyster Bay or Kings Park on Long Island. The study looked at nine different proposals and decided that five were worth further examination, with some connecting to Connecticut and others connecting to Westchester. It also suggested that state look into bridge/tunnel combinations, although Cuomo has only committed to the idea of a tunnel. Local officials strongly oppose the project, citing environmental concerns.
Syracuse's I-81
The state Department of Transportation first started looking at the best way to repair or replace a 1.4-mile section of Interstate 81 in Syracuse in 2008, with the initial study ending in 2013. Cuomo has repeatedly looked at building a tunnel to replace the aging viaduct that currently exists, despite the transportation department rejecting the idea and opposition from community members and local leaders like then-Syracuse Mayor Stephanie Miner. Cuomo ordered a new study to examine the possibility of a tunnel, which concluded late last year, that said while a tunnel is technically feasible, it would cost up to $4.5 billion and take as long as 10 years to construct. Two other possibilities would be far cheaper, according to the study. Rebuilding the viaduct would cost $1.7 billion, while another option to reroute traffic onto the existing city street grid and use I-481 for through traffic would cost $1.3 billion. Still, Cuomo instructed the department earlier this year to include a tunnel option in the project's environmental impact statement.