Criminal Justice
Don't spark up in Central Park before reading this
5 things to know about New York City's steps toward marijuana decriminalization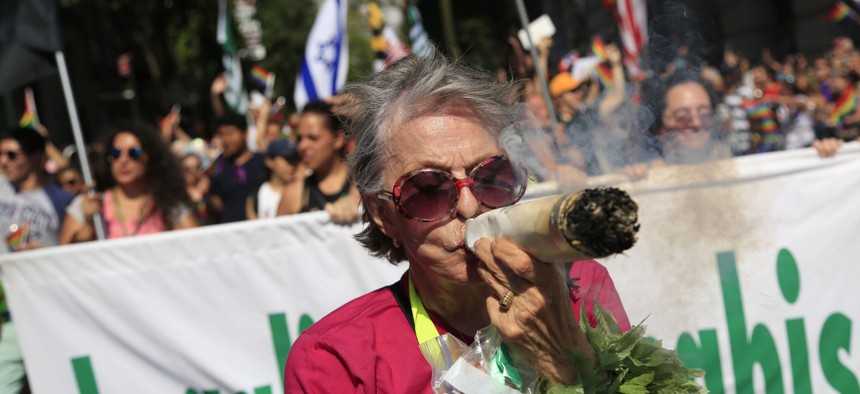 This summer is going to be lit. New York City officials and district attorneys made efforts on Tuesday to curb marijuana arrests, which primarily affect black and Hispanic residents. After recently saying he was "not there yet" on legalizing recreational marijuana, New York City Mayor Bill de Blasio directed the NYPD to present a proposal within 30 days to decrease marijuana arrests and NYPD Commissioner James O'Neill said that the department would review marijuana enforcement policies.
On the same day, Manhattan District Attorney Cyrus Vance Jr. said that his office would stop prosecuting most low-level marijuana offenses such as possession and smoking in public this summer, while Brooklyn District Attorney Eric Gonzalez said his office would only prosecute cases based on public safety concerns.
Here are five things to know about New York's push toward decriminalization.
Data shows that marijuana arrests primarily affect black and Hispanic people
Data from the NYPD released in February revealed that 86 percent of people arrested for low-level marijuana possession in 2017 were black or Hispanic, despite being no more likely to smoke pot, while only 9 percent of those arrested were white. Although marijuana arrests dropped during de Blasio's tenure, there were still over 17,000 arrests in 2017. Analysis by The New York Times found that the NYPD's official justification for the racial disparity – that residents in predominantly non-white neighborhoods were more likely to call the police complaining about public weed smoking – could not statistically explain the gap. For example, the Times noted, "In Queens, the marijuana arrest rate is more than 10 times as high in the precinct covering Queens Village as it is in precinct that serves Forest Hills. Both got marijuana complaints at the same rate, but the Queens Village precinct is just over half black, while the one covering Forest Hills has a tiny portion of black residents."
It's quickly becoming a progressive battle cry
Locally and nationally, marijuana legalization and decriminalization has quickly become a common position for progressives. Cynthia Nixon, who is challenging Gov. Andrew Cuomo from the left in the Democratic primary, has made marijuana legalization a central plank of her campaign platform. However, she recently got into hot bong water for suggesting that affirmative action in the distribution of licenses to sell the drug legally could be a form of reparations for the high number of marijuana arrests in black communities.
Cuomo, who has long been wary of legalization, recently said that the panel reviewing legalizing marijuana that he convened earlier this year is close to a decision.
De Blasio, ever-conscious of his national profile and his progressive bona fides, announced at the Center for American Progress conference in Washington, D.C. on Tuesday that he was directing the NYPD to come up with a plan to decrease marijuana arrests.
Meanwhile, Vance, who has come under criticism for failing to prosecute the Trump children or Harvey Weinstein, may look to this issue as a way to recapture his progressive base of support.
Don't light up in Manhattan until August
City dwellers eager to engage in some sanctioned reefer madness shouldn't roll into Central Park with a lit joint just yet. The Manhattan district attorney's office policy change will be effective Aug. 1.
There are exceptions
Although Manhattan will be ending the majority of its prosecutions, it is requesting the city to present limited exceptions with regard to public safety for prosecution. Brooklyn had already decreased its marijuana arrests, but will continue to prosecute when there is cause for a public nuisance.
The other boroughs are acting more cautiously
The other three boroughs are varying from offering tacit support to staying mum on the subject. Bronx District Attorney Darcel Clark asked the NYPD to give criminal summonses instead of arrests, while Queens District Attorney Richard Brown and Staten Island District Attorney Michael McMahon said they would wait until after the police review is completed.
Powered By
NEXT STORY: It's not just Cambridge Analytica