New York State
Despite scandals, ethics reforms are going nowhere fast
In New York, it's the same old song on campaign finance reform, closing the LLC loophole.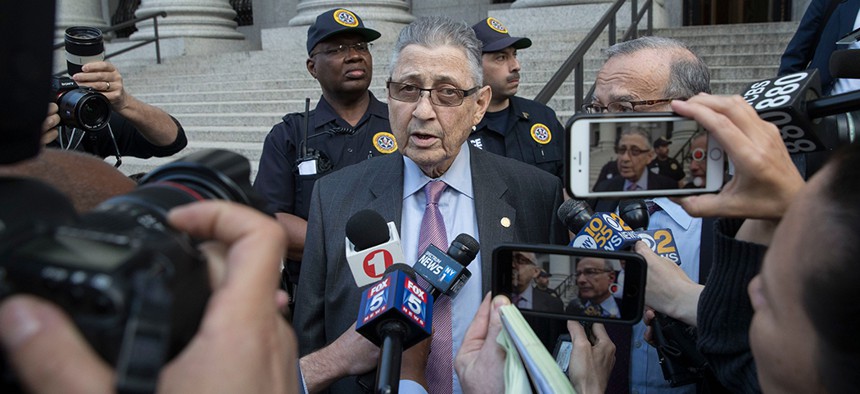 It's been another banner year in political corruption. Joseph Percoco, a former top aide to Gov. Andrew Cuomo, was convicted of bribery and fraud. Former Assembly Speaker Sheldon Silver was also convicted of corruption – for a second time, after his first conviction was thrown out. The case of Ed Mangano, the former Nassau County executive, ended in a mistrial, though other ousted public officials on the docket include former state Senate Majority Leader Dean Skelos, former Assemblywoman Pamela Harris and Alain Kaloyeros, who spearheaded major upstate economic development initiatives.
There are a number of bills and initiatives put forward by reformers and lawmakers each year to try to clean up Albany, including closing the so-called LLC loophole, creating a public database of state economic development benefits and reforming the campaign finance system. Yet as the legislative session winds down, none of them appear to have any momentum. Here's a rundown of several proposals.
 
Closing the LLC loophole
In his State of the State address, Cuomo briefly mentioned closing the LLC loophole. In New York, those who register as a limited liability company, or LLC, can skirt contribution limits and mask their donations, arguably giving companies and the wealthy more influence over state government. While the governor called for closing the loophole, he has continued to take campaign money from LLCs and has not been able to persuade state lawmakers to get on board. The Assembly voted this year to close the loophole, but state Senate Republicans have criticized the measure and have not advanced it out of committee.
 
Campaign finance reform
Cuomo also continued to call for a public financing system of elections in New York. His proposal, which also fell out of the state budget due to opposition from lawmakers, would have set up a fund to match small campaign contributions in order to give everyday New Yorkers a more equal voice relative to big donors. The governor's proposal, which is all but sure to be on hold until next year, also would have put limits on contributions to housekeeping accounts and required more disclosure for anyone who bundles contributions.
 
Database of deals
One notable proposal that did not come from Cuomo – and has also stalled in Albany – is a database of deals. The bipartisan measure, sponsored by Democratic Assemblyman Robin Schimminger and Republican state Sen. Thomas Croci, would result in a system to track state economic development spending and programs. Momentum behind the bill picked up following questionable spending tied to Percoco and other state officials. Despite a push to include the measure in the state budget this year – and passage in the state Senate – the bill ran into opposition from the Cuomo administration and has not advanced. Another measure to give the state comptroller oversight of economic development contracts also stalled.
Powered By
NEXT STORY: Workers left in the lurch