Donald Trump
Experts: AG suit builds towards possible criminal case against Trump
New York Attorney General Barbara Underwood's lawsuit builds towards a possible criminal case against Donald Trump, and if federal officials don't pursue charges, state and city prosecutors could.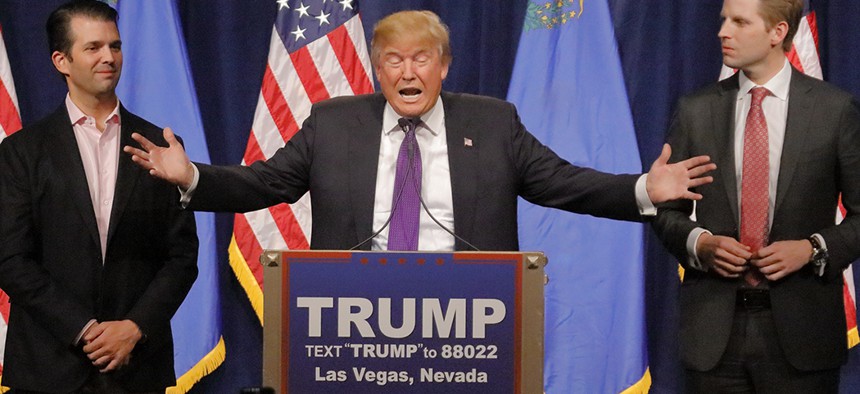 A lawsuit against the Trump Foundation filed by New York Attorney General Barbara Underwood has forged a path to felony criminal charges and civil charges against the president and his family, charity law experts said. Based on a review of the attorney general's state court petition, the petition could open the door for prosecutors to pursue cases on the federal, state and local level.
A potential federal criminal case against the president "appears to be extraordinarily strong," said Marcus Owens, who led the Internal Revenue Service charities enforcement division for 10 years. What the lawsuit alleges, including filing inaccurate federal tax returns and using charity funds for personal or business purposes, could be the basis of felony theft or fraud charges if prosecutors could show criminal intent.
While several of Trump's children are named in the lawsuit – including Donald Trump Jr., Ivanka Trump and Eric Trump – Owens said the strongest case would be against the president himself. "They even include photographic images of some of the documents signed by Donald Trump. It's hard to put that into anything other than a negative light," Owens said.
If federal prosecutors chose to pursue a case arising from this evidence, the next step would likely require both the Internal Revenue Service and the U.S. Justice Department working together on an investigation and potentially a referral to Justice Department prosecutors.
But Owens said he does not know if the federal officials would prosecute the president the way he has seen them prosecute others for similar crimes. "I've seen the government in action," he said. "Now, the question is whether the government will have the backbone to take on the president."
A spokesman for Geoffrey Berman, the U.S. attorney for the Southern District of New York, who was appointed by Trump in January, said, "We do not confirm or speak about ongoing investigations."
An IRS spokeswoman declined to comment.
A request for comment from the White House also went unanswered.
A spokesperson for the Trump Foundation called the state attorney general's lawsuit "politics at its very worst" and said the foundation had donated over $19 million to charitable causes, with over $8 million coming from Donald Trump or his companies. The foundation spokesperson also said it currently has $1.7 million – "which the NYAG has been holding hostage for political gain."
"This is unconscionable – particularly because the Foundation previously announced its intention to dissolve more than a year and a half ago," the spokesperson said in a statement. "The prior NYAG, who was recently forced to resign from office in disgrace, made it his stated mission to use this matter to not only advance his own political goals, but also for his own political fundraising. The acting NYAG's recent statement that battling the White House is 'the most important work [she] have ever done' shows that such political attacks will continue unabated."
But Sean Delaney, a former charities bureau chief for the New York attorney general's office and current executive director at Lawyers Alliance for New York, which provides pro bono legal services to charities, said the lawsuit presented a stark picture of a charity that was nothing more than "a shell" used for personal and business advantage. "This is a remarkable lawsuit in a number of respects," Delaney said. "It alleges that the Trump Foundation had no charitable purpose and was nothing more than a tool for Mr. Trump and his organization's business and personal interests. That's extreme and a new allegation." Delaney said the allegations described in court documents were the most egregious charity fraud by a major public figure that he has ever seen.
The request to dissolve the charity and also bar the president from serving in a position of power in a charity for 10 years and Donald Trump Jr., Ivanka Trump and Eric Trump for a period of one year are moves that Delaney said are "only sought by the attorney general in extreme cases."
"Really what that is is ostracizing them," Delaney said. "If they're not even fit to do volunteer charitable work, that says a lot about their character and it stings in a public rebuke."
From the actions alleged in the petition, experts said felony fraud and theft charges could be handed down by grand juries if prosecutors show criminal intent – that is, that money was intentionally used for personal or business purposes, not just accidentally.
The petition goes to great lengths to lay out a "pattern of illegal conduct" including "improper and extensive political activity" and "repeated and willful self-dealing transactions," the experts noted, in what Owens said made the case for the IRS to invoke criminal charges.
"The penalty for filing, essentially, a misleading tax return, is a maximum of $100,000 in fines and three years in jail," Owens said. But the Underwood filing's "explicit detail was designed to alert the IRS to a pattern of inappropriate activity," Owens noted, and also appeared to invite federal officials to employ a little-used excise tax that would be equal to 100 percent of the assets of the organization.
State and local prosecutors would likely defer to federal prosecutors and allow them to pursue legal action first, experts said. Still, there are similar fraud and theft statutes on the New York state and New York City level. That would allow state prosecutors and Manhattan District Attorney Cyrus Vance Jr. to impanel grand juries and seek indictments if they chose to do so, because the Trump Foundation is based in New York City.
Nevertheless, another charities expert said, although possible, criminal prosecution was unlikely to follow the attorney general's lawsuit against the president's nonprofit.
"I don't see anything beyond the lawsuit," said Daniel Kurtz, a charities specialist at the law firm Pryor Cashman, who once served as head of the New York attorney general's charities bureau, noting that he had not yet read the filing. "You have to show criminal intent – not so easy. But I can't imagine if they thought they had some criminal conduct here they wouldn't either pursue it themselves, which they can do under certain circumstances, or make a reference to the New York county DA."
A spokesperson for Vance's office declined to comment.
With regards to any future action against Trump family charities or individuals, Amy Spitalnick, a spokeswoman for the attorney general's office, wrote in an email, "The Eric Trump Foundation investigation is ongoing. Our jurisdiction vis-a-vis charities is only civil. As for any future action, we're going to decline to comment / speculate."