Criminal justice
Could Saudi Arabia have murdered Jamal Khashoggi in New York City?
Could Saudi Arabia get away with murdering a journalist in New York City?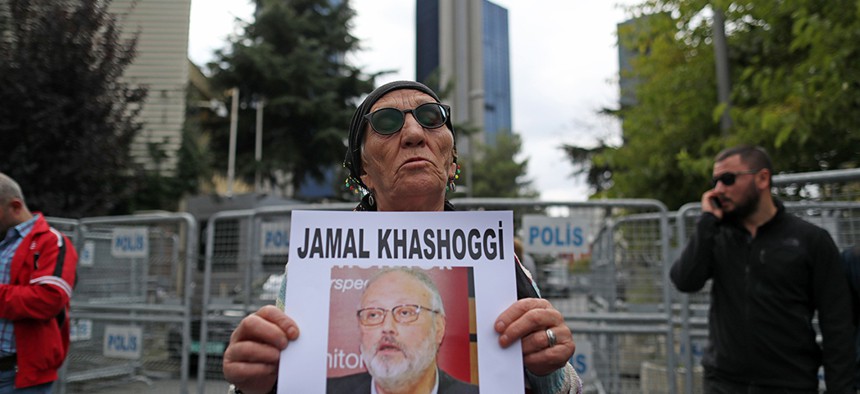 Let's say the NYPD received a 911 call that someone were about to be killed. In normal circumstances, the police would respond to the report as quickly as they could to prevent the loss of life and arrest any suspects they encountered. But the situation would quickly become tricky if the alleged crime concerned the people and places within the city that enjoy diplomatic immunity. In some circumstances, the NYPD might not be able to respond any differently than Turkish police could after the disappearance and presumed killing of journalist Jamal Khashoggi at the Saudi Arabian consulate in Istanbul.
Khashoggi was last seen entering the consulate on the afternoon of Tuesday, Oct. 2 and never heard from again. Turkish officials allege the Saudi national, who wrote critically about some of his country's policies in outlets such as The Washington Post, was killed inside the facility by Saudi officials who then dismembered and disposed of his body – all reportedly at the behest of Saudi Crown Prince Mohammed bin Salman. Adding to the outrage is how abuses of diplomatic immunity allowed a 15-member Saudi intelligence team to enter and leave the country the same day of the incident. It's a part of international law that gives a license to kill for any country that is willing to take the risk of provoking international outrage.
To understand how a similar incident could happen New York City, it is important to understand how diplomatic immunity applies to those accused of crimes depending on who and where they are. Foreign embassies, parts of consulates and the United Nations headquarters cannot be entered without permission, though these protections come from different international treaties. Foreign representatives in most cases could get away with murder in New York City more or less as easily as they would in Washington, D.C. where most foreign embassies are located. In any case, police are supposed to do what they can to prevent crime and investigate any incident involving foreign diplomatic personnel even if arrests cannot be made at first. Bringing perpetrators to justice is a different matter.
Consular officials do not have immunity from criminal charges that were not committed in their official capacity, according to a U.S. State Department guide for law enforcement. Consulates likewise are not the sovereign territory of the countries that they belong to, but that doesn't mean that law enforcement can just barge into them. A 1963 treaty forbids authorities of a host nation from entering without permission certain areas of a consulate except "in case of fire or other disaster requiring prompt protective action." A foreign government could try to get away with murder by using the inviolable areas of a consulate, but it's unclear what the NYPD would do in practice if there were a report of a crime at the French consulate on East 75th St. in Manhattan.
The NYPD Patrol Guide (Section 212-56) instructs officers to "take necessary action to protect life and property" when responding to an incident involving a diplomat. They can use force to defend themselves and even detain people who present a danger to themselves or others. But police officers have to release any suspect who presents an ID card issued by the U.S. Department of State that identifies them as protected foreign diplomats. Ambassadors, deputies, administrative and technical staff and their family members have complete immunity from criminal prosecution under this system. Service staff do not. Foreign embassies likewise cannot be entered by the law enforcement agencies of a host country, per a 1961 international agreement, which states that the premises of an embassy are "inviolable."
About a dozen small countries have their embassies in New York City. So if special operatives from countries such as Andorra, the Maldives and Tonga were to lure a political dissident into their Manhattan embassies, they could could do what they want to her without too much worry of being arrested by U.S. law enforcement – as long as they get out of the country fast by using their diplomatic passports. They could even carry the body with them as long as it fit into diplomatic pouches, which cannot be inspected either physically or electronically by x-ray. The only way the NYPD could arrest such perpetrators would be if their country of origin renounced their diplomatic immunity. A foreign government can acquiesce to requests to waive criminal immunity if they deem it to be in their diplomatic interests. That rarely, if ever happens, even in the case of a Vatican City official accused of possessing child pornography in 2018.
That could only happen if the NYPD investigates the crime and refers the case to the district attorney's office. If prosecutors deemed the case to be sufficient, they would then refer it to the Mayor's Office for International Affairs, which in turn takes the case to the State Department. Examples of such requests in recent years include a 2016 incident involving a German diplomat accused of assault, a 2017 case where a Sudanese official allegedly improperly touched a woman on a subway and a 2015 case when an Ethiopian diplomat was accused of using stolen credit cards to make $1,694.10 in unauthorized purchases at a duty free shop. Criminal charges were ultimately not brought in any of these cases because their home countries did not waive their diplomatic immunity.
But if a hostile country like Russia were to use their ambassador or other high-level officials to assassinate a political opponent – as Saudi Arabia is accused of doing in Turkey – NYPD officers could not arrest them as long as they have proper identification. All they could do is investigate the incident and report it up the chain of command. Whether or not such perpetrators are ever brought to justice would ultimately depend on what country they represent and whether their government is willing to make a political decision to turn them over to the U.S. government. The underlying idea behind diplomatic immunity is that countries want to have representatives to the governments of friends and foes unlike. While all a host country can do is expel a diplomat accused of a crime, a wanton killing by any country's diplomatic representatives would risk destabilizing an international system of laws that protects its own diplomats in other countries. So far in New York City, no country has yet been willing to take that risk for the short-term gain of silencing a critic, but there is little to stop them if they changed their mind.
Correction: This article has been corrected to reflect that a 1963 international treaty, of which the U.S. is a signatory nation, asserts the inviolability of foreign consulates.