New York City
Will 2019 be the turning point for New York's transit crises?
New York transportation officials predict a pivot on funding for Gateway and the MTA.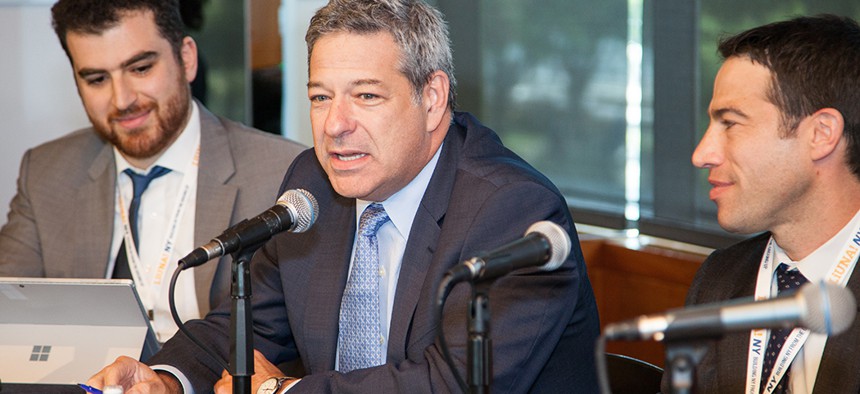 The deterioration of New York's public transit has been decades in the making. New York City's subways and regional rail networks support an incredibly large population, and both are for the most part aging and outdated. Politicians, private businesses and commuters appear to be in agreement that there is a transportation crisis in New York.
So how should the state move forward? According to Steven Cohen, the chairman of the Gateway Program Development Corp., New York's transportation systems are at a critical moment in their history – and the 2018 elections will mark a turning point.
"I think that we're in a period of reckoning," Cohen said during a panel discussion at City & State's Rebuilding New York Summit on Wednesday.
Cohen's organization oversees the Gateway Project, which is developing a rail tunnel under the Hudson River that has been repeatedly delayed, most recently due to an impasse over how much money Congress and the Trump administration are willing to pitch in.
When asked what would happen if the project didn't receive adequate federal funds, Cohen said, "The answer is we're going to get federal funds. I mean that's like asking me what happens if we suddenly get deprived of oxygen. There are certain things that we're not going to allow to have happen and that's one of them. This is not a New York project, this is not a New York-New Jersey project, this is not a regional project … this is a national project where 10 percent of the country's GDP is dependent upon a very short route of rail that happens to go under a river and over a body of water. So at the end of the day, it may not be pretty how it comes about, but there will be a deal, federal funding will be achieved."
The panel discussion included deliberation on another critical transportation infrastructure issue: updating the aging city subway signals, often pointed to as the biggest cause of delays.
Patrick Foye, president of the Metropolitan Transportation Authority, pointed to a previous plan to redo the subway signals that estimated a completion deadline in 40 years. Foye lauded New York City Transit President Andy Byford for announcing in January his Fast Forward Plan, which included a call for a signaling revolution. Byford's plan would redo 80 percent of the system's signals in eight to 10 years.
"The fact that the MTA was satisfied with a 40-year approach – that's not acceptable to our customers, that's not acceptable to our board, that's not acceptable to leadership, it's not acceptable to Gov. Cuomo," Foye said during the panel discussion.
Foye said that real progress could be made next year in investing in the subway upgrades, expressing optimism that Gov. Andrew Cuomo's congestion pricing proposal would find more success in the state Legislature.
"I think that the window will open in January with the new legislative session in Albany, which could, if the MTA is able to demonstrate continued progress on reform – construction, procurement, organizational – and the new leaders continue to make the case that this is an MTA in transition and on the ascent, that a window will open that may provide, if the stars are aligned, the possibility of substantial, sustainable, long-term funding for the MTA, including most importantly Andy Byford's Fast Forward Plan."
Foye's remarks echo Cuomo's recent re-commitment to congestion pricing, a proposal that failed to advance in the past legislative session.
"Here are the options: God is going to send down $33 billion … that's not going to happen," Cuomo joked during a speech earlier this month, according to CBS. "New York City is going to dig into its pocket and they're going to ante up, and the state will ante up. That's not going to happen. There's only one way it happens, and that is congestion pricing."
Another panelist, New York City Councilman Ydanis Rodriguez, expressed hope that the 2018 election would bring a Democratic majority to the state Senate – and thus bring about renewed support for infrastructure investment.
But Assemblywoman Nicole Malliotakis, a Staten Island Republican, disagreed. In order to increase federal funding for transit, she argued that New York should develop a more collaborative relationship with President Donald Trump.
"We should take advantage of the fact that we have a New Yorker in the White House and try to work with him, not alienate him," she said. "That's an important message for leaders here in the state to hear. Let's be diplomatic."
Powered By
NEXT STORY: Public health is more than just doctors and hospitals