Chuck Schumer
Chuck Schumer's tech-friendly ties
The New York senior senator's relationship to Facebook is scrutinized by The New York Times.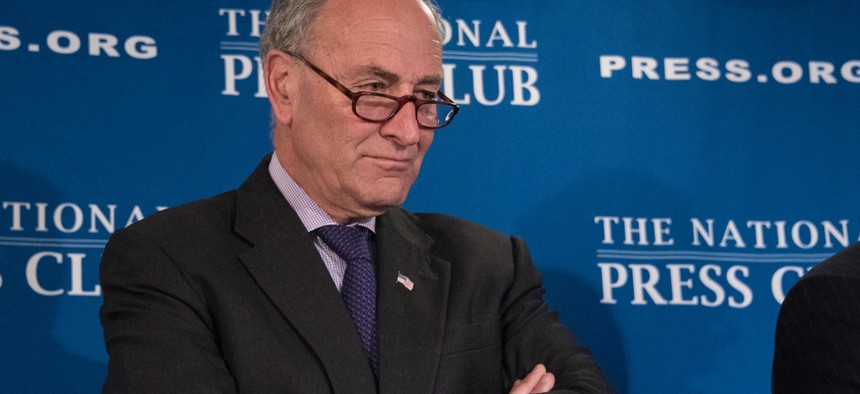 Reports of mismanagement and intense lobbying in Washington, D.C., have put Facebook in hot water again, with executives Mark Zuckerberg and Sheryl Sandberg bearing the brunt of the criticism. But the investigation published by The New York Times Wednesday night has also drawn attention to U.S. Senate Minority Leader Charles Schumer's efforts to ease the Senate Intelligence Committee's questioning of Facebook in its investigation of Russian interference in the 2016 election.
In July, the senior senator from New York asked U.S. Sen. Mark Warner, the top Democrat on the Intelligence Committee, to back off his intense questioning of Facebook, advising Warner to look for ways to work with the company instead of antagonizing it, according to the report. A Senate aide told the Times that Schumer wanted Facebook to focus on solving the issues of right-wing disinformation and consumer privacy.
Schumer spokesman Justin Goodman reiterated that defense in a statement to City & State on Thursday. "Sen. Schumer has worked aggressively to push Facebook to do more to purge fake accounts and bots used by the right wing and Russians to perpetuate a disinformation campaign and interfere with our elections," he wrote. "Schumer has worried that Facebook would bow to pressure from Republicans, who oppose the purging of the fake accounts and bots, and has urged Sen. Warner and the Senate Intelligence Committee to make this the priority in their ongoing investigation of the company."
Schumer has helped Silicon Valley in the past by advancing issues like patent reform. The Times reported that Schumer raised more funds from Facebook employees than any other senator in the 2016 election cycle, and noted that Schumer's daughter Alison is also a marketing manager at Facebook.
This isn't the first time Schumer's connections to a major industry have been scrutinized. Since 2008, Wall Street's financial embrace of Schumer has been carefully analyzed in the press. Politico reported that the industry raised $1.65 million for the senator in 2009 – more than any other senator, and just a year after 2008's economic collapse. In the wake of the collapse, critics took aim at Schumer's record of pushing for lighter regulation of Wall Street.
Schumer's campaign fundraising in the tech sector has been significant, though those contributions don't come close to what he raises from the financial industry. OpenSecrets.org, a campaign finance research site run by the Center for Responsive Politics, tracks donations from companies' employees and owners, their immediate family members, and their PACs. Those linked to Google's parent company Alphabet Inc., Microsoft, Apple, and Facebook were some of Schumer's biggest donors in tech between 2013 and 2018, according to the research group. Those four companies ranked 8th, 20th, 23rd and 26th, respectively, among the senator's overall donors.
In March of this year, Schumer talked about some of these companies extensively on a podcast with Recode's Kara Swisher. Months before it was announced that Amazon would descend on New York City, Schumer shared some thoughts on the internet giant. On the balance, he said, Amazon has more positive than negative effects on his constituents. "Big can do good things as well as bad things, and you've got to separate the wheat from the chaff," he told Swisher. "Would the world be a better place or a worse place if there were no Amazon right now? My guess is a worse place. And yet, there's a lot of problems, for sure."
Schumer also expressed his faith in Facebook's commitment to correcting the flaws that allowed Russian agents to interfere in the 2016 election. "Facebook is a very powerful force," he said on the podcast in March. "I think, overall, it's been a very positive force and now people are taking advantage of the openness of the net. And Facebook has an obligation to try and deal with it."
As New York bolsters its growing reputation as a technology hub, Schumer will have to reconcile his expressed desire to push these companies to do better with the financial support the industry has lent him.