Housing
With Democrats taking the state Senate, real estate fears the worst
Strengthening rent regulations for tenants is atop the party's to-do list, and real estate is bracing for the worst.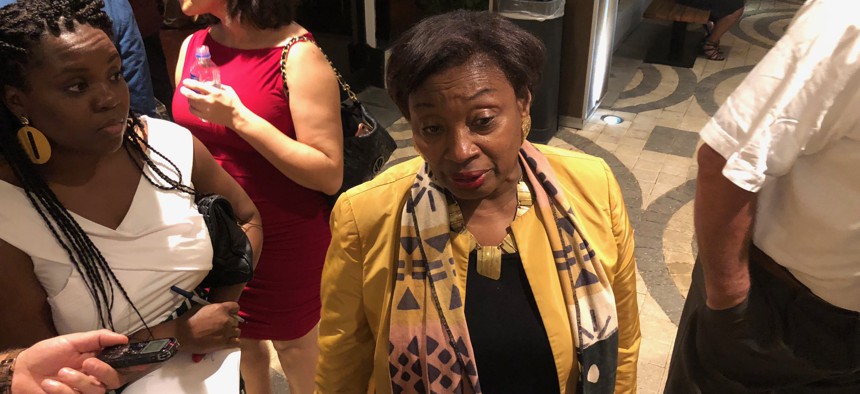 While some of the politicians, staffers and advocates in Puerto Rico for the annual Somos conference painted houses and read to schoolchildren for a day of service on Thursday, Real Estate Board of New York President John Banks and Rent Stabilization Association President Joe Strasburg sat by a table by the El San Juan Hotel pool, shooting the breeze with Staten Island Borough President Jimmy Oddo.
The two biggest opponents of rent regulation can't be blamed for hanging out with Oddo, who may have been the only Republican elected official at the conference. Because after Democrats won 40 seats in the state Senate on Tuesday, seizing power for the first time since 2010, Banks and Strasburg are bracing for what the new majority could do about the rent regulation law set to expire in June 2019.
Democrats will be in control of the state Senate, Assembly and Governor's mansion when session opens in January, and they have made strengthening rent regulations a top priority. And there's widespread agreement on the left that not only does the current law governing rent control and rent stabilization need to be extended, but that certain aspects of the law need to be tweaked to better favor tenants over landlords.
State Senate Democratic Leader Andrea Stewart-Cousins – who's set to be majority leader in the upcoming legislative session – said rent regulation had to be a priority.
"We have to make sure that we have a product that really ensures that tenants have housing," she said outside the El San Juan Hotel in Carolina, Puerto Rico. "It'll be a better product than it's been before, I can say that."
Earlier on Friday, a member of the Cuomo administration went into greater detail during a conference panel about affordable housing. "The conversation has already heated up, in a good way, about four topics: preferential rent, vacancy bonuses, the vacancy decontrol threshold and major capital improvements," said Betsy Mallow, executive deputy commissioner and chief operating officer of New York State Homes and Community Renewal, the state agency focused on affordable housing. The four topics are all various ways, often described as loopholes, that landlords can raise rents higher than would typically be allowed for regulated apartments.
Certain newly elected state senators, like Brooklyn Democrats Zellnor Myrie and Julia Salazar, campaigned heavily on expanding the rent law, while New York City Mayor Bill de Blasio, who governs the city with the vast majority of rent-regulated apartments in the state, has continually named that as one of his priorities in Albany. How far Democrats will go – whether they pass a simple, straight-up extension of the current law or go as far as full-on universal rent control – is sure to be the topic of much internal debate.
But one influential Democrat already has his starting point for negotiations. Vacancy decontrol and preferential rent are gone, Assembly Speaker Carl Heastie said to Banks, Strasburg and Oddo after walking up to their table by the pool on Thursday. Banks, who represents the interests of real estate developers at REBNY, and Strasburg, who represents the interests of landlords at the RSA, had been describing a dire outcome for New York City if the state were to strengthen rent regulations. Landlords would stop improving or even maintaining buildings if rents are held artificially low, Strasburg argued, and some major building owners would move out of state, taking their tax dollars with them. A growing number of privately-owned buildings around the city would start to look like the New York City Housing Authority, where tenants live in poor conditions because of decades of government divestment. Here, Heastie broadly agreed, without getting into specifics. "We can't do something that's going to disincentivize landlords," he said.
The last time rent regulation was set to expire in 2015, legislators debated beyond the end of session before finally passing a bill that tenant advocates derided as a giveaway to landlords. With a divided Assembly and state Senate, real estate interests were able to appeal directly to Republicans, who are generally more sympathetic to their arguments.
Now tenant advocates are feeling hopeful about making their own arguments, including Benjamin Dulchin, executive director of the Association for Neighborhood & Housing Development, who spoke on the housing panel with Mallow Friday. "With the change of leadership in the senate," he said, "we have the first chance to fight on even ground."
Powered By
NEXT STORY: A year later, NYC's construction safety law is being ignored