New York City
Albany's education to-do list
Charter schools may be neglected, but teacher evaluations and mayoral control are back on the agenda.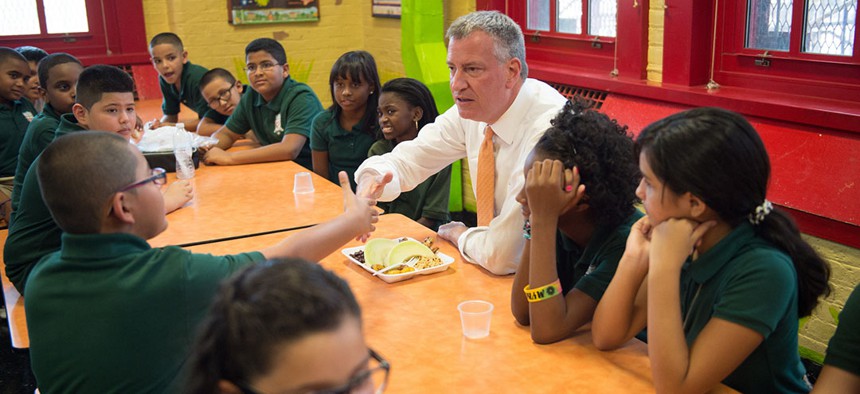 School funding is not the only issue state lawmakers will try to advance next year. With all matter of legislative questions to consider, these are a few that rank at the top when it comes to education.
✓ Charter schools
The charter school movement could slow to a crawl in the coming session, as a slate of incoming Democrats are unlikely to push for raising the current cap on charter schools both in New York City and the state as a whole. "There are plenty of charter schools in this city already – some of them do well, some of them don't," state Sen.-elect John Liu said. "Just like some noncharter public schools do very well, and some don't. We currently have a good mix of noncharter schools as well as charter schools. And there's no compelling reason to upset that balance."
State Senate Republicans have favored increased funding for charter schools, but with a new Democratic majority, the Senate is likely to turn its attention away from charters, which are controversial – allegations of weeding out difficult students and focusing too heavily on test preparation have dogged some of the city's high-performing charters. "There's a very strong sense that the charter world benefited unfairly by Senate Republican leadership," said state Sen. Shelley Mayer, the current top Democrat on the Education Committee. "It was just sort of a gravy train for them, quite frankly." While Democrats like Liu and Mayer are careful to point out that they're not opposed to charter schools, they will prioritize funding and resources for traditional public schools in the new session.
✓ Teacher evaluations
One issue dependent on the new Democratic majority in the state Senate is teacher evaluations. There is now a moratorium on incorporating some English language and math test scores in teacher evaluations – called the Annual Professional Performance Review. But as the ban is set to expire in June, some Democrats want a more permanent solution than extending the ban.
Earlier this year, the Assembly passed a bill that would eliminate the use of test scores in evaluating teachers and principals. Despite the Senate's version of the bill being sponsored by Republican state Sen. Carl Marcellino, the measure stalled, leaving many eager to take it up again next year. "We have a new group of senators. I think there's a very strong desire to put into statute that students are not going to be subject to excessive testing because of this demand," said Mayer, adding that she hopes the issue will be a priority for all Democrats. "Teachers are not going to have to be judged unduly by the success or change in school testing."
✓ Mayoral control
New York City public schools fall under the purview of the mayor's office, but retaining that control has always been a fight between Mayor Bill de Blasio and the state Legislature tasked with approving its extension on a regular basis. The last extension of mayoral control of schools, approved in 2017, was only set to last two years. Though Republicans have used legislative approval over mayoral control extensions as an aggressive bargaining chip with the mayor, not all Democrats are firmly on the other side of the issue."I don't want to call it control," state Sen.-elect Robert Jackson said. "Let's call it mayoral authority with oversight. Oversight by the City Council, oversight by the state of New York, not control." While de Blasio will likely have an easier time reauthorizing mayoral control with two Democratic-controlled chambers – and for longer than the one- and two-year extensions lawmakers have granted in the past – new members like Jackson may still level a challenge in negotiating the terms of what "control" is.
✓ School discipline reform
While de Blasio has implemented discipline reforms that have significantly reduced the number of overall school suspensions, legislation to enact similar reforms in the state Legislature has stalled. Assemblywoman Catherine Nolan, chairwoman of the Education Committee, sponsored a bill on the subject, but this new session may be the best time to advance restorative justice alternatives. A report showing that black students receive relatively longer suspensions for the same offenses as other students has pushed the issue of equity in discipline to the fore, giving Democrats the opportunity to make the kind of headway that may not have been possible in Republican-controlled Senate. "The school discipline and police presence within our schools – that's an issue that has to be discussed in the open," Liu said. "And possibly result in legislative remedies."
RELATED: A decade ago, schools were promised more aid. Next year, it could arrive