Criminal Justice
Darcel Clark backs off of challenge to immigrant rights' ruling
Bronx District Attorney Darcel Clark would have made political enemies and strange bedfellows had she pursued the case.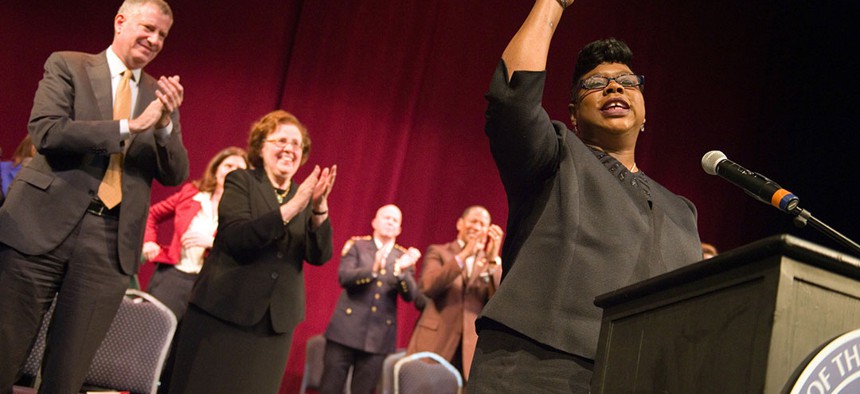 Bronx District Attorney Darcel Clark dodged a political bullet by opting not to petition the U.S. Supreme Court to hear the case involving Saylor Suazo, an undocumented immigrant who successfully appealed his domestic violence case to New York's highest court.
Clark has instead allowed the ruling by New York State Court of Appeals Judge Leslie Stein to stand: Undocumented immigrants can have a jury trial for misdemeanor offenses, an offer constitutionally unavailable to U.S. citizens. The decision has major consequences for courts across New York state, especially the Bronx's notoriously backlogged criminal court.  
"I have decided not to ask the U.S. Supreme Court to review the case. Instead, I believe a legislative solution is the best path forward for the Bronx and New York City," Clark said in a statement released on Tuesday.
The decision ends days of prognosticating over whether Clark would petition the U.S. Supreme Court to hear a challenge to the ruling, with some conservatives, such as the New York Post editorial board, cheering her on. Politically, this was an unexpected – and perhaps unwelcome – development for an elected official in New York City's poorest and least white borough. The Bronx is majority Latino and any move that could be perceived as unwelcoming to immigrants or in favor of the federal government's expanded deportation efforts might spell political doom for the D.A.
The day of the state's decision, it appeared that Clark was ready to move forward with an appeal. On top of existing case law supporting her decision, Clarked argued that the Suazo ruling presented a multiplier effect. More jury trials mean a pile-on of more work for assistant district attorneys, particularly in the Bronx where the backlog of cases continues and more assistant district attorneys are leaving.
"Over the past year, 105 ADAs left the office. Thirty-one of them went to city, state and federal agencies, including the Law Department, DOE, DOI, ACS and other DA's offices. The State Attorney General, the Governor's Office, ICE, the – and the U.S. Attorney's Office as well as DOJ," Clark said in her testimony to the New York City Council on Oct. 25. "With 516 attorneys currently on staff, the result is an attrition rate near 20 percent. As I have testified before, the most significant staffing challenge we face is recruiting and retaining an adequate number of attorneys to stabilize our legal workforce."
But then, several meetings at the Bronx Criminal Courthouse following the state Court of Appeals decision, Clark reversed course. It's unclear what exactly prompted Clark, a Democrat, to change her mind. Patrice O'Shaughnessy, spokesman for the Bronx District Attorney's office, did not provide an explanation.
In her statement, Clark emphasized the significance of the threat of deportation, essentially accepting Judge Stein's reasoning: "The risk of deportation is a harsh reality for many Bronx residents," Clark said. "I am concerned that while the Court's decision finds that this defendant was constitutionally entitled to jury trial, it also creates a new burden for noncitizens to reveal their immigration status and establish the risk of deportation in order to take advantage of this newly-announced right to a jury trial. This is problematic because the Criminal Courts of New York State are not in the best position to forecast the outcome of a deportation case."
If Clark's political future was not the driving force for her decision, it certainly was a beneficiary. Being on the conservative side of any immigration issue would be very risky, according to Michael Benjamin, a Bronx political observer, former assemblyman and current member of the New York Post editorial board that supported Clark's initial decision. "Maybe that was the kiss of death; she didn't want that. She sat down with her campaign consultant and said, 'Look, you really want to have some Republican bloggers praising you when you're running for election in 2019?'" said Benjamin. "(Rep.) Joe Crowley got sacked because, what, he's a moderate. Jeff Klein got sacked because he works with Republicans in Albany. Not that he passed anything that was negative or harmful Republican legislation to his constituents. The fact that he worked with them … led him to his ouster."
Politics has a way of getting enmeshed in judicial matters, particularly in the Bronx. Clark owes her job to the Bronx Democratic political machine, which chose her to succeed Robert Johnson. Johnson stepped down just after securing a primary win in September 2015. Not appealing Stein's decision won Clark points with Democratic legislators around the Bronx.
State Sen. Luis Sepulveda, an attorney who serves as ranking member of the Senate's Crime Victims, Crime and Correction Committee, said next year's primary is "too far out" to have dictated her actions, instead believing Clark held off because it's "the right thing to do."
"We're supposed to be a sanctuary city, then let's act like a sanctuary city," said Sepulveda.
New York City Councilman Fernando Cabrera, whose district covers a largely immigrant bloc, called Clark's decision "politically moral."
"Sometimes as an elected official you have to make adjustments, course corrections," Cabrera said. "We should allow elected officials to make the right course corrections whenever you see that there is an outcry from the community, and so it takes a lot of courage to do a course correction, so any elected official doing a course correction should be commended."
Assemblyman Jeff Dinowitz, an attorney, said he is conflicted over the state's ruling. As an attorney, he sees the case violating the Sixth Amendment, which bars jury trials for low-level offenses, while also presenting a financial burden on state courts. As a legislator, he sees a need to avoid causing the deportation of immigrants for minor transgressions without a jury of their peers weighing in.
"Despite the issues I've raised, I think that we in the state of New York have to do everything we can to be fair to immigrants more so than ever because have such a racist administration in the White House," said Dinowitz. "I think that (Clark) made the right choice in not appealing because as the D.A. she has to do everything to enforce the law, but she also has to take into account that she represents almost 1.5 million people, many of whom are impacted by this, and I think she's looking out for people in the Bronx who are impacted."